FINALLY, The 'Black Widow' Spin-Off May Have A Writer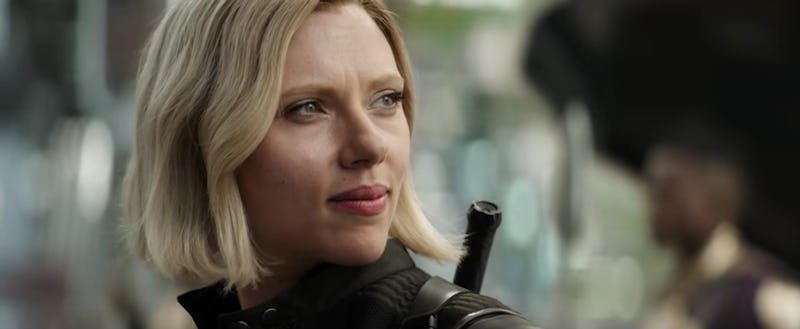 YouTube / Marvel Entertainment
The Black Widow solo film that fans have been begging for hasn't been confirmed by Marvel, but there's recently been a good sign. On Jan. 10, Entertainment Weekly reported that their sources claim the potential Black Widow spin-off now has a female screenwriter. As the unnamed source reportedly revealed to EW, Jac Schaeffer, best known for the 2009 film TiMER, is set to write the Natasha Romanoff-centric Avengers spin-off. If that rumor weren't a sign that the Black Widow solo film really is happening, what else could be? (Bustle has reached out to Marvel for comment on the rumor, but they declined to comment.)
Thus far, the only confirmed Marvel film led by a woman protagonist is the upcoming Captain Marvel, which stars Brie Larson and will be released on March 8, 2019. Female writers Meg LeFauve, Nicole Perlman, and Geneva Robertson-Dworet are credited with that screenplay. Schaeffer, though, will reportedly tackle Black Widow alone, as the EW source did not offer any additional names.
Scarlett Johansson's portrayal Black Widow first began in Iron Man 2, now eight years ago. Since then, she's appeared or starred in a variety of films across the franchise. Fans will next see her in The Avengers: Infinity War, but after that, could we see her in her own film? If not, how much longer will fans have to wait?
Schaeffer's known work is diverse. For example, TiMER, which she wrote, produced, and directed, is a sci-fi-esque romantic comedy about what happens when a clock counts down to a person meeting their soulmate. In addition to that, Schaeffer has directed, produced, and/or written a variety of projects, including the Frozen short "Olaf's Frozen Adventure" and an upcoming remake of Dirty Rotten Scoundrels that stars Anne Hathaway and Rebel Wilson. Oh, and she's a graduate of Princeton University. She's obviously well-rounded, which is exactly what the Black Widow screenplay needs.
The best Marvel films bring warmth, humor, and pathos to the big-budget superhero carnival that is the franchise. Black Widow is the most talented at hand-to-hand combat and a ruthless former spy, but it's her dry wit and empathetic nature that makes her hard to predict. She's fierce, funny, and loyal, despite her bloody past. It's important to have a writer who understands those elements, but one more as well: Natasha is the sole woman member of The Avengers. The nuances of being a woman, especially a hyper-capable one, in a male-dominated environment isn't something a male screenwriter can effectively capture.
It's also crucial that major properties like Disney and Marvel offer more opportunities to women, and tapping Schaeffer to write a Black Widow film would be a good, if overdue, start. On Jan. 10, the Los Angeles Times confirmed how few opportunities there still are for women behind the scenes in Hollywood. According Center for the Study of Women in Television and Film executive director Martha M. Lauzen, the author of the study, "women made up just 18 percent of all the directors, writers, producers, executive producers, editors and cinematographers who worked on the top 250 U.S. films" released in 2017. Worse, "only 1 percent of films last year employed 10 or more women as directors, producers, editors, writers and cinematographers."
On top of that, selecting a highly-qualified woman to write the Black Widow screenplay would be a smart choice, both for the box office and for Marvel PR. D.C. Entertainment's Wonder Woman film was directed by Patty Jenkins, and Forbes noted it was the highest-grossing superhero origin story of all time. DC also has plans for Wonder Woman 2 and is reportedly working with Margot Robbie to develop Harley Quinn-focused films. Meanwhile, 2019's Captain Marvel will be Marvel Entertainment's first woman-led superhero film in the Avengers franchise. And, if Black Widow does happen, it would only be their second.
Sadly, on IMDb, Schaeffer's page lists Black Widow as "announced", sans even a possible release year It has no one attached to produce, direct, or star, so the potential hiring of Schaeffer is the most progress that has been made on the film in a while. Since the film is not actually in development, it would be years before a Black Widow standalone hits theaters. Even so, fans are eager for anything that looks like news about the spin-off, and a Disney-approved female writer reportedly being selected is worth getting psyched over while we wait for confirmation.