Officials Think They Know The Reason Hundreds Of People Got Sick At An Ohio Chipotle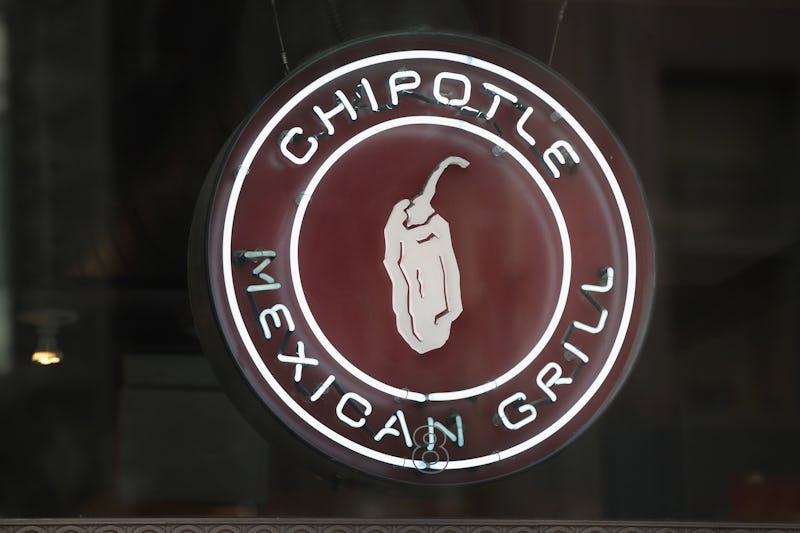 Scott Olson/Getty Images News/Getty Images
Beloved Tex-Mex chain Chipotle might be in hot water again: According to Cleveland.com, a Chipotle location in Ohio was closed on Monday after several people reported feeling ill after eating there. A spokesperson for Chipotle told Bustle via email on Tuesday that the restaurant, which is located in Powell, about 20 miles north of Columbus, had been voluntarily shuttered "out of an abundance of caution" while an investigation is carried out. The case has been determined to be an isolated incident; the restaurant plans to reopen today.
UPDATE #3: Officials say that the bacteria clostridium perfringens may be to blame for making hundreds of people sick after eating at an Ohio Chipotle, Business Insider reports. It is a common source of food poisoning that can be caused when food is under heated. According to Business Insider, Chipotle CEO Brian Niccol said in a statement: "Chipotle field leadership will be retraining all restaurant employees nationwide beginning next week on food safety and wellness protocols."
UPDATE #2: According to the Dayton Daily News, the number of illness-related inquiries has grown to more than 700 as of Aug. 6. The cause remains unknown, although tests have come back negative for several foodborne illnesses, including salmonella, shigella, e. coli, and norovirus; further tests are ongoing, a spokesperson for the health district said. At least two lawsuits have been filed. Chipotle said in a statement that the company is cooperating with health officials, reports Eater.
UPDATE: According to ABC News, the Delaware General Health District of Delaware County, Ohio said on Tuesday that it had received 368 inquiries of possible foodborne illness. "People reporting getting sick say they ate at the Sawmill Parkway [Chipotle] location over the weekend," the health district said in a statement. The restaurant reopened following an inspection performed by a team from the health department; CBS News reports that test results are still forthcoming, but that, following the inspection, the team "found no reason the restaurant shouldn't reopen."
Representatives for Chipotle had no additional statement when reached by Bustle. Chief Communications Officer Laurie Schalow reiterated the statement previously provided to Bustle, saying, "Our protocols identified a handful of illness reports at one restaurant in Powell, OH on Monday. We acted quickly and closed this single restaurant out of an abundance of caution. We worked with the local health officials to reopen this restaurant yesterday."
EARLIER: "The local health department has informed us of two customer complaints of illness at one restaurant in Powell, Ohio," Chipotle Chief Communications Officer Laurie Schalow told Bustle in a statement. "We acted quickly and closed this single restaurant out of an abundance of caution yesterday. We are working with the local health department and we plan to reopen this restaurant today."
According to Business Insider, reports began to trickle in on the website I Was Poisoned on July 29 and 30 claiming that some customers had experienced nausea, abdominal pain, vomiting, and diarrhea after eating at the Chipotle location in question; as of this writing, 174 reports of illness have been posted to I Was Poisoned. Additionally, both the local health department and Chipotle itself reportedly received complaints from customers; several staff members also called out sick on Sunday and Monday, reported Business Insider.
A spokesperson for Chipotle told Business Insider on Monday, "We take all claims of food safety very seriously and we are currently looking into a few reports of illness at our Powell, Ohio, restaurant. We are not aware of any confirmed foodborne illness cases, and we are cooperating with the local health department." The restaurant is undergoing a deep cleaning; additionally, any exposed food and single-use equipment are being removed from the premises.
This is not, as they say, Chipotle's first rodeo; in 2015, a series of norovirus, salmonella, and e. coli outbreaks across the United States resulted in hefty sale and revenue decreases, as well as a loss of customer trust. In the years since, the company has worked to regain trust and recover its losses through a combination of new food safety measures, employee training, and promotions for free food.
The Powell incident is believed to be an isolated one, however — similarly to a 2017 incident in Sterling, Va. An investigation was carried out after several people reported illness after eating at a single Chipotle in Sterling; two people subsequently tested positive for norovirus. The investigation found that the illness had been the result of "lax sick policy enforcement by store managers," according to CNBC. The location was sterilized, and employees underwent further training to prevent any other outbreaks from occurring. Said Chipotle founder Scott Ells to CNN, "We took swift action and made it clear to the entire company that we have a zero-tolerance policy for not following these [health] protocols. Compliance with our procedures is non-negotiable and a condition of their employment."
In each case, Chipotle has worked closely with health officials as investigations have been carried out and solutions implemented. The Powell location plans to reopen on Tuesday.