There's A Secret Dining Room At This Disneyland Restaurant & The Pics Will Give You FOMO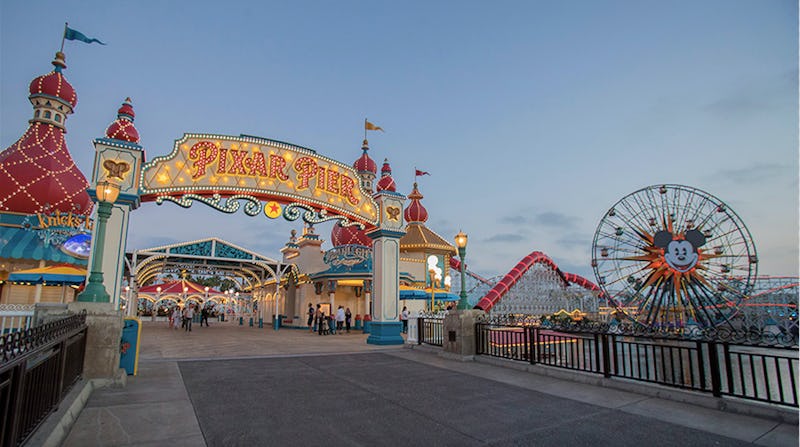 Disney Parks Blog
In case you weren't aware, big changes are afoot at the Disneyland Resort in Anaheim, Calif. — and one of those changes involves the opening of a restaurant with a secret room at Disney's California Adventure park. The newly-opened Lamplight Lounge offers not just tasty food and drink and stunning views of the area of the park now known as Pixar Pier; the two-level pub and eatery also has a hidden secret called "The Office" for guests to find. You might not be able to go inside; it'll only be an option if it's not already occupied when you arrive. But heck, even just knowing about the secret is fun enough on its own, right?
The Lamplight Lounge opened on June 23 as part of the Pixar Pier renovation at California Adventure that began earlier this year. Previously, this area of the park was known as Paradise Pier; designed to look like an old amusement pier from the turn of the 20th century, it featured a variety of midway-style games and rides inspired by early Disney works like the Silly Symphony shorts. During the Paradise Pier era, the restaurant space that now houses the Lamplight Lounge played host to Ariel's Grotto — a character dining spot that featured the pantheon of Disney Princesses — and the Cove Bar.
With the pier being done over to bring more of Pixar's films and characters to the park, however, both the pier and the restaurant got a makeover — and now, the brand-new Lamplight Lounge celebrates not only Pixar's films, but also the animators who have worked on them over the years. The backstory for the building is that it was once an old animation warehouse; a such, there are "a trove of Pixar treasures sprinkled into the California casual décor, including concept art, napkin sketches, knick-knacks, collectible toys and other mementos 'left behind' by the filmmakers," according to the restaurant's page on Disney's website. The name of the dining spot even pays tribute to Pixar's mascot, the sentient desk lamp known as Luxo Jr.
But although the cocktails, mocktails, and gastropub fare on the menu do sound pretty tasty (and hey, good news, Ariel's Grotto fans: The Lobster Nachos are still available), the food isn't the most enticing part of the Lounge. No, that honor goes to the fact that there's a secret room hiding inside. The Disneyland Resort tells Bustle that it's located just off the main dining room — and from what we can see from Disney Blogger Twitter and the reports on their respective websites, there's plenty of fun to be had there. Here's what we know so far.