There's A Full Moon At The Start Of Sagittarius Season — Here's What That Means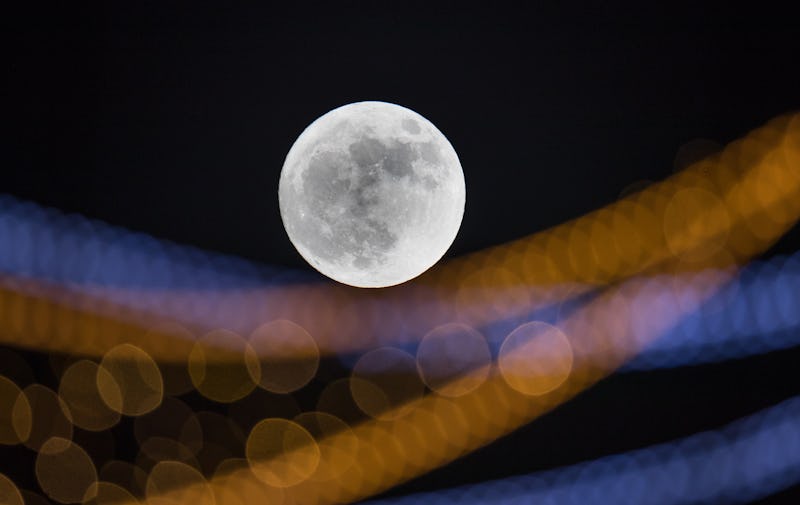 Matt Cardy/Getty Images News/Getty Images
It's Sagittarius season and the livin' is about to get a whole lot easier, but not right away. This is because a full moon is happening at the same time as the start of Sagittarius season. And while Sagittarius season is all about returning to feeling footloose and fancy free, the Nov. 23 full moon in Gemini has other ideas. "The sun in Sagittarius is a light, happy, and free-flowing placement. It signifies a time of openness, freedom, and expansion," the Intuitive Astrology blog noted on the website Forever Conscious. After the bajiggity energy of the first 10 months of 2018, we could all use some more light in our lives.
Not so fast my friendlies. Astrologer Jamie Partridge noted on Astrology King that the beginning of Sagittarius season could feel the opposite of merry and bright. "There is danger when taking risks or acting impulsively. However, holding in anger and frustration is not healthy either. Repressed anger can manifest physically as pain in your body, accidents, aggressive reactions in others, or as conflict in your home." However, this doesn't have to be a bad thing. If you have a hard time dealing with your emotions, the November 2018 full moon wants to teach you to manage your anger in a healthy way.
November 2018 Full Moon In Gemini
So, just how can you get through this difficult time without alienating everyone around you? "They key to handling this quick and hot energy is to release your frustrations in a controlled way. If you have annoyed someone else, don't be overly defensive or mean when they share their feelings with you," Partridge explained. What's more, if you're cooking this weekend to release some pent up frustrations, you'll want to take extra precautions. "Cuts or burns, especially in the kitchen, would suggest you have not dealt with your emotional troubles. Face what is making you feel threatened with courage. Emotional attacks from others are just as likely as you losing your temper with a loved one."
One of the best ways to deal with suppressed emotions is meditation. I know, I know. If one more person tells you to meditate, you're going to scream. Go right ahead because sometimes screaming into a pillow during meditation is really helpful. And breathing through your anger is preferable to throwing those Thanksgiving leftovers at the person who didn't rinse off their dishes. If you want to give it a try, these holiday meditations can help you get through the Gemini full moon like a boss instead of a fire-breathing dragon.
On the bright side, Intuitive Astrology noted that while parts of it might be painful, the November 2018 full moon at the start of Sagittarius season is an opportunity for a clean slate. So, process whatever you're feeling, release it, and look to the future. Even though it might feel like the dark days will never end, the full moon in Gemini is actually going to illuminate a path forward.
Sagittarius Season 2018 During The Full Moon
Even though the November 2018 full moon in Gemini might test your patience, the good news is that Sagittarius season is going to lighten things up — finally. "Sagittarius Season is an adventurous time, a time where we can explore, try something new, and not hold ourselves back. Sagittarius season is a time to expand our horizons and to view our lives from a more open point of view," Intuitive Astrology revealed. While this is a good thing, during the full moon you're going to want to pay particular attention to this part: "not hold ourselves back."
If you're feeling all bright and shiny, by all means go right ahead and throw caution to the wind. However, if you're feeling like a Grinch, not holding yourself back could mean you speak and act without thinking how those words and actions might affect others. On the other hand, once you've worked through any frustrations, Sagittarius season is going to encourage you to drop your proverbial mask and show your true self to the world — kind of like how Lady Gaga now walks around in trucker hats and Chuck Taylors with no makeup instead of 10-inch platform heals, diamond-studded underwear, and hats made of birds.
Just like everyone loves this more vulnerable Gaga, people will also embrace the real you. "Sometimes we fall into the trap of worrying too much about what other people think of us. Sometimes we hold ourselves back out of fear of what people will say. Sometimes we play small as we are afraid of allowing ourselves to truly shine," Intuitive Astrology noted. Sagittarius season wants you to cleanse your aura of self doubt and try something totally radical — loving who you really are. Because, let's face it, you're pretty freakin' fab.