These 4 Zodiac Signs Will Have The Most Intense Sagittarius Season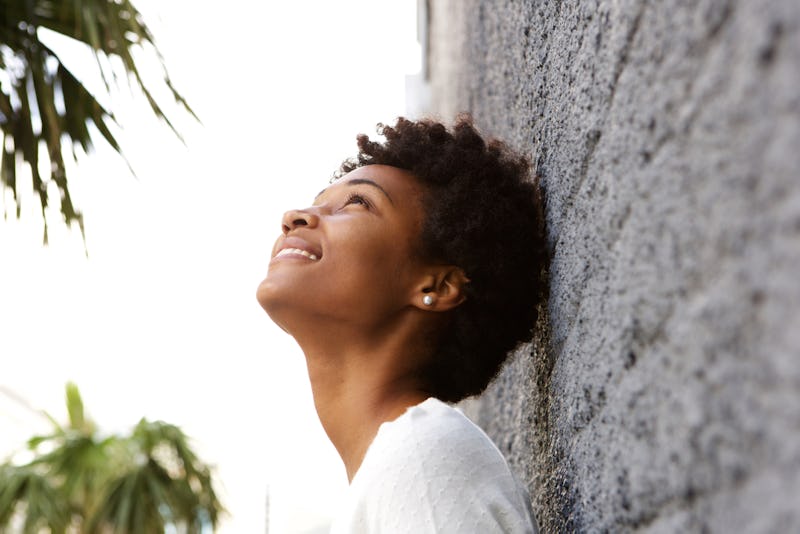 mimagephotography/Shutterstock
New solar energy alert!!! It's officially time to wrap up Scorpio season (THANK U, NEXT) and enter the worldly and ever-optimistic domain of Sagittarius, the wild n' free, bow-and-arrow wielding fire sign who's here to carry our emo, Scorpio-weary hearts into a fresh season. Yay! Full of fun, an itch to travel, and a love for excitement, Sagittarius is represented by the archer, and the sun will travel through it's sign from Nov. 22 until Dec. 21. Overall, this solar transit is bringing a more free and lighthearted energy to all of our lives. We love Sagittarius season 2018!!! Wait, just kidding, Mercury is still retrograde so things are still slightly a hot mess, but ya know, that's only until Dec. 6 and then things are lookin' up, y'all.
As rock n' roll god Jim Morrison of The Doors once said, "That's right, baby, I am a Sagittarius, the most philosophical of all the signs," — and honestly, gotta love it, cause the man is not wrong. Sagittarius is associated with the pursuit of higher knowledge, enlightenment, world travel, and expanding horizons. Like, for real, everyone loves to party with a Sag, because not only are they fascinating and open-minded, they're also known for having great senses of humor and being tons of fun in general. This denotes a welcomed new energy indeed, especially after low-key suffering through the deep wells of ~FEELING~ served to us via the venomous stinger of Scorpio season.
As the sun moves into a fire sign again (which are always full of passion, action, and confidence!), the energy of Sag is sure to be felt by all. "What's most brilliant about Sagittarius ... is its indefatigable thirst for adventure," explained AstroStyle on its site. "With this optimistic sign at the helm, every moment of life can feel like pure magic!" NEED. If you've been feeling weighed down and overly absorbed in emotions, now's the time to loosen up, have some fun, try something new and exotic, and maybe travel (post Mercury Rx, mind you). It's going to be winter soon, so let's live it up as we wrap up the season of the harvest, Sag-style.
That all said, there are a few signs who are going to be particularly affected by this ultra-posi energy shift. Bustle spoke with astrologer Lisa Stardust to help us dive straight into the nitty-gritty, so read on to find out if you're one of the signs most affected by Sagittarius season 2018 and prepare for a highly energized month if so.
Gemini (May 21 - June 20)
Sagittarius energy is boundless and very much go-go-go — sounds a bit like someone else we know, right Gem? *Wink.* In any case, you are def feeling the vibes of the Sag season intensely, particularly in the realm of your love life. "Love will take you on a roller coaster ride this month," explains Stardust to Bustle. "[B]e prepared for a wild ride in the romance department, filled with highs and lows for the next 30 days." Buckle up, because you're definitely in for a ride this season, just as astrological wild child Sag would have it. Roll with the high energy and you're guaranteed a thrilling and exhilarating whirlwind.
Leo (July 23 - Aug. 22)
You are feelin' the flow of joyful, optimistic Sag season energy to the max, Leo — and expect both your love life and creative endeavors to thrive this month. "A new creative project will put you in your happy place, making you roar with delight as others appreciate your artistic insights," shares Stardust with Bustle. You're charged up, ready to go, and full of inspo — so enjoy the action-packed energy boost of having the sun in a fellow fire sign and make some magic happen. The world is ready for you!
Sagittarius (Nov. 22 - Dec. 21)
Our dear and beloved Sag! Obviously this season is going to be big for you — it's your time to sparkle and shine like the superstar you are, after all. "The focus is on you now," Stardust tells Bustle. "[Y]es, dear archer, the world is your oyster and you now have the persistence and determination to achieve your goals. Go for it!" All signs point to yes on the metaphorical road map of your solar return, so harness all the posi vibes and aim that bow and arrow straight up at the stars. With both the sun and good-luck planet Jupiter in your house this season, you are bursting with energy, serendipity, and a magic touch.
Aquarius (Jan. 20 - Feb. 18)
Sagittarius season's influence has you feeling social, super inspired, and even more open-minded than usual. Plus, this fire-sign's energy might be exactly the take-charge kick you needed to help identify and materialize your wildest dreams. "Sag Season reunites you with old friends, sparking inspiration within you to pursue your old dreams," shares Stardust with Bustle. Use Mercury retrograde to review where you're at in life and revisit any unfinished projects or ideas that still have life in them. Post-retrograde Sag season will be the perf time to nurture them with some tender lovin' inspo. It's going to be a prosperous one.