A 'Gilmore Girls' Marathon Is Coming This Thanksgiving To Make Your Holiday Even Better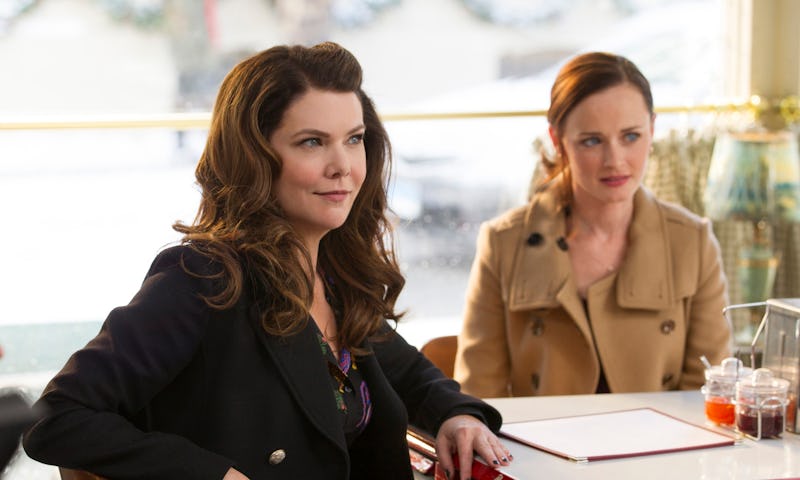 Saeed Adyani/Netflix
Remember when Rory and Lorelai went to four separate Thanksgiving dinners one year, and effectively lived everyone's greatest holiday dreams? Well, the Gilmore girls are gifting everyone else with an overwhelming holiday treat of their own this year: an epic week-long Gilmore Girls Thanksgiving marathon.
Entertainment Weekly first reported that UPtv is bringing back its epic GilMore the Merrier marathon, and will air all seven seasons of Gilmore Girls over the Thanksgiving holiday weekend. Starting on Monday, Nov. 19 at 3 p.m. ET, the network will air Gilmore Girls episodes 24 hours a day for a grand total of 153 straight hours, culminating on Sunday, Nov. 25 at midnight. The marathon will be hosted by Stars Hollow's very own Scott Paterson, who played grumpy diner owner (and Lorelai's true love) Luke Danes.
A Thanksgiving marathon is especially fitting for Gilmore Girls, as fans have watched the girls enjoy their fair share of holiday meals — again, they once ate four separate Thanksgiving dinners — but also because Gilmore Girls made its return to the small screen last Thanksgiving, thanks to the holiday weekend premiere of the four-part Netflix series, A Year in the Life. Besides, there is truly no better way to honor everyone's favorite junk food and move obsessives than by stuffing our faces while binge watching television. It's truly how Lorelai would want Thanksgiving to be celebrated.
In addition to reliving every epic snack session that Rory and Lorelai have enjoyed over the years, fans can take a break from any dinner table awkwardness with their own families in order to relive the lifelong drama between Lorelai and Emily. Whether they're arguing about paying for Rory's tuition or just trying to break the ice at a particularly uncomfortable Friday night dinner, the familial tension between Lorelai and her mother (and occasionally her father) should proved respite from even the most heated family fights.
And if nothing else, seeing them be able to put aside their disagreements might even help bring fans and their own parents closer together. After all, nobody can make it through any of Lorelai and Emily's big fights without feeling the urge to call their mother.
On the other hand, if you're looking to inject a little more drama into your holiday weekend — or to just keep the conversation away from politics and onto something a little less controversial — 153 hours of Gilmore Girls offers plenty of new opportunities to reevaluate your stance on one of the greatest debates in TV history: Which of Rory's boyfriends she should have ended up with. Team Jess, Team Logan, Team Random Chewbacca dude — it doesn't matter what your stance is, just be prepared to defend it over pumpkin pie if you so happen to bring it up during dinner.
UPtv's GilMore the Merrier marathon might be the best way for Gilmore Girls fans to celebrate with their favorite family from now on, especially since both Lauren Graham and Alexis Bledel have expressed hesitance about returning to Stars Hollow yet again.
Despite the fact that Netflix expressed interest in even more Gilmore Girls episodes in the wake of A Year in the Life, Bledel has stated that her future involvement "would be about the story and certainly the timing. We want to tell a great story." Graham echoed those sentiments in May 2017, telling The Hollywood Reporter that while she personally would be open to filming more episodes, "There are people that have better objectivity than I with saying what is best for the show. You could never please everybody. … We would just want to make sure it could be pleasing."
In the meantime, at least fans will always have the original episodes and one to four turkeys to help keep our hearts and stomachs full this Thanksgiving.