This Harry Potter Erotica Podcast Will Make You Hotter Than A Firestorm Charm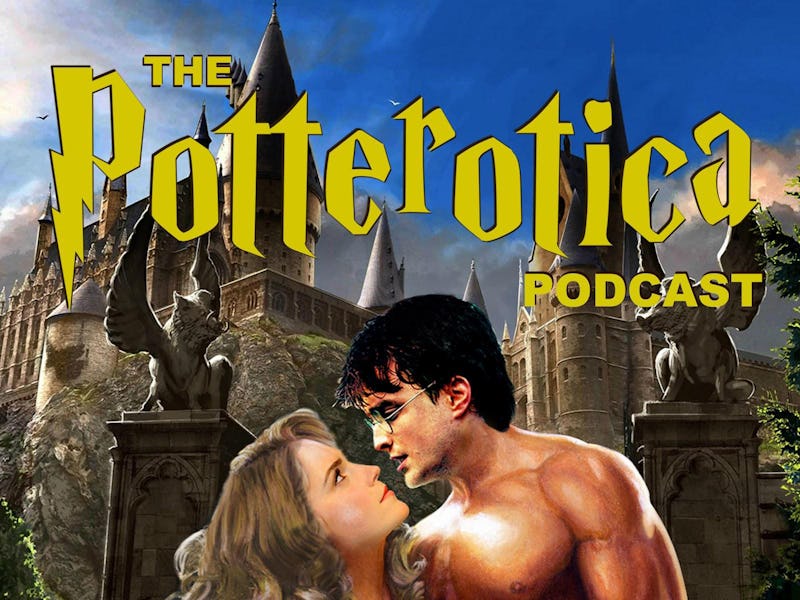 The Potterotica Podcast
Harry Potter may have started out as a beloved children's series, but the first book is officially 20 years old now and the original readers are all grown up. Apparently, they are ready for their favorite characters to grow up, too, so much so that three super fans created a Harry Potter erotica podcast that celebrates the best in sexy fanfiction, and let's just say Myrtle isn't the only character moaning anymore.
Hosted by Allie LeFevere, Lyndsay Rush, and Danny Chapman, three Chicago-based friends and die-hard Potterheads, The Potterotica Podcast is a weekly reading of erotic Harry Potter fanfiction that promises to leave listeners "hot and pottered." In each roughly half-hour to hour-long episode, the hosts read chapters with titillating titles like "Masturbation Managed," "The Boy Who Licked," and "Floo-ty Call" from longer hot-and-steamy fanfic stories that imagine iconic Harry Potter characters getting luckier than Felix Felicis.
A definitely NSFW show, The Potterorica Podcast turns up the heat faster than a Fiendfyre curse, but it isn't all hot-and-heavy listening. Alongside the narrations of Ginny and Luna's steamy encounters by the Black Lake, the show's own Golden Trio of hosts offer up plenty of hilarious commentary to go along with unexpected sex scenes between Draco and Harry or Lily and Sirius. Before starting the podcast, LeFevere, Rush, Danny Chapman had little to no experience with fanfiction, and their reactions to it are just as hilarious as you'd imagine.
Since launching, The Potterorica Podcast's four seasons have gotten over 600,000 episodes listens, proving that Potterheads are as dirty as Mundungus Fletcher's reputation. The inaugural season, "In the Prefect's Bathroom," spun a seductive and utterly surprising yarn that found Hermione in throes of passion with none other than Professor Severus Snape in a steamy bathroom hookup. Last season, Harry and Draco had their fair share of fun and dick pics, while the current season, "Slipping," puts Sirius, James, and Lily in some ~sexy~ situations where the Animagus isn't the only one on all fours.
Outside of the standard in-season chapter readings, the hosts of The Potterotica Podcast have also released several "Quickie" episodes that feature shorter one or two part erotic stories. To celebrate the holiday season, they released a naughty Christmas tale about Remus and Sirius finding out the true meaning of jingle balls — er, I mean bells.
Next year, Potterotica will be entering fifth season, and it is anything like their previous shows, you can expect the podcast to be equal parts horny and hilarious. Whether you are a die-hard Potterhead who knows every detail of the series, or a casual observer who has only seen the franchise's movies, this show is a pure delight that will totally transform the way adult fans see the witches and wizards from their favorite kid's series.
The Potterotica Podcast is available for free on iTunes, where you can find 60 different episodes, including Quickies, author interviews, and a recording of the live shows the hosts performed at Quenchers Saloon in Chicago in June, and later at the Chicago Podcast Festival in October. Currently, there are no additional live shows scheduled, but if Harry Potter (and Harry Potter fanfic) has taught us any lesson, it is that anything is possible.
If you have always wanted to see a romance blossom between Harry and Hermione, or fantasized about a LGBTQ romance between the older members of the Order, The Potterotica Podcast has exactly what you're looking for. Find a pair of headphones, pick a fanfic that interests you, and as the hosts say, keep it sexy and magical, muggles.