A Man Accused Of Groping A Woman On A Plane Used Trump's Words As His Defense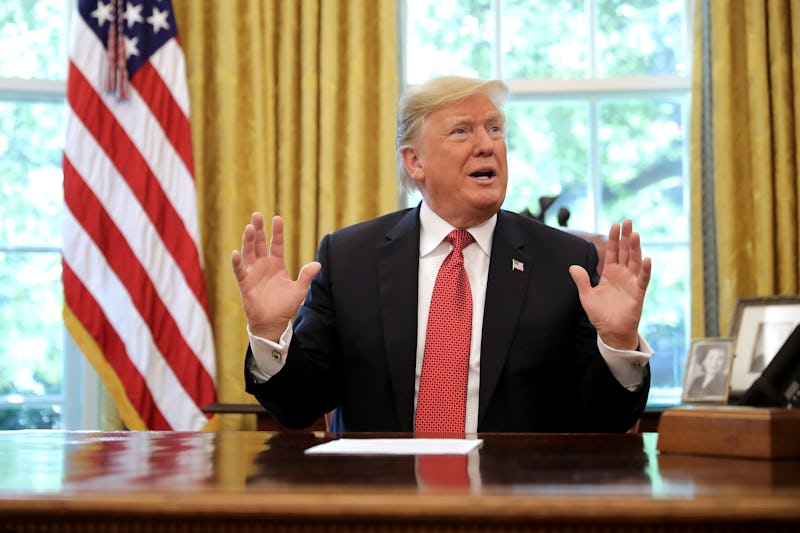 Chip Somodevilla/Getty Images News/Getty Images
The infamous recording of President Donald Trump boasting about grabbing women without consent apparently sent the message to other men that inappropriate sexual contact isn't a big deal. After a man allegedly groped a woman on a Southwest flight, he told the authorities that "the president of the United States says it's OK to grab women by their private parts," ABC News reports.
Court documents filed on Monday and obtained by HuffPost show that Bruce Alexander was accused of "abusive sexual contact" by a fellow passenger on a flight from Houston, Texas to Albuquerque, New Mexico for "touching the passenger's breast, without their permission." The woman, who was not named, alleged that Alexander touched her without consent three times while sitting in the seat behind her.
The woman was eventually moved to a different seat by the flight crew, and Alexander was arrested and charged with abusive sexual contact when the plane touched down in New Mexico. Sexual assaults that take place on planes fall under the FBI's jurisdiction and are considered felony offenses that can be punished with jail time. Alexander appeared before a federal judge in New Mexico on Monday before returning for preliminary and detention hearings on Tuesday, per HuffPost.
In the court documents, FBI agent Michael Hopkins stated that Alexander said "the president of the United States says it's OK to grab women by their private parts" after he was arrested. He seemed to be referencing the 2005 Access Hollywood tape in which Trump said he can grab women "by the pu**y" because he's famous. Alexander could face a maximum sentence of two years behind bars and a $250,000 fine if found guilty, HuffPost reports.
Trump, on the other hand, went on to become the president of the United States, which apparently signaled to men across the country that it's OK to grope women whenever they want. Before taking office, Trump apologized for the comments he made back in 2005 and pledged "to be a better man tomorrow." Yet he's continuously insulted women by referring to them as animals, calling them liars, and talking down to female journalists.
POTUS recently renewed his position of sticking up for men accused of sexual assault over the women accusing them by standing by Brett Kavanaugh during his confirmation hearings for a lifetime appointment to the Supreme Court. Trump openly mocked Christine Blasey Ford, who accused Kavanaugh of assaulting her in high school, at a rally before Kavanaugh was confirmed and later said "it doesn't matter" because "we won." As Kavanaugh denied Ford's allegation, Trump repeatedly tried to cast doubt on her testimony.
At least 22 women have accused Trump of sexual harassment or assault, and he has vehemently denied every allegation. He claimed in a September press conference that the "false allegations" made against him came from "women who got paid a lot of money to make up stories about me," per Business Insider.
While the women have not changed or recanted their stories, at least one man has used Trump's words as his defense for allegedly groping a woman.