Natasha Is Back From The Dead In The New 'Black Widow' Comic Series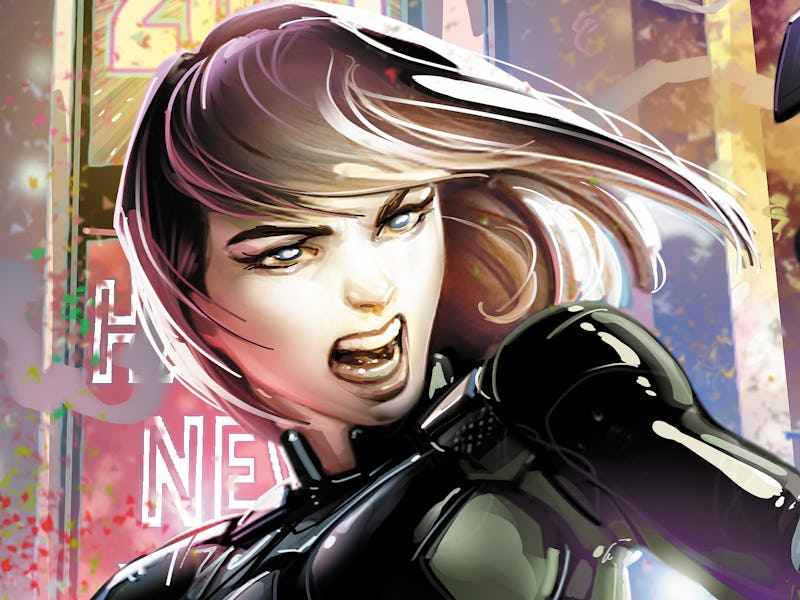 Courtesy of Marvel
Good news, Avengers fans: A new comic book series starring Natasha Romanova, A.K.A. Black Widow, is on the way from Jen and Sylvia Soska, according to an announcement made at New York Comic Con on Sunday. Bustle has an exclusive interview with the "Twisted Twins" of American Mary fame, plus a sneak-peek at the cover of Black Widow no. 1 below, so keep reading.
The new Black Widow picks up where Marvel's Secret Empire storyline — which revealed Captain America as a double agent for Hydra — left off. Natasha died in Secret Empire no. 7, and although Sylvia says that "Nat is 'officially' dead from her run in with evil Captain America," she's come back to finish some business, as Jen points out: "This is actually a stand alone adventure for Natasha that focuses on her doing what she does best. We're taking Natasha to the baddest place on Earth in the Marvel-verse, Madripoor, where she'll find the kind of villains that don't deserve mercy. She's back from the dead and she's not happy about it. She's looking to let off some steam in the most permanent of ways."
Black Widow takes Natasha to Madripoor, a fictional island located near Singapore in the Marvel universe. Jen tells Bustle: "There are kids being abducted in Madripoor and ending up dead in videos on the dark web. Natasha wants to take out the crime syndicate behind it, but first she needs to find the head of the operation." Although the Soska sisters aren't saying who, exactly, Black Widow will face off against in her new standalone series, Jen says, "There will be familiar and new faces appearing throughout," adding that she doesn't want to "spoil any surprises."
The cover of Black Widow shows a very different version of Natasha Romanova than fans of the Avengers films have become accustomed to. Both Jen and Sylvia Soska agree that, while their Black Widow is the same character that comics readers have been following for years, she's in a very different place after the close of Secret Empire.
"Our Natasha will be true to the Natasha we all love," Jen says. "But she is not in a good mood. You won't see her feeling bad for putting more red on her ledger. She enjoys what she does. She's damn good at it. She's fearless. She's lethal. She's unstoppable. She's the last person you want coming for you. Our Natasha isn't following anyone's rules so she's completely unleashed."
"Our Natasha will be true to the Natasha we all love," Jen says. "But she is not in a good mood."
Even though fans might be used to a more reserved Natasha, Sylvia believes they'll have no problem with the version of the character that she and her sister have created. "There's a trend with female characters in entertainment to make them softer, more gentle, have guilt over their actions, be remorseful," she says. "And I think it can be damaging to the more complex feelings of a character. This story gets into Nat's roots, what kind of damage — and I mean real damage — a Black Widow can do and especially when she's doing things on her own terms. Fans of Widow will be happy to see her be scarier than we're used to."
See more of Natasha Romanova's post-Secret Empire adventures when Black Widow no. 1 hits store shelves in January.