Marvel's Reported 'Black Widow' Movie Could Be Directed By One Of These Female Filmmakers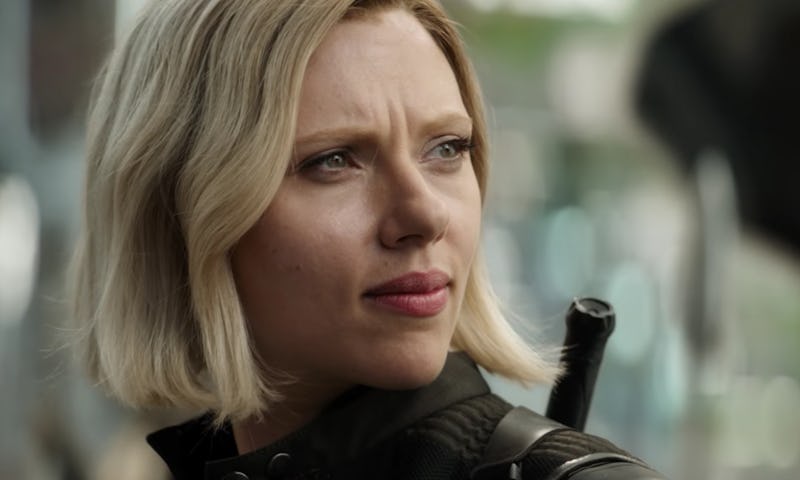 Walt Disney Studios Motion Pictures/Marvel Studios
For all the enthusiastic Marvel fans who've been eagerly holding their breath for any shred of information regarding the super-studio's reported upcoming Black Widow film, it sounds like there might be some exciting feminist milestones on the horizon. Per a recent string of movie-making scoop by a handful of media outlets, there are reportedly five women filmmakers in talks to direct Marvel's Black Widow, according to the A.V. Club.
So, if there are any frequenters of the Marvel Cinematic Universe out there who are unfamiliar with the respective cinematic prowess of women filmmakers like Deniz Gamze Ergüven, Chloé Zhao, Amma Asante, Maggie Betts, and Angela Robinson, it might be time to study up. Because, if last week's April 26 report by The Hollywood Reporter (as well as Variety reporter Justin Kroll's subsequent commentary on the news) is any indication, it looks like Marvel is set on hiring a woman filmmaker to direct Black Widow — if the long-awaited film comes to fruition. It should be noted that at the moment, Marvel is declining to officially confirm which films will be included in phase four of the MCU, so Black Widow may or may not be getting a solo title.
It's safe to say that fans who have been clamoring for more of Natasha Romanoff for years are hoping these rumors turn out to be true, and that one of the directors on the supposed short-list will be chosen to guide her story to the big screen.
Tacked on to the end of a report that focused predominantly on Paramount's supposed search for a female director to spearhead Star Trek 4, THR claims that Marvel Studios has also been on the hunt for a woman director "to break its glass ceiling with Black Widow." Citing the testimonies of unidentified sources, the report segued into what it claimed to be the studio's working shortlist of Black Widow directors, saying,
[Marvel Studios] has been meeting with filmmakers such as Deniz Gamze Erguven (the Turkish movie Mustang), Chloe Zhao (The Rider) and Amma Asante (A United Kingdom), among several others.
According to Kroll, a film reporter for Variety, an additional pair of powerhouse women filmmakers are, apparently, also in the running for the reported Black Widow movie's director spot. Replying to Hollywood Reporter writer Borys Kit's earlier tweet revealing Marvel's list of potential women directors for the possible film, Kroll added two names to the publication's working roster of contenders. "Maggie Betts and Angela Robinson have also met for BLACK WIDOW," Kroll wrote.
Neither Marvel Studios nor any of the women featured in its supposed roster of potential Black Widow directors have commented on THR's report, or Kroll's subsequent commentary on the subject. That being said, until the studio does end up revealing the name of whichever powerhouse woman filmmaker it eventually selects for the director spot, it's probably worth it for fans to learn a bit more about the women who've seemingly made Marvel's shortlist.
So, for anyone unfamiliar with these women's previous works, here's a spark-notes style look at their respective careers, thus far.
Deniz Gamze Ergüven
Ergüven is a Turkish-French filmmaker, perhaps best known for her heart-wrenching debut film, Mustang, which rose to international acclaim following its release in 2015. Mustang made its inaugural premiere at the Cannes Film Festival that same year, where it earned its first round of accolades before its nomination for Best Foreign Language Film at the 88th Academy Awards in February 2016 catapulted Mustang toward big-league recognition. And while Mustang might not have won the Oscar that year, as anyone who's seen the ethereal knuckle-whitener of a film could probably corroborate, Ergüven's debut work certainly left its mark on pop culture.
Chloé Zhao
Zhao — a Chinese-American filmmaker who toggles back and forth between director, screenwriter, and producer to boot — has also been making waves amid Hollywood's steadily growing sphere of women filmmakers. Zhao first stepped into the big league Hollywood scene in 2015, when her first-ever feature film, Songs My Brothers Taught Me, began turning industry heads during that year's festival circuit. Her sophomore feature, 2017's The Rider, proved even more rousing than her first — the drama, which Zhao wrote, produced, and directed, premiered in the coveted Directors' Fortnight section at the Cannes Film Festival, where it earned itself the festival's prestigious Art Cinema Award.
Amma Asante
Amma Asante is a British screenwriter, director, and former actress, who founded her own production company, Tantrum Films, in the late '90s following her departure from screen-acting. Of her more recent works, Asante is perhaps best known for directing A United Kingdom, the 2016 British bio-pic based on the real-life romance between Sir Seretse Khama — heir to the throne of Bechuanaland, a U.K.-established protectorate in what is now modern-day Botswana, in the post-WWII era — and his eventual wife, a white woman named Ruth Williams. The film made its premiere at the London Film Festival in 2016 before its subsequent theatrical release in February 2017.
Maggie Betts
Like Asante, Betts has also been involved in the directing scene for quite some time already, first gleaning major recognition for her 2010 documentary, The Carrier, which, she said, was predominantly inspired by her own grassroots experiences helping to combat the prevalence of AIDS in South Africa. Betts' filmmaking earned another round of attention last year when her 2017 film, Novitiate, won a Special Jury Prize at that year's Sundance Film Festival. Betts, who both wrote and directed Novitiate, also snagged a nomination for the festival's Grand Jury Prize for the film.
Angela Robinson
Robinson, for her part, has also dipped her toe in a medley of filmmaking arenas, including directing (for both film and television), screenwriting, and producing. And, while she has been making her mark on the Hollywood industry since the mid-'90s (perhaps most notably with her four-year stint as director, writer, and producer on Showtime's The L Word), she made her transition into the realm of superhero-centric cinema just last year, with her 2017 biographical drama, Professor Marston and the Wonder Women. The film, which Robinson wrote and directed, seeks to tell the story of Wonder Woman's origins by way of the fictional character's original creator, psychologist William Moulton Marston.
So, for everyone out there currently wondering how Marvel is going to pick just one of these formidable filmmakers to potentially helm Black Widow (or some other secret project they could have in the works) — your guess is as good as anyone's. Luckily, if their stacked professional résumés are any indication, it seems safe to say that fans can rest assured knowing that whichever reported short-list candidate Marvel may select would do Black Widow justice.