Here's Why People Are Pissed At The Latest Live-Action 'Aladdin' Casting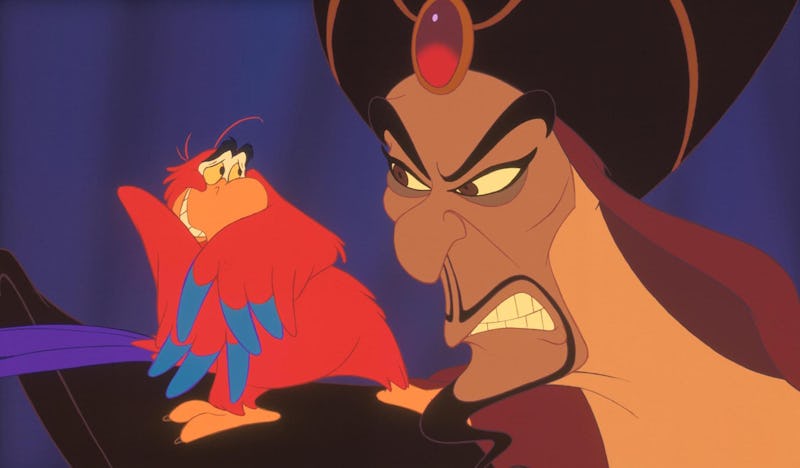 Buena Vista Pictures
The casting process for Disney's live-action remake of Aladdin hasn't been without drama, and the latest backlash is in the same problematic vein. The Hollywood Reporter announced that a new original character has been added to Aladdin, and he'll be portrayed by American actor Billy Magnussen. With whitewashing in Hollywood being such a hot-button issue, the announcement that the remake specifically wrote a white male character into the story of Agrabah has left many people on Twitter furious. (Bustle has reached out to Walt Disney Pictures about the backlash, but did not receive an immediate response.)
Not that this is the first time. Fans have taken issue with the film before, like when the rumor that Disney was reportedly having trouble finding a Middle-Eastern or Indian actor to play Aladdin, who could also sing and dance. Or when the actor cast as Jafar in Aladdin was too good-looking for the internet to handle. While the latter was more amusing, the former was legitimately troubling, and, unfortunately, this latest news is more of the same to fans.
After all, while Agrabah is a fictitious city created by Disney, original Aladdin co-director John Musker told E! News that Agrabah was based on Baghdad, Iraq. For that reason, the casting call for the live-action Aladdin remake was appropriately seeking Middle Eastern actors — until Magnussen.
The actor, who was previously in Into The Woods as Rapunzel's Prince and The People V. O.J. Simpson as Kato Kaelin, is at least not portraying a character who is supposed to be Middle Eastern. Instead, as The Hollywood Reporter noted, he'll be portraying Prince Anders, who presumably will be a prince competing against Prince Ali for Jasmine's affections.
But just because he's not playing a Middle Eastern character doesn't mean the casting news was welcome. The rage that people are feeling about a white man being added to a Middle Eastern story, which contained no white people originally, is real and makes a lot of sense.
There Is Anger Mixed With Confusion
As user @bgirl65 noted, the original cartoon version of Aladdin worked out just fine without any white people being in it.
White People Don't Need To Be In Every Movie
While Prince Anders doesn't seem like he'll have a large part, the bigger issue for fans is that white people feel entitled to include themselves in stories that aren't about them.
The Casting Of Aladdin Already Has Representation Issues
Although Disney and Ritchie were searching for Middle Eastern actors to play the lead roles, Naomi Scott was cast as Jasmine. As E! News reported, Scott's mother is from Uganda and is of Gujarati Indian descent and her father is British. While there are certainly references to India in the original Agrabah, with the palace looking like the Taj Mahal and Jasmine's tiger being named Rajah, there was still a negative response to Jasmine being portrayed by a British actor of Indian descent rather than a Middle Eastern actor.
The Actor Also Has A Flawed Track Record
Magnussen recently appeared in Birth Of The Dragon, which Forbes noted was marketed as a film about Bruce Lee, but really is told by Magnussen's character's point of view.
But, Mostly, It's About White People Forcing Themselves Into Aladdin
The main theme of people's responses has been how Disney couldn't just let a story that isn't about white people not have a white character. And with the lack of representation in Hollywood being such a widespread and sensitive subject, fans are right to be upset.