Beth Will Have A SUPER Strong Reaction To Kevin's New Love On 'This Is Us' Season 3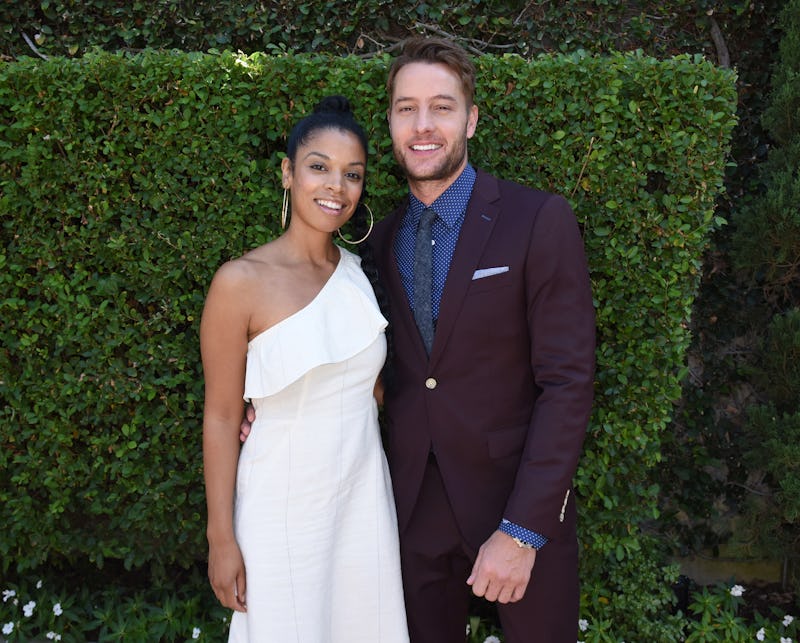 Vivien Killilea/Getty Images Entertainment/Getty Images
If there's one Peason that Kevin's movie star charm definitely doesn't work on anymore, it's his sister-in-law Beth. New This Is Us Season 3 spoilers from a YouTube video, posted by NBC on Friday, Aug. 24, finally give fans a clue as to how Beth (Susan Kelechi Watson) will react to her brother-in-law (played by Justin Hartley) possibly dating her cousin Zoe (Melanie Liburd). And, yes, it's exactly as fans likely expect.
So just how will she react to her beloved cousin dating Kevin when This Is Us Season 3 premieres on Sept. 25? "She probably thinks it's not a good idea," Watson teased in the sneak peek clip. "To Beth, worst case scenario is they get together." Unfortunately for Beth, it looks like they indeed will get together though. As revealed by The Hollywood Reporter last week, Liburd was promoted to be a This Is Us series regular, meaning viewers will be seeing a lot more of Zoe and Kevin together.
For anyone who needs a refresher, Kevin — and This Is Us viewers in general — first met Beth's super cool and charismatic cousin Zoe when she acted as the photographer (and a voice of reason) at the wedding of Kate (Chrissy Metz) and Toby (Chris Sullivan) in the Season 2 finale. After Zoe complimented Kevin's wedding toast, the pair exchanged flirtatious grins, and, then, in a flash-forward scene, fans saw the pair getting close and cuddly on a flight to Vietnam.
"Kevin's on this trip with this woman he just met," Hartley explained in NBC's first look video. "It's Beth's cousin that he meets at the wedding. They just sort of hit it off and we'll just see where this goes. There's also a question of how Beth's going to handle that."
Is there really a question though? After all, Beth hasn't exactly been a fan of her often-times-irresponsible brother-in-law. Who can blame her? Their relationship went on a crash course after Kevin was arrested for DUI with her young daughter Tess in the backseat of his car. Reluctant to visit Kevin in rehab, Beth referred to him as husband Randall's "jack*ss brother." In the true Beth fashion that fans have come to love, she did promise Randall (Sterling K. Brown) that she'd try to cut Kevin some slack during the rehab visit but wouldn't make "any efforts to hold in my passive aggressive sighs." Classic Beth.
Hartley also has his predictions for how the romance will be received by Beth. "It's not going to go over [well]," the actor recently told Entertainment Weekly. "What do you think it's going to be — smooth or rocky? I think rocky. Rocky's more fun."
Based on the Season 2 finale, it seems Zoe will be a source of support for Kevin as he explores his father Jack's military past overseas. In the sneak peek video, Milo Ventimiglia gave a preview of upcoming storylines for the Pearson family patriarch as well. "We also go back a little further with Jack into his Vietnam era," he revealed. "Understanding truly what happened to him there.
Of course there will be plenty more of the love story between him and wife Rebecca (Mandy Moore), too. "We kind of go back in the past for Jack and Rebecca before the Big Three," Ventimiglia also said in the clip.
Added Moore, "It's sort of at the very beginning of their courtship, picking up from the night where they first met and how they spent the rest of that evening."
Perhaps the biggest Season 2 season finale shocker was a flash-forward scene in which a gray-haired Randall cryptically tells adult Tess (played by Iantha Richardson), "It's time to go see her." When Tess replies, "I'm not ready," Randall agrees: "I'm not either." What does it all mean?
"At some point in time in the season I can tell you that the "her" that is addressed in the future will be illuminated," Emmy winner Brown revealed in the video, which also featured a behind the scenes glimpse at famed photographer Annie Leibovitz snapping cast pics outside the Pearson family cabin.
As for Kate and Toby (AKA KaToby), "We'll see how they go about starting a family," Sullivan said in the clip, with Metz adding, "And that it's not going to be as easy as they thought, and so we will definitely see that unfold."
It sounds as though fans who are expecting a whole new roller coaster of emotions won't be disappointed when This Is Us returns for Season 3 this Fall.