Here's What 'One Tree Hill' Star Shantel VanSanten Thinks About That Potential Revival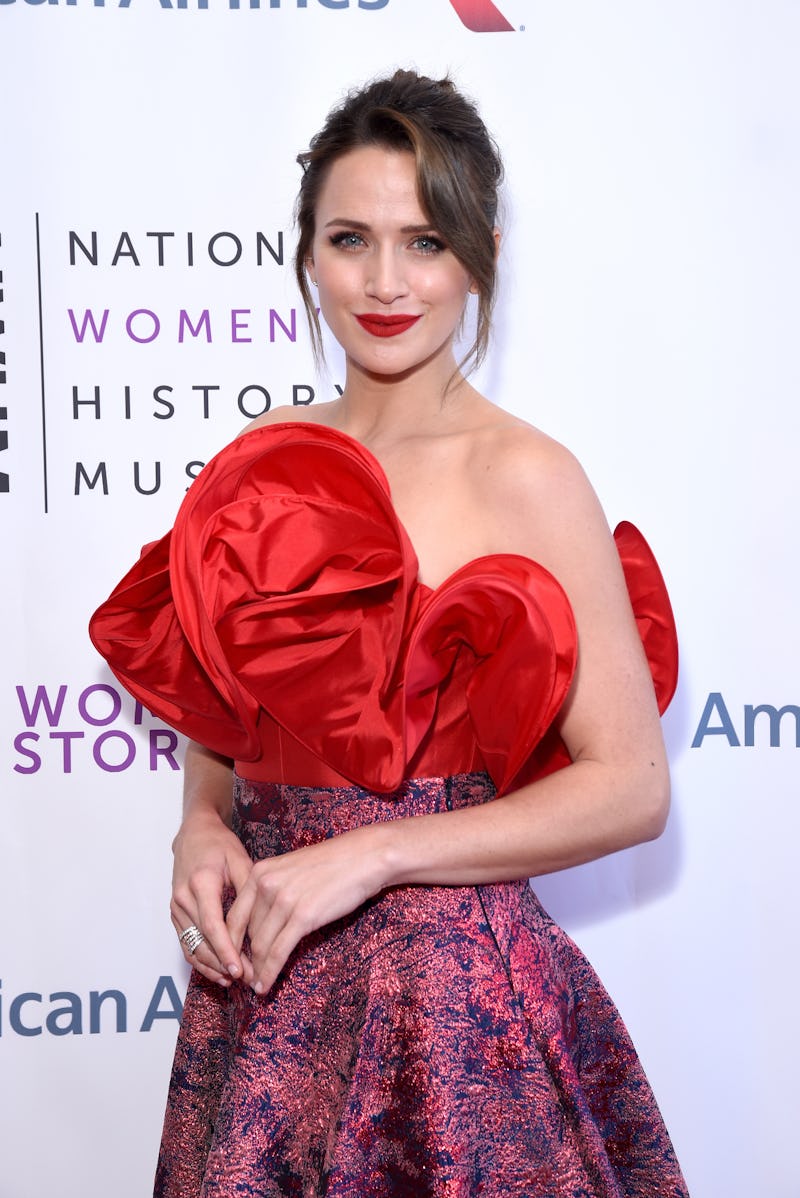 Presley Ann/Getty Images Entertainment/Getty Images
It's the official era of the TV revival, and loyal fans have been wishing for a One Tree Hill revival for quite some time. Recently, audiences learned that a handful of OTH alums will reunite for two Lifetime projects: a TV movie, and a one-hour reunion special. While the news is exciting for fans, it may not totally fulfill their revival desires, as many OGs (like Sophia Bush, James Lafferty, and Chad Michael Murray) aren't involved, and neither projects are an extension of OTH's story. It seems like we might just have to accept that OTH won't get the official revival treatment, although as she explains to Bustle, alum Shantel VanSanten thinks a One Tree Hill reunion project could still happen one day, just not necessarily in the form fans might want most.
"I don't feel like we would want to do One Tree Hill again, but I think that we would all be open to something else," VanSanten (who played Quinn on the show) says on the red carpet at the Women Making History Awards in Los Angeles. While it seems like an official reboot or revival of the series isn't currently on the table, the actor is optimistic about more OTH alums getting together for something fresh. Further, she thinks her former co-stars' openness to a new project would make it a super collaborative process. She explains:
"If it were the right project, I think we would of course want to jump in and all work together again. Especially now that we've all grown up. Not in the same vein of One Tree Hill. Something else. We all want to evolve, right? It would be fun. We all would have so many ideas, it would be like a 14-hour movie. We'd each have to make our own series."
VanSanten also tells Bustle that she's in communication with many female OTH cast members regularly — "it's funny because everybody think it's always a reunion," she says about anytime some cast members get together — so it's not like getting the gang united for a project would be an issue. "I was on my women chat this morning, that's with all the One Tree Hill girls. We're always all in contact," she says.
The actor also explains that while she was aware of her castmates' reunion projects in works at Lifetime, she reveals she "wasn't asked" to partake. Still, she's supporting her former nonetheless. "We're all friends and they kind of cultivated that job for them, and it's awesome. That's great," she says.
In September, fans learned more about the secret OTH Lifetime Christmas film that was first teased in June. Out Nov. 22, The Christmas Contract includes alums Hilarie Burton, Robert Buckley, Danneel Ackles, Antwon Tanner, and will feature a musical appearance from Tyler Hilton, according to TVLine. Then, after that movie premieres, a one-hour special 'Tis the Season: A One Tree Hill Cast Reunion will air. Participating in the special will be Burton, Ackles, Tanner, Hilton, and Stephen Colletti.
Meanwhile, other OTH cast members have given their two cents on reunions and a potential revival. Sophia Bush responded to the Christmas projects in June, telling Bustle, "It has nothing to do with our show. I'm sorry. There are no plans... I don't know if that's to say there never will be, but literally there is not a single discussion of a plan in the works at all."
In July, James Lafferty opened up about a reunion to The Wrap and was a bit more optimistic. "I don't think you're gonna find anybody from the cast who would just outright say no to that," he said. "I don't think it's ever been approached in a really official way." And a few months prior, his TV brother Chad Michael Murray returned to the iconic OTH bridge, though he didn't make any mention of wanting to pursue a revival.
Who knows what the future might bring, but reviving classic shows is always a controversial thing among fans. So for audiences who wish to see OTH left alone in its nostalgic glory, VanSanten's input is actually good news.