This 'Quiet Place 2' Teaser Is Taking The Abbott Family Out Of The Woods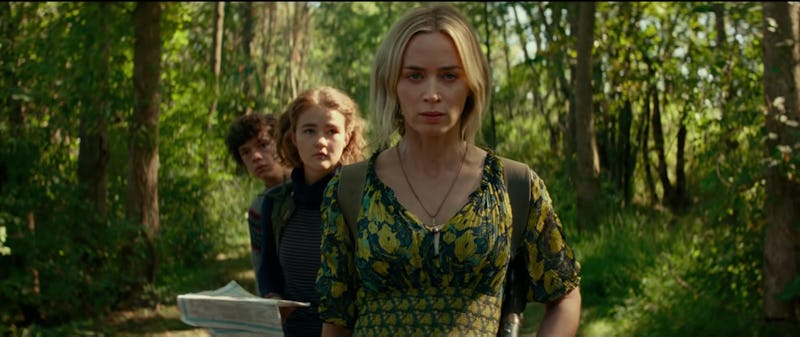 Paramount Pictures via YouTube
Two years after A Quiet Place terrified horror fans everywhere into staying as silent as they could, the Abbott family is back — and this time, they're leaving everything they knew behind. On Wednesday, Dec. 18, the first teaser for A Quiet Place 2 was released, showing matriarch Evelyn (Emily Blunt) and her children stepping into a new part of their post-apocalyptic world and hopefully, leaving the monsters that terrorized them behind for good.
While the short clip doesn't reveal much about the plot of A Quiet Place 2, a new poster for the highly-anticipated sequel does tease that the Abbotts aren't alone, and will meet some of the other people who have been surviving the monsters in a seemingly-abandoned city. According to Collider, the sequel will pick up shortly after the original film, with one of the first stills from the film showing Blunt's character carrying her newborn while leading her older children, Reagan (Millicent Simmonds) and Marcus (Noah Jupe) on their journey.
In addition to leaving their home — and their previous methods of survival — behind, writer and director John Krasinski recently told Total Film that A Quiet Place 2 will find Evelyn attempting to help her children live some semblance of a normal life in the wake of the monsters' attack. "I love the idea of the first one, that Emily and I as characters were all about surviving versus the thriving. All [my character] wanted to do was survive," Krasinski said, per Collider.
"[Her character] says, 'That's not enough. We have to thrive. We have to let these kids be whole human beings,'" Krasinski continued. "And after I'm gone, I'm loving seeing Emily really battle with that – that maybe survival was the way to go. And maybe this idea of thriving was too dangerous."
However, the Abbotts aren't the only people trying to find some way to live in their post-apocalyptic world; in May 2018, Krasinski told Deadline that he wanted a potential sequel to expand the world of the first film and introduce new characters who have been battling for survival. "Where my mind kept wandering as we were making it, was the question of who was on the other end of those fires, when the father lights the fire and in the distance those other fires light up," the multi-hyphenate told the outlet at the time. "How did those people survive? How did that old man survive?"
A few months later, he told Deadline in another interview that while he was initially hesitant to make a sequel, he was ultimately won over by all of the unexplored potential that the Quiet Place universe holds. "We have the world, and you can drop whoever you want into that world and everyone feels connected to it," he explained.
"The reason I decided to go back, in the end, was this world is so rich, and it's so much fun to explore," he continued. "There are so many different things to see now. Everyone else in the world is experiencing this, so I'm curious to see what that looks like from another perspective." Based on the teaser and the Quiet Place 2 poster, it looks like the upcoming horror film will, indeed, introduce a whole new world of characters attempting to survive and thrive, just like the Abbotts did.
The full A Quiet Place 2 trailer will be released on New Year's Day, and the long-anticipated sequel will hit theaters in March 2020.