A 'Riverdale' Spinoff Is Happening & No, It Has Nothing To Do With 'Sabrina'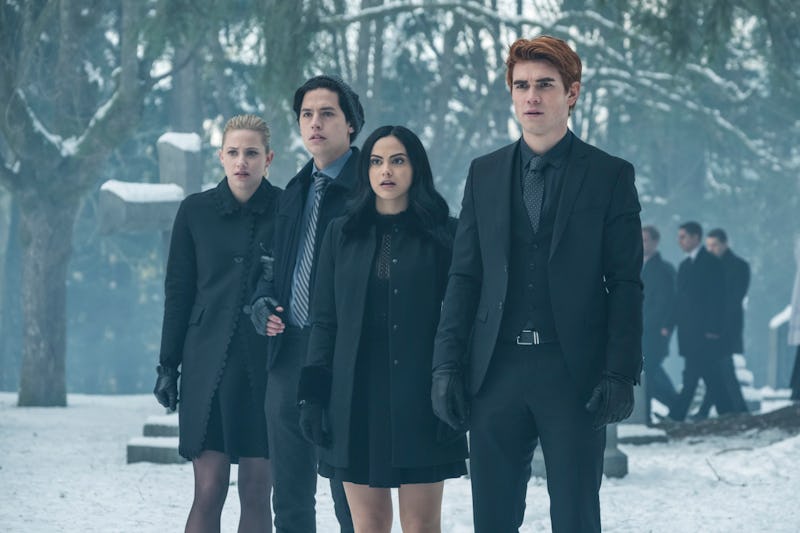 Katie Yu/The CW
Archie, Jughead, Betty, and Veronica may be gearing up for another drama-filled year in Riverdale, but The CW is already looking to expand the comic-based universe to even greater heights in the coming year. During the Television Critics Association summer press tour on Monday, Riverdale showrunner Roberto Aguirre-Sacasa told reporters, as reported by TVLine, that a Riverdale spinoff is currently in the works, though, surprisingly, it supposedly has no crossover connection with The Chilling Adventures of Sabrina, which is set to make its grand debut on Netflix on Friday, Oct. 26.
"We're really excited, but we're still early on in the process," Aguirre-Sacasa explained. And while the project is still in the early stages of development, he hopes the offshoot series can get underway for the 2019-20 TV season, so fans may have double the amount of Riverdale drama in their lives within a year's time. Unfortunately, Aguirre-Sacasa refused to divulge any specific details about which characters the spinoff show could potentially center around, but teased that "it will be very different from Riverdale."
It's difficult to really dissect any clues from the statement about what the spinoff would be about, but personally, a Josie and the Pussycats spinoff sounds like a promising option. It would have all the dark drama and intrigue we've come to love about Riverdale, but with even more musical numbers. Talk about a win-win situation, right?
Sure, it would be a shame to see Josie & Co. leave Riverdale entirely, but given what little storylines they've been given lately, it would make a lot of sense for them to easily shift over to their own show — with the option of coming back to the original whenever the plot calls for it, of course. Regardless, it would be great to see these characters get more screen time and expand on their stories in new and exciting ways.
Some fans may not like the idea of any Riverdale character leaving the nest for a different series, which is why the announcement of the Sabrina spinoff on Netflix was so exciting since it gave viewers another aspect of the Riverdale-comic universe without making any major changes to the CW series itself. Sadly, though, there won't be any Riverdale and Sabrina crossover events in the near future. "I think right now we're just making sure that the shows have their own identities and own set of rules," Aguirre-Sacasa said during the TCA panel, according to Deadline.
While that definitely leaves hope for some crossover potential in the future, it may make viewers a little more open to the idea of another spinoff coming into play. Because, really, at the end of the day, more Riverdale is never a bad thing. So maybe Josie will finally get her time to shine, or perhaps Cheryl Blossom will go off and have her own show where she fights crime with her bow and arrow and red hood. Either way, there are a lot of possibilities out there for new material and it'll be exciting to see how this latest CW endeavor shakes out.