A Shooting At A Bar In Thousand Oaks, California Left Many Dead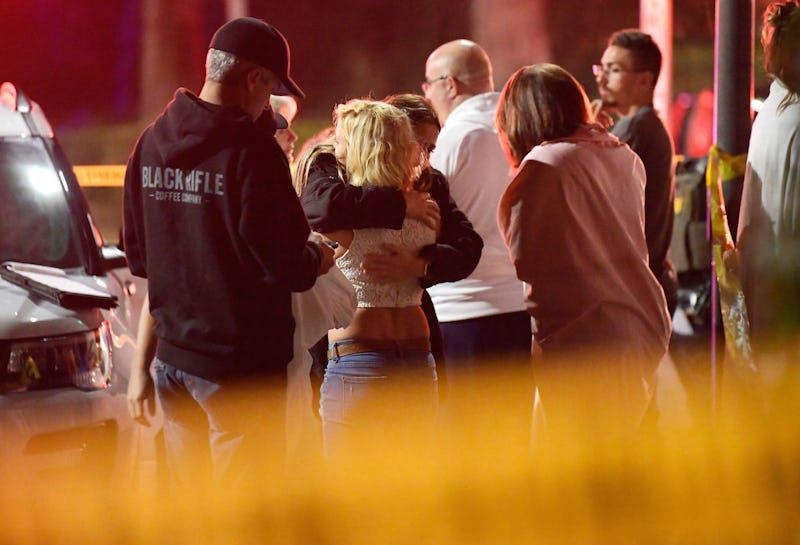 Mark J Terrill/AP/Shutterstock
On Wednesday night, a person shot multiple people at Borderline Bar and Grill in Thousand Oaks, California. At least 12 people were killed, according to The New York Times. The gunman entered the bar late at night, when the bar was having an event for college students, officials said per The Times.
Borderline Bar and Grill is a western-style venue in Thousand Oaks, which is northwest of Los Angeles in Ventura County, near Calabasas and Malibu. According to Borderline's website, Wednesday nights are "College Country Nights," which includes line dance lessons at 9:30 p.m. and 10:30 p.m. On these nights, people under 21 are allowed inside. Borderline is near Pepperdine University and California Lutheran University.
The people who were killed in the shooting on Wednesday night include Ron Helus, a Ventura County Sheriff's Office sergeant, according to The Washington Post. Per the Post, Helus had been on the force for 29 years and he had been planning to retire soon. The gunman also died inside the bar.
"It's a horrific incident," Ventura County Sheriff Geoff Dean said to the press, according to The Washington Post. "[It's] part of the horrors that are happening in our country and everywhere, and I think it's impossible to put any logic or any sense to the senseless."
According to the Gun Violence Archive, a nonprofit, there have been 306 mass shootings so far in 2018 (there have been 310 days so far in 2018), not including the shooting in Thousand Oaks. Young people near the bar told The New York Times and The Los Angeles Times that some people who went to the country bar had also been at the Route 91 Harvest music festival in Las Vegas, Nevada, in 2017, where a gunman killed 58 people. The Borderline shooting at Thousand Oaks comes less than two weeks since a gunman killed 11 people at a synagogue in Pittsburgh, Pennsylvania. It comes less than a week since a gunman killed two women at a yoga studio in Tallahassee, Florida.
Nearby colleges responded to the shooting, especially as the names of those who were killed (and the many who were injured) have not yet been officially released. According to independent news organization Pepperdine Graphic, Pepperdine University put out a statement saying university students were at Borderline, and that the school was working to identify those students. The Echo at California Lutheran University reported that students from that college, as well as Moorpark College, were in the bar.
President Donald Trump responded to news of the shooting with two tweets on Thursday morning. In them, he indicated that he had been briefed "on the terrible shooting in California." He wrote:
Law Enforcement and First Responders, together with the FBI, are on scene. 13 people, at this time, have been reported dead. Likewise, the shooter is dead, along with the first police officer to enter the bar...
....Great bravery shown by police. California Highway Patrol was on scene within 3 minutes, with first officer to enter shot numerous times. That Sheriff's Sergeant died in the hospital. God bless all of the victims and families of the victims. Thank you to Law Enforcement.
According to the Associated Press, Erika Sigman, a 19-year-old who hid with a group of strangers holding hands during the shooting, said, "There is a lot of bad in this world, but there is also a lot of good and people will help."