Corona Light-Flavored GUMMIES Are Here Just In Time For Your Summer Instagrams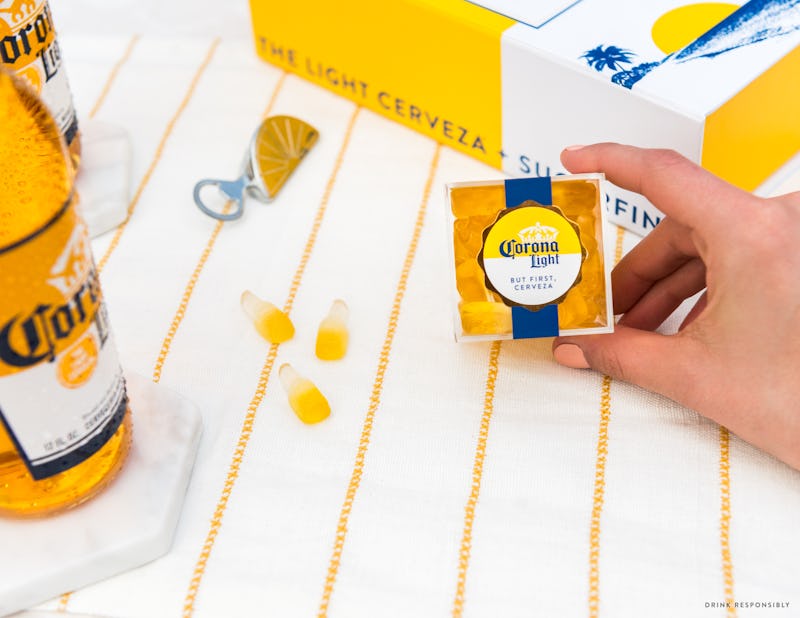 Sugarfina
Gummy candies are truly having a moment, my dudes. Last week our eyes were graced with images of gummy pickles that were not only shaped like pickles, but tasted like them, too. Earlier this month, The Standard Hotel announced it would be adding CBD-infused gummies to its hotel room minibars. But the latest in breaking gummy news may be the most summery one yet: Sugarfina's Corona Light-flavored candies are hitting shelves, just in time for all the poolside summer 'grams your Valencia-filtered heart desires.
The collab has inspired two different flavors of gummy candy. The first, called "But First, Cerveza," is a classic Corona Light flavor, in an amber hue and shaped like the iconic bottle. The second, dubbed "Here For A Good Lime," is inspired by Corona Light Lime, and comes in the shape of (drumroll, please) limes. They're packaged in Sugarfina's Candy Cubes and sold individually, but are also available in a Corona Light Candy Bento Box that comes with its own custom bottle opener in the shape of a lime. In other words, a bottle opener to cancel all other bottle openers that dared coexist with it.
"This is our first beer collaboration and it was a must to partner with Corona Light," Sugarfina cofounders Rosie O'Neill and Josh Resnick said in a press release. "Corona Light topped our loyal fans' list as the 'sexiest beer,' so we couldn't think of a better inspiration than The Light Cerveza combined with a zesty lime essence to create delicious candies perfect for summertime."
As someone who already baseline finds gummy candies sexy (my apologies to the Haribo bear), this is truly a Moment for gummy stans.
"We've had so much fun collaborating with Sugarfina and brewing up our new gummy candy collection ready just in time for summer with The Light Cerveza," said John Alvarado, vice president of marketing for Corona Light. "Sugarfina has redefined candy for grown-ups — offering the perfect combination of playfulness, great taste and style. Corona Light is thrilled to join the party as the first beer brand collection."
This marks Sugarfina's first ever collab with a beer brand (pssst — where you at, Blue Moon?), but any gummy aficionado knows that this is far from Sugarfina's first alcohol-based rodeo. In 2016, the company was way ahead of the rosé curve with its viral Rosé All Day Bears, which were a pastel millennial pink dream of a collab with rosé brand Whispering Angel. In 2017, it partnered with tequila brand Casamigos to introduce infused gummies and even a tequila-filled chocolate bits. And if none of those happen to float your summer drink boat, Sugarfina has an entire section on their website devoted to cocktail-inspired candies, ranging from its Champagne Bears to Tito's American Mule Bears to gummy Stout Pints.
So basically, if your jam is alcohol and gummy candy, Sugarfina has you covered in the summer of 2018. And heck, even if your jam is just plain candy, Sugarfina has you covered — fair warning, if you start browsing through the candy selection, you're not going to be coming out of that hole until long after your lunch break is over and you have to explain to your boss why there are 15 tabs with pictures of various gummy and chocolate candies open on your desktop (pro-tip: there's a tequila-infused candy bar with smoke sea salt that anyone who enjoys tequila needs to try).
As for the latest addition, Corona Light, the collection is available for purchase online on April 23, and will hit stores at Sugarfina, Nordstrom, and other select retailers on May 1. Happy almost summer, y'all.