A 'To All The Boys I've Loved Before' Sequel Could Totally Happen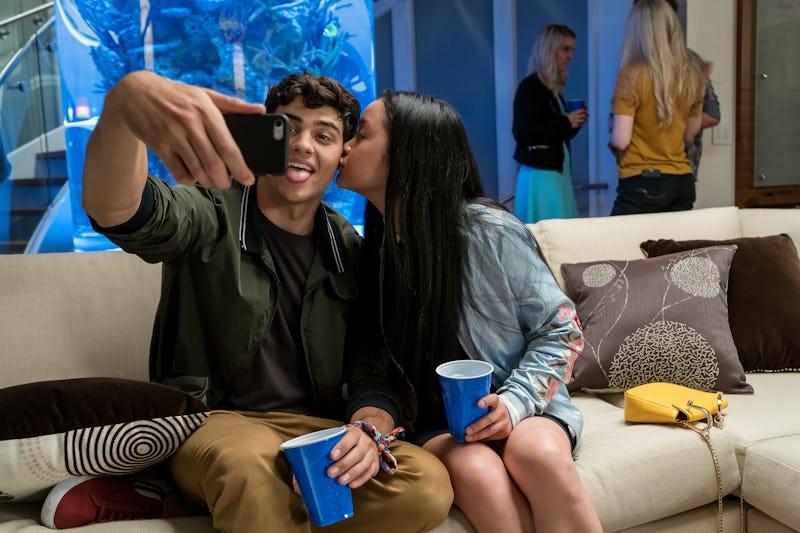 Netflix
Spoilers ahead. It's official: the new Netflix film To All the Boys I've Loved Before is a smash hit. The teenage romantic comedy has pretty much taken over the internet since its release on Aug 17, boasting a 94 percent rating on Rotten Tomatoes and drawing raves from fans for its plot, humor, diversity, and acting. People are so gaga over the film that it stands to reason there will eventually be a To All the Boys I've Loved Before sequel. But will there be, or is this the only installment in what could potentially be a franchise?
As of right now, no sequel has been announced for the film, but there is definitely a strong possibility that one could get made. Evidence can be found in the movie itself, thanks to its unconventional (for a rom-com) mid-credits scene. At the end of the movie, Lara Jean (Lara Condor) and Peter Kavinsky (Noah Centineo) end up together, but that's not where the film's story ends. Of Lara's love letters to her five crushes that were sent out in the film, one wasn't resolved: the one sent to the boy she knew from Model UN, John Ambrose. In the mid-credits scene, John shows up at Lara's house with the letter and some flowers, proving that he did receive it and, apparently, is reciprocating her feelings from years prior. But since Lara's sister answers the door, we don't get to see John and Lara come face to face. So either the film is ending on a serious cliffhanger, or it's setting up a sequel.
As previously mentioned, there's been no formal announcement of a sequel from Netflix, but the movie's cliffhanger ending certainly leaves the door open. Not only that, but the novel of the same name upon which the movie is based has two sequels. The first is P.S. I Still Love You, while Always and Forever, Lara Jean completes the trilogy. P.S. I Still Love You mostly deals with the complications that arise in Lara and Peter's relationship due to the arrival of John and the return of Peter's ex, Genevieve. But will this book's story ever make it to screen?
One person who definitely wants that to happen is the author of the series, Jenny Han. "There's so many things in the second book that I would love to see in a sequel," the author told IndieWire's Hanh Nguyen. "The whole reason why I wrote a second book was for the character of John Ambrose McClaren, who is a fan favorite, and he's a favorite of mine too. I would love to see that explored, and also there's a character called Stormy that I love to write. I would love to see that."
So even though Netflix hasn't announced a sequel yet, the evidence seems pretty strong that a To All the Boys I've Loved Before sequel will eventually get made. The story's already there, the author wants it done, and the movie itself even hints at it. So come on, Netflix, what are you waiting for?!