Peter Kavinsky Gets MAJOR Competition In The 'To All The Boys I've Loved Before' Sequel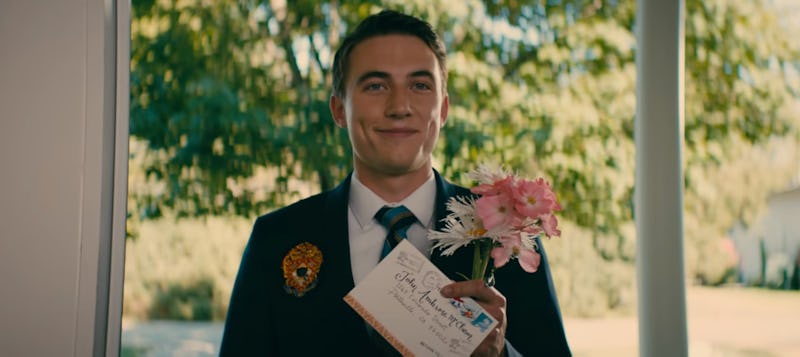 Netflix
If there is one thing I love, it's a new rom-com to fall head over heels for. And that is exactly what the Netflix adaptation of Jenny Han's YA novel To All the Boys I've Loved Before has provided me — and basically the entire internet — with. If you've been on social media at all since Aug. 17, when the film was made available for streaming, you have probably seen the memes, gifs, jokes, Twitter threads, and most importantly, the totally justified drooling over both Peter Kavinsky and the 22-year-old actor who plays him, Noah Centineo. But if you stuck around during the end credits, you might have gotten a glimpse of a possible new suitor for Lara Jean Covey: John Ambrose McClaren. And at this point I'm pretty sure you have only two crucial questions — one: who the heck is this guy?; and two: how dare he?! Don't worry, I've got the answers.
For those unaware, Han's To All the Boys I've Loved Before is actually the first in a trilogy of books. As we know from the movie, Lara Jean writes a total of five letters to her former crushes. Josh, Peter, and Lucas all make appearances in the film, while Kenny from camp's letter gets returned to sender. The only guy we don't hear from? John Ambrose McClaren, a boy that Lara Jean knew from Model UN. This is all true for the book, too. But in the To All the Boys I've Loved Before sequel, titled P.S. I Still Love You, John Ambrose is a mystery no more — and he turns out to be some pretty serious competition for Peter K.
I know you're probably thinking, "But who could ever be competition for Peter?!" And, believe me, I really feel you there. But To All the Boys I've Loved Before actually had quite a different on-page ending than it did on screen: the book closes with Lara Jean and Peter still broken up. I know, it's rough to imagine. Of course, readers walk away with a little bit of hope, knowing that Lara Jean is about to write Peter one epic love letter. But when book two opens, we're introduced to John Ambrose, who we learn was actually good friends with both Lara Jean and Peter in middle school, before he moved away.
P.S. I Still Love You by Jenny Han, $4.15, Amazon
And without getting too spoilery, let's just say that the super-handsome, endearingly polite and undeniably romantic John Ambrose turns out to be quite worthy of Lara Jean's love letter. And he shakes up everything Lara Jean thinks she knows about romance... and her feelings for Peter. Only time will tell if Netflix will give us the on-screen sequel we're all so clearly clamoring for — though the fact that they included that open-ended mid-credits scene seems to indicate that they have hopes for one, too. In the meantime, you can make your own decisions about John Ambrose by picking up the book sequel right now — if you can restrain yourself from re-watching the film for long enough to read an entire book, of course.