The Crowdfunding Site To Unseat Susan Collins Crashed During Her Kavanaugh Speech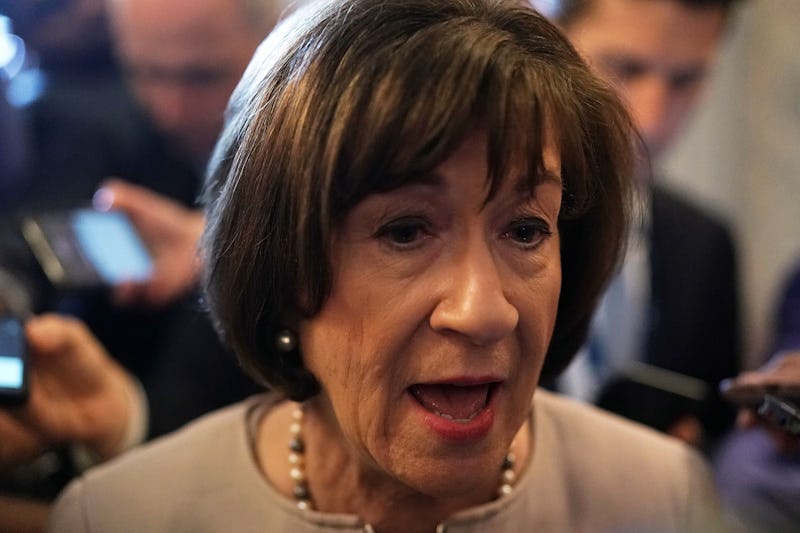 Alex Wong/Getty Images News/Getty Images
After weeks of speculation, Maine Sen. Susan Collins announced on Friday that she would vote to confirm Supreme Court nominee Brett Kavanaugh. Collins' fellow Republicans lauded her decision, but her critics wanted to make it known that they were far from content. Just after Collins delivered her statement on the Senate floor, a website raising money for Collins' eventual Democratic opponent crashed because an overwhelming number of people rushed to pledge money.
According to Esquire, Collins is not up for reelection until 2020, and nobody has announced their intention to run against her yet. But when Collins indicated that she would vote in Kavanaugh's favor during Saturday's full-Senate vote, her eventual — though as yet nameless — opponent ended up with more than $2 million pledged to their campaign.
The Maine People's Alliance and Mainers for Accountable Leadership, along with progressive activist Ady Barkan, launched a crowdfunding campaign for Collins' opponent on a website called Crowdpac. They initially started this campaign last month in an effort to influence Collins' vote — "to beg Senator Collins to vote 'no' on Trump's Supreme Court Nominee Brett Kavanaugh," per the Crowdpac page.
The campaign asked people to pledge money in support of Collins' future opponent, in case Collins voted "yes" in the Kavanaugh confirmation vote. The campaign's organizers indicated that the pledges would be void if Collins voted "no," and that the money would not be withdrawn from donors in that case. But as soon as Collins made her announcement on Friday, so many people rushed to donate that Crowdpac was pushed offline, Business Insider reported. The site was brought back online later in the day, however, and at the time of publication, the campaign had raised more than $2.3 million from roughly 82,000 pledges.
NBC News' Alex Seitz-Wald noted on Twitter that the crowdfunding campaign crossed the $2 million mark as soon as Collins made it clear that she would vote in Kavanaugh's favor. According to The Washington Post, a spokeswoman for Collins denounced the campaign last month as attempted extortion, and argued that such efforts would not sway the senator.
"And anybody who thinks these tactics would work on Senator Collins obviously doesn't know her," Collins spokeswoman Annie Clark said in a statement. "Senator Collins will make up her mind based on the merits of the nomination. Threats or other attempts to bully her will not play a factor in her decision making whatsoever."
Up until she made her announcement on Friday, Collins was the only Republican senator who hadn't provided an indication of how she would vote on Kavanaugh's confirmation. As Newsweek pointed out, Collins' delay in announcing her decision was likely influenced — at least in part — by pressure from her fellow Republicans. According to The Hill, Donald Trump reached out to Maine Gov. Paul LePage last year to urge him to run for the Senate. This sparked speculation that LePage would challenge Collins if she voted "no" on Kavanaugh's confirmation, though he tweeted praise for her following her statement.
Two other Republicans — Arizona Sen. Jeff Flake and Alaska Sen. Lisa Murkowski — were also seen as potential swing votes, though Flake has since announced that he would vote in Kavanaugh's favor "unless something big changed." Murkowksi, however, has implied that she would diverge from her party and vote "no" on Kavanaugh's confirmation, per The New York Times. The Senate is expected to conduct its full-floor vote on Saturday.