There's A Wine Theme Park & You Need To Gather The Squad IMMEDIATELY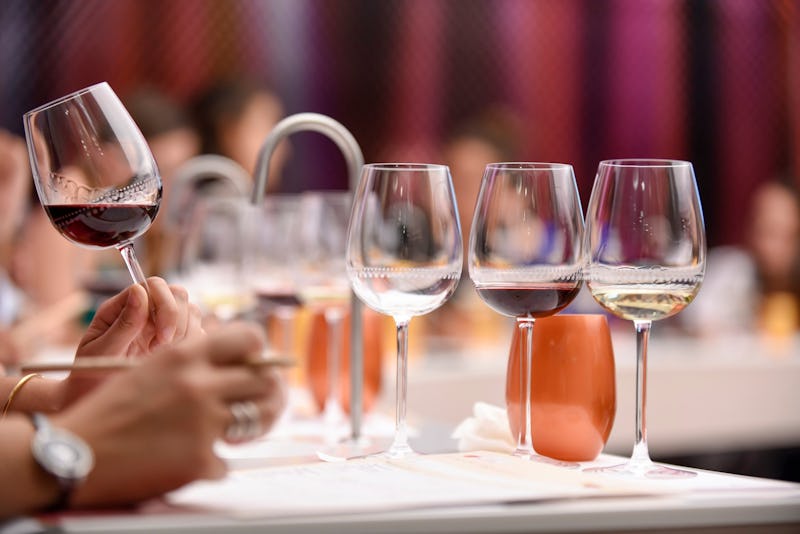 Anaka/La Cité du Vin/XTU architects
You're aware that there's a wine theme park in France, right? It's called la Cité du Vin, and it's located in Bordeaux, aka the land of terrific red wine. You may have heard about it when it was getting ready to open its doors back in 2016 — and two years on, it seems that it's become one of the top things to do when visiting Bordeaux. Heck. And yes.
Although the buzz about la Cité du Vin didn't kick up on the English language internet until May of 2016, shortly before it opened, the project itself was conceived in 2009, according to la Cité du Vin's website (in which there's an extensive section devoted to la Cité du Vin's own history). The name itself underwent a couple of changes in the seven years between the beginning of the project and its eventual opening; first called the Centre Culturel et Touristique du Vin (the Cultural and Touristic Center of Wine), the Cité des Civilisations du Vin (the City of Wine Civilizations), eventually it became the simpler, straightforward Cité du Vin — the City of Wine. The building itself took around three years to build, with the whole thing finally opening in June of 2016. La Cité du Vin attracted 445,000 visitors in its first year, according to French news outlet Les Echos — far beyond the original projected numbers.
To be fair, it's really less of a "theme park" and more of a museum; situated mostly within a 13,350 square meter building shaped like a giant carafe designed by architectural firm XTU, Anouk Legendre, and Nicolas Desmazières, it's full of exhibition spaces and includes periodic temporary exhibitions. Right now, the exhibition in the spotlight is "Wine and Music," which examines the cultural links between — what else? — wine and music from the Renaissance up through the 19th century. The exhibit began on March 23, 2018 and runs through June 24.
That said, though, it's very much an interactive museum — and, as Eric Asimov recently wrote in the New York Times, the real "heart" of the place is the permanent tour, which consists of "19 themed spaces that provide an overview of the world's vineyards, the development of domesticated grapevines, the intricacies of how wine is made, the nuances of tasting and drinking it, and historical presentations on transporting wine and enjoying it dating from 6,000 B.C." That does make it sound somewhat theme park-esque, as does its apparent raison d'être: Wrote Asimov, "Ultimately, [la Cité du Vin] poses the existential question of why humans have gone to such extreme efforts to create a beverage that is not essential to existence."
Beyond the tour and the temporary exhibitions, there's also a reading room that's essentially a wine library, an auditorium that serves as a space for talks, concerts, and other sit-down event programming, a top-floor tasting room with panoramic views of Bordeaux, restaurants and shops, and a beautiful garden and green space outside. You can also take workshops devoted to subjects like wine tasting — and, if you're feeling really ambitious, you can sign up for wine tours and cruises through Bordeaux Wine Trip.
So: What's it like to actually visit the place?
The Yelp reviews for la Cité du Vin frequently mention a bit of "sticker shock" many experienced at the price of admission; it's €20 per adult, or just shy of $25. (I'll be honest, though: That doesn't seem that outrageous to me. In fact, it's comparable with a number of other similar, extremely popular tourist attractions in the United States: Standard admission at the New York branch of Madame Tussauds is $29 online or $34 at the door; the International Spy Museum in Washington, D.C. is about $23; the San Diego Zoo is a whopping $54 for a one-day pass; and so on and so forth. Plus, the €20 admission fee for la Cité du Vin also includes a glass of wine at the end, which Madame Tussauds definitely does not.) These reviews varied wildly, as is wont to happen on Yelp, with some visitors describing it as "literally the best museum I've ever been inside" and others writing sentiments like, "Well, I wanted to like this museum, but honestly it wasn't what my wife and I were expecting."
However, reviews elsewhere are almost universally favorable. "The permanent exhibit is not only worthwhile; it's extraordinary," wrote Richard Martin at Food Republic shortly after la Cité du Vin opened. "I'll admit, I was won over in part because I expected a far more academic approach to wine, one where a visitor would be unlikely to encounter LCD Soundsystem or holograms or exquisite interior design — towering wooden wine-bottle structures housing video screens, for example." (He encountered both on his visit.)
At the New York Times, Eric Asimov praised the fact that the museum "consciously avoids the outright promotion and celebration of Bordeaux" — the issue, he wrote, being that, for many wine museums, "the more ambitious the museum, the more transparently promotion it is for a particular region, a certain producer, or the benefits of wine" — instead taking "an ecumenical approach, looking at the scope of wine culture worldwide and letting history — and the people who make the wines — speak largely for themselves."
Guy Hibbert noted at France Today in December of 2016, "To say you are going to visit a 'museum of wine' does not begin to do justice to what has been created here. This project has got soul." Continued Hibbert, "Conscious, perhaps, of the reputation that wine has in some quarters of being elitist and snobby, the goal has been to create a multi-sensory experience that would reveal all the subtle stories and nuances of the world of wine, without being over-intellectual, self-reverential or inward-looking" — something which la Cité du Vin apparently accomplishes with aplomb.
Meanwhile, Katrina Lobley at the Australian travel site Traveller highlighted the Belvedere — the tasting room at the very top of the museum — "with its striking wine-bottle ceiling and panoramic views over the Garonne's crescent shaped curve that inspired the city's nickname: Port of the Moon."
Bordeaux itself has undergone something of a renaissance in recent years. Despite the longtime prominent reputation of wines from the region, the city itself was never much of a tourist destination; however, as Bordeaux travel company Bordeaux Excellence founder Madeleine Marchand told the New York Times in 2016, "Bordeaux has undergone a face-lift over the past 15 years, and those changes are being seen now." According to New York Times writer Shivani Vora, that "face-lift" includes the refurbishment of the city's 18th century historical center, the addition of green spaces along the waterfront, the installation of a tram system for transportation, and "new restaurants and attractions" that have "helped amp up the buzz," thereby "giving Bordeaux a reputation as a place with much more to offer than its famous red wine."
Over the past two years, it's become apparent that la Cité du Vin is a major part of this renaissance — and it definitely seems like it's worth a trip. Wine magazine Decanter has some useful information about how to visit la Cité du Vin; you can also find out more directly from la Cité du Vin's website. Bottoms up!