Beyonce Fans Are Furious About Her Wax Figure & You Will Be Too When You See The Photo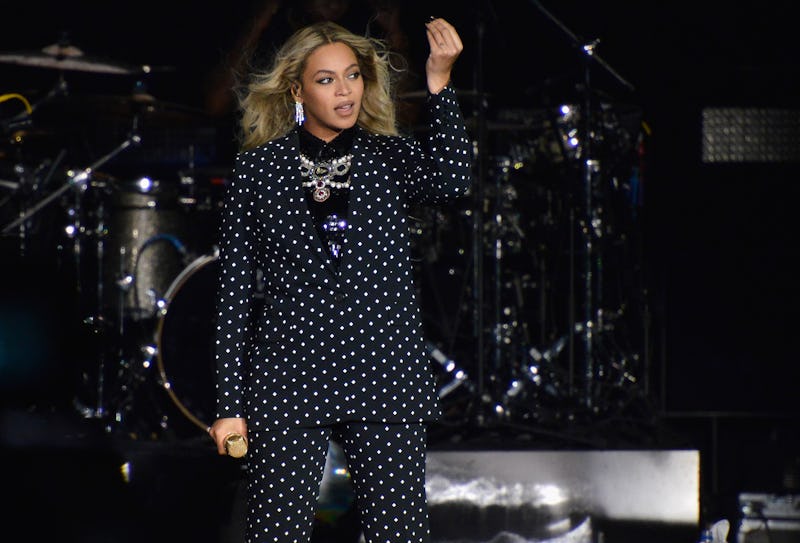 Duane Prokop/Getty Images Entertainment/Getty Images
A wax museum in Niagara Falls, Ontario, Canada is facing major Twitter backlash for their reportedly white-washed Beyoncé wax figure. Writer and Twitter user Ama Scriver shared a photo of the "Formation" singer's wax figure, and not only does it look nothing like Queen Bey, it also appears to have very light skin. It's safe to say that fans of the singer are not having it.
This isn't the first time the museum has been criticized for their Beyoncé wax figure. In 2017, Vice visited Louis Tussaud's Wax Museum in Niagara Falls after an earlier photo of the statue caused an uproar on Twitter. It's unclear whether the current figure is the same one, or a second attempt by that same museum — either way, it's definitely not doing Beyoncé or her fans justice. Bustle reached out to reps for Louis Tussaud's Wax Museum and Beyoncé, but has yet to receive a response.
The reactions on Twitter range from outrage to complete confusion over how the museum could have gotten such an iconic woman so wrong. It's safe to say that everyone is in total agreement over the fact that the figure looks nothing like Beyoncé, with many feeling that it is in fact offensive given how light its skin color is. The bottom line is Beyoncé deserves better, and her fans are not being shy about expressing their feelings on the matter.
White-Washing Is Not OK...
While no part of the wax figure in any way looks like Beyoncé, the most disturbing part is that it clearly has much lighter skin. White-washing is never OK, and it's disheartening to see a museum put Beyoncé's name on the body of a figure who seems to be white. Beyoncé is a woman of color, and, if this wax figure is indeed light-skinned, her identity shouldn't be stripped away from her — and people who come to see her figure certainly shouldn't be met with an image that in no way lines up with that of the singer.
...And It Seems To Keep Happening
As mentioned above, this isn't the first time a Beyoncé wax figure has been displayed with reportedly light skin at this museum. But it also seems that this is a problem wax museums in general appear to have when they try to craft the performer. Madame Tussauds take on Queen Bey seemed to have the same issue, and that's from a museum that has a reputation for mostly doing its subjects justice.
People Are Chiming In With Who The Figure Actually Looks Like
Is it Britney Spears? Jennifer Aniston? A leftover My Size Barbie from the '90s? Because there's no universe in which that figure looks anything like the glorious Beyoncé.
Even The Wax Figure Knows It
Her name tag says Beyoncé, but her face says, "I'm so sorry about this, museum-goers."
Some People Simply Have No Words
This faux Beyoncé is so bad that she's reduced people to using these GIFs, because sometimes there just are no words.
And Everyone Suspects Beyoncé Is The Only One Who Knows How To Properly Handle This Situation
If there was ever a moment when it was time for Queen Bey to break out her Lemonade baseball bat again, this might be it.
Mostly, The Internet Is Just Saying No To This Nonsense
Sorry, museum, but that's not Beyoncé. Time to give that wax figure a new name tag, because she's not fooling anyone.
It's time for the museum to correct this, because the wax figure baring Beyoncé's name is clearly not the famed singer. Not only that, the figure clearly isn't a person of color period. This is one wax figure that needs to come down. Beyoncé is way too amazing to have such a pale imitation representing her in any museum.