A Zoo Will Name A Cockroach After Your Ex & Feed It To A Meerkat For Valentine's Day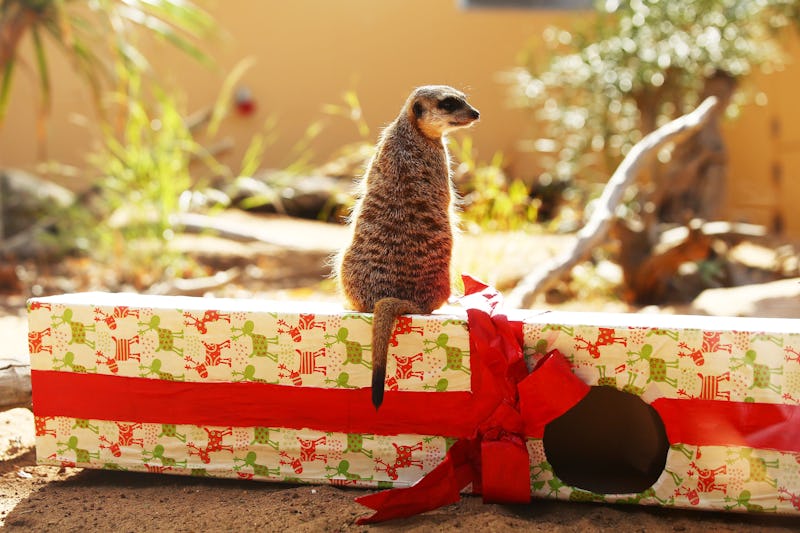 Matt King/Getty Images News/Getty Images
There are some words that you would never think to put together but, when they become one, they create a beautiful sound indeed. How could "ex", "zoo", "cockroach", "Valentine's Day", and "meerkat" combine to make the most perfect sentence in the English language? Well, this Valentine's Day, a zoo will name a cockroach after your ex and feed it to a meerkat. An effing meerkat. The Valentine's Day dream you didn't even know you had is finally, finally coming true.
The zoo that dreamed up this beautiful Valentine's Day gift is the El Paso Zoo — and they're ready to help you give yourself the ultimate V-day treat. How does it work? It's called the "Quit Bugging Me" meerkat event (GET IT?) and if you message the the zoo on Facebook they will name a little cockroach after your ex and feed it to a meerkat. Seriously. They'll start displaying names of the exes from today at the meerkat exhibit and on their social media. Then, on February 14 at 2:15 p.m., they'll live stream the feasting on their meerkat webcam — yes, that's a real thing — and on their Facebook page. What more could you ask for? Whether you're pro-Valentine's Day or anti-Valentine's Day, this is the great equalizer we all need in these troubled times.
"This is a fun way to get the community involved in our daily enrichment activities," the El Paso Zoo event coordinator, Sarah Borrego, told CBS News. "The meerkats love to get cockroaches as a snack and what better way to celebrate Valentine's Day than by feeding them a cockroach named after your ex!" In other news, The El Paso Zoo event coordinator is my new dream job.
When it comes to Valentine's Day and exes, you could take the high road. You can forget about them altogether, maybe even wish them well, and get on with your classy, fulfilled life. Or you could TAKE THE EVEN HIGHER ROAD AND NAME A COCKROACH AFTER THEM AND WATCH THAT COCKROACH GET EATEN BY A MEERKAT. Dare I say, the highest road of them all.
As you can imagine, the internet has turned up for this since it was announced — so it will be interesting to see how many names actually get submitted and how the celebrations will look on Valentine's Day. If you're reeling from a bad breakup or just want to treat your self, it's a great day to do something nice for you and really live up that single life. Might I also recommend pairing a cockroach feeding with buying yourself a bouquet that you can eat or a candy spa treatment at, yes, an actual candy spa?
The truth is, Valentine's Day can feel like a bit of a hot mess. There's often no real way to celebrate that feels right — whether you're single or in a relationship — and somehow ignoring still feels like you're acknowledging it, just in a different way. So just do whatever feels good to you and try not to overthink it. If you want to ignore it or hang out with your friends or go out or stay in or eat everything, that's all cool. And if what you want it to name a cockroach after your ex, well, there's now a way to do that — which is kind of weird and kind of amazing. Is it petty? Absolutely. Will it provide an Aristotelean level of catharsis? We can only dream.
But if you're not tuning into their live stream on February 14 and you miss the greatest show of all time, don't say I didn't warn you. It's the event of the century.