Actor Michelle Williams Addressed The Fact That Google Thinks She Was In Destiny's Child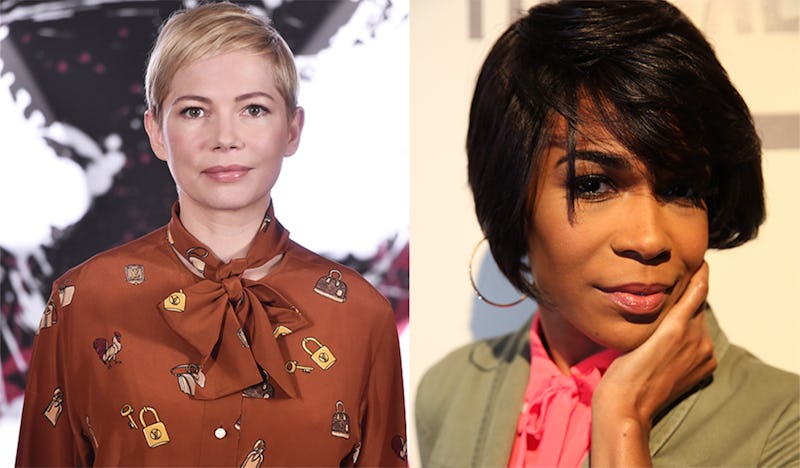 Alberto E. Rodriguez/Getty Images Entertainment/Getty Images; CJ Rivera/Getty Images Entertainment/Getty Images
Is it more difficult for a person to have a common name or an uncommon name? And does that change if it's shared with a famous person — one equally famous as yourself? These are the questions that do not keep Michelle Williams up at night. Actor Michelle Williams loves that Google thinks she's in Destiny's Child, as she told the Huffington Post in an Oct. 3 interview, and really, no one could blame her for that. Especially not after hearing her explanation.
The potential for a mistaken Michelle Williams moment has been out there as long as they've both been famous — so, since about 1998 for both. Still, it's come up again not only because the actor is promoting a film, but because an eagle-eyed Twitter user spotted that Google has not only confused the two Michelles, but planted itself firmly in the actor's camp. Twitter user @kaysiebeth grabbed a screenshot of Google results that prove the search engine thinks that she's been a part of Destiny's Child since the late '90s.
The Academy Award-nominated actor spoke with Huffington Post about the internet mistaking her for the other Michelle Williams, and based on her answers, it seems she'd been waiting to be asked about it for pretty much ever. Spoiler alert: She's not just cool with it; she's a fan.
Once it was brought to her attention the Venom star explained:
"It gets me one step closer to Beyoncé, so I'm pretty good with it. Now I'll have an ice breaker if I ever get to meet Beyoncé. I'll talk to her about the old days of Destiny's Child. So, thank you!"
The actor then added, "I'll obviously be tongue-tied if and when [meeting Beyoncé] ever happens, and now I'll know exactly what to say." As Huffington Post pointed out, she is yet to meet the global icon — but she's had plenty of in-person mixups to practice with.
One would think that most children are generally not described as "enormous fans of Stevie Wonder," but then again, most are not the child of Williams and the late Heath Ledger. The actor told Huffington Post that her 12-year-old daughter Matilda is indeed "an enormous Stevie Wonder fan", and Williams had a small-scale identity crisis when they attended a concert of his together. Or, rather, she caused a bit of a crisis for someone else.
Per Huffington Post, her very presence caused a bit of a conundrum for the will-call ticket booth.
"We went to a Stevie Wonder concert, and when I was in line to pick up our tickets, the guy said, 'No, you're not,' and I said, 'I am. I'm Michelle Williams,' and he said, 'No, you're not.' And I said, 'I really am.' I showed him my ID, and he said, 'Oh, that Michelle Williams. I just assumed that it was gonna be ... Oh cool. What?'"
It reads kind of like a "Who's on first?" for A-list celebrities, and it's all the more endearing for it, really. Plus, in person has to be a more difficult mix-up to explain than on the internet. For example, what if a person didn't know there was an actor named Michelle Williams, and she looked herself up online to prove herself to this person, and all that came up were image results with her photo and info about Destiny's Child? She'd look like a dedicated hacker... among other things. But hey, it's always good to have a conversation topic in your back pocket in case you run into Beyoncé.