Zoe Kazan Is The Most Unassuming Movie Star You'll Ever Meet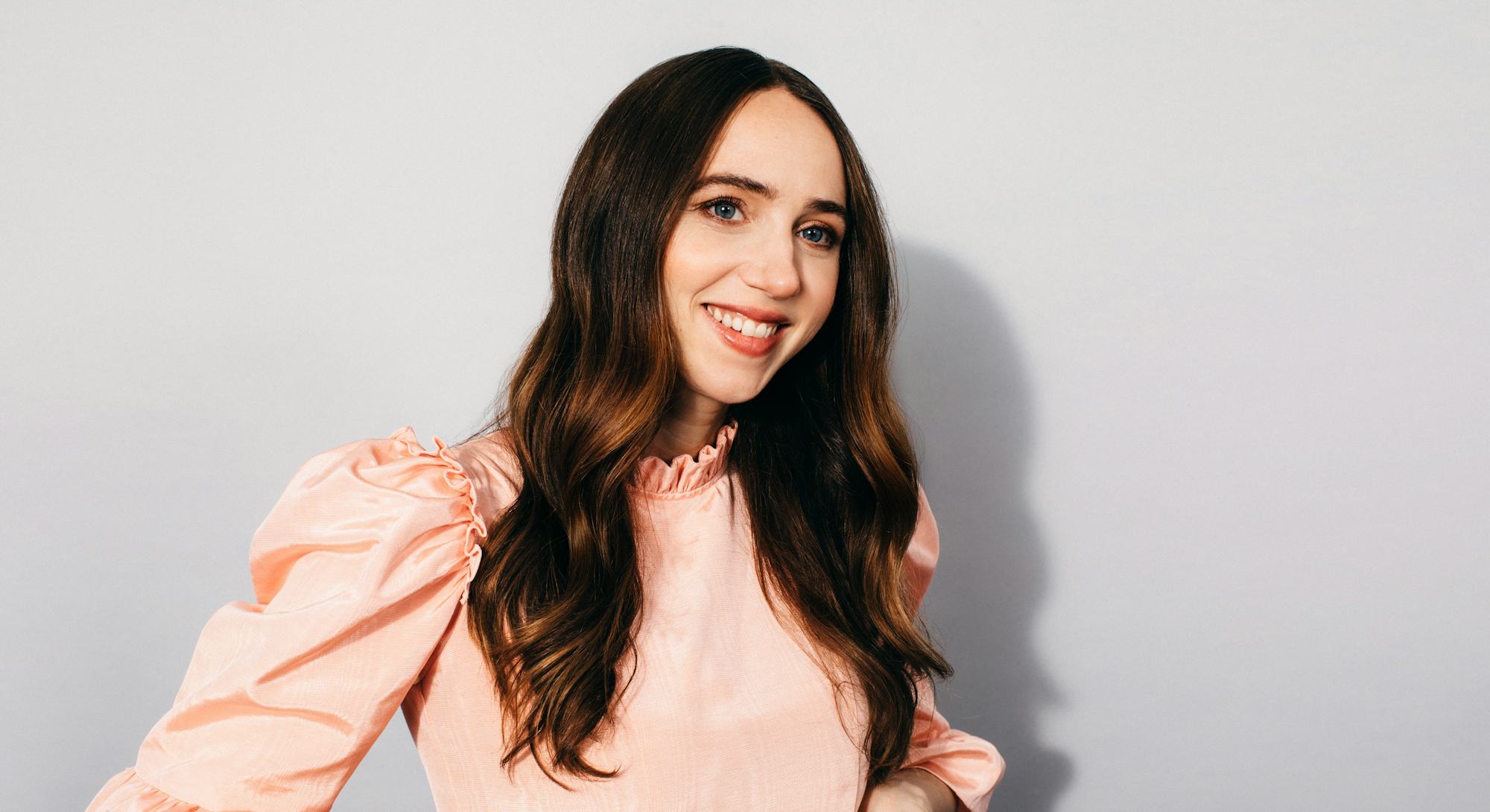 Ben Ritter/Bustle
Despite having two films in theaters this fall — Wildlife, a film she co-wrote with her partner Paul Dano, and The Ballad of Buster Scruggs, the new Coen brothers film in which she plays pioneer woman Alice Longabaugh — Zoe Kazan doesn't walk into Bustle's New York office like a person desperate to be seen. Yes, she wants to promote her films, and she speaks about them with the passion of someone who really loves what she does, but if you're looking to Kazan to fulfill the attention-seeking stereotype of an actor, you're going to be disappointed.
She's a natural in front of the camera, but she's also not looking over at the monitor to check how she looks. She's quiet, but speaks about old Hollywood, the state of U.S. politics, and the nature of fame with a precise eloquence rarely heard in everyday life. In short, she's the most unassuming movie star you'll ever meet. She's also probably one of the most thoughtful and introspective.
Both her script for Wildlife and her performance in Buster Scruggs reflect Kazan's own desire to reflect on societal norms and womanhood. In Buster Scruggs, Kazan's Alice is heading West with her brother, and is thrust into independence after the men in her life prove unreliable. "In the story, she kind of loses everything and is forced to stand on her own two feet, and she's not well-equipped," she tells Bustle. "Life has not equipped her, and the men that she has been subservient to have not equipped her to make decisions for herself."
I find the stories of women's lives incredibly compelling, from our near past, because it does feel instructional, somehow, about how to be brave in our very strange present.
Though Kazan doesn't appear in Wildlife, the female character she helped shape, 1960s housewife Jeanette (Carey Mulligan), is similarly stuck in a struggle for independence. When her emotionally distant husband, Jerry (Jake Gyllenhaal) leaves her to care for their teenage son alone and insists she not get a job, she turns to somewhat destructive means to carve out a life outside of her marriage. "I think she's trying to get out of a trap, and she has to chew off her paw to get out," Kazan explains.
The theme of women trapped by circumstance is especially appealing to the actor. "I find the stories of women's lives incredibly compelling, from our near past, because it does feel instructional, somehow, about how to be brave in our very strange present," she says. "When you look at the obstacles that women have historically [faced] — being independent, speaking their own mind, having financial independence, being able to work — it really puts everything into perspective of what we're facing right now."
Wildlife is a familiar story for anyone who has ever felt captive to their prescribed gender role, and the actor has not avoided that herself. "There was something so poignant about her [Jeanette's] experience to me, and I felt like, 'There but for the grace of God go I,'" she says. "If I had been born in that time, I don't think I would have survived within the traditional American family structure."
In a disappointing, but unsurprising, turn of events, Jeanette has already been judged — and judged harshly — by a handful of male critics and viewers. After a screening at the New York Film Festival, as reported by Indiewire, one man stood up during the Q&A to call Jeanette "completely reprehensible" and "unsympathetic." Mulligan responded, "We're all too used to only seeing women behaving really well [in movies.]" This anonymous man's attitude is, to Kazan, a symptom of what she calls a "flattening out" of female characters. "I think it has to do with... wholesale, retrograde idea of women that our culture's been trying to sell us," Kazan theorizes.
Women onscreen, specifically women written by men, have often fallen into one dimensional traps, even when feigning complexity, like the manic pixie dream girl, or the femme fatale, or the supportive/concerned wife of a husband destined for greatness (see: Sarah Paulson's character in The Post). Luckily, Kazan sees the diminishment and elevation of women on screen as somewhat cyclical, saying, "There was a long time when I feel like female protagonists were allowed to be more complicated.... I think that's changing, again. I hope it continues to."
Kazan herself has actively been a part of that change both in front of and behind the camera. In 2012, audiences were introduced to Ruby Sparks, a movie she wrote and starred in, which dissects how men project their ideals of femininity onto women. The movie is about a male writer (Dano) who manifests his dream girl (Kazan) through his writing, only to find that the perfect woman he has created can never really exist. In fact, Kazan has arguably made a career of writing and playing three dimensional characters who struggle with being hemmed in by their male counterparts. In last year's The Big Sick, her character Emily challenges Kumail (Kumail Nanjiani) to see her as more than his idea of her. In The Pretty One, her character Laurel jumps at the chance to come into her own without the pressures put on her by her father.
Keeping these credits in mind, it's tempting to look back at Kazan's career and decipher a pattern of diverse choices full of carefully selected female roles. But the actor herself says it was all just luck.
When I first started out, one of the first things I said to my agent was, 'I'm never going to lose weight for a part, so never ask me that.'
"When I started acting, I wanted so badly to be a working actor, I would have taken any job for a long time," she says with a laugh. Just because she didn't rise to fame starring on Gossip Girl or another teen show phenomenon doesn't mean she didn't want to. "I tried out for every single CW show that you can imagine," she says. It's hard to picture Kazan playing a love-sick teenager in a television drama opposite the likes of Chad Michael Murray, and when I struggle to hide my surprise, she laughs and exclaims, "We all did!" Clearly, I'm not the only one who thinks her sensibilities lend themselves more to indie film than they do teen soap opera.
But despite her insistence that she didn't set out in Hollywood with any strict direction, the actor also admits that she did have the presence of mind to set boundaries for herself when it came to auditions. Specifically, after suffering from an eating disorder in her youth, she never wanted to lose weight for a part. "When I first started out, one of the first things I said to my agent was, 'I'm never going to lose weight for a part, so never ask me that.' And she never did," she says. Today, when faced with the "impossible standards" of the industry, Kazan says simply, "I just don't hold myself to these standards."
In fact, there are many Hollywood expectations placed on young stars that Kazan has consciously chosen not to meet — for example, the way she uses social media. Though the actor is quite active on Twitter, having amassed over 79,000 followers, she's not one to divulge most of her personal life on the internet. "I feel like I have rules for myself about how I engage on [social media]," Kazan says, then admits, "I think it probably looks like I'm sharing more of myself than I am." With her presence on Twitter, Kazan has nearly perfected the art of being both very personal with her followers, while keeping her private life to herself.
Case in point: despite her consistent Twitter engagement, the actor was able to welcome her first child, a daughter, earlier this year, without ever posting about her pregnancy. In fact, most media outlets didn't know she had been pregnant until a September report from Page Six alleged that she had given birth in August. Four weeks after that initial report, Dano confirmed the news during an appearance on The Tonight Show Starring Jimmy Fallon. Following his appearance on the show, Kazan's only comment on the news was to issue a tweet asking people to go see their film, Wildlife, and vote in the midterm elections "as long as we have your attention."
Since then, Kazan has made a few references to motherhood on her Twitter account, but none offer any specifics about her child. And, despite her following online, she warns me that she could still walk away from social media at any moment.
"I don't like having people think they know me when they don't really know me. That makes me feel a little uncomfortable, and there's a lot of venom on the Internet that I think I'd probably be better off if I didn't have in my life," she says. "I think about going off all the time, and the times that I have gone off, I've been very happy, so I don't really know why I don't."
Kazan's ambivalence about social media is countered, it seems, only by her desire for political change. In fact, the few allusions she has made to her new baby on Twitter have been about voting, like when she shared a photo of "I Voted" stickers on an Ergobaby carrier.
Speaking one month prior to the midterm elections, Kazan is focused on politics. When I ask what kind of progress she'd like to see in Hollywood in the new year, she responds, "Honestly, what I really hope for is that all of this momentum leads to our president being held accountable for his attitudes and actions towards women. So, yes, I hope for change in our industry, but I really hope for change in the world."
So, no, Kazan isn't your typical Hollywood movie star. But then again, why would we want her to be?
Photographed by Ben Ritter
Hair: David Von Cannon
Make-up: Talia Sparrow