Adam Levine & Behati Prinsloo's New Baby Has Arrived & Her Name Isn't What You'd Expect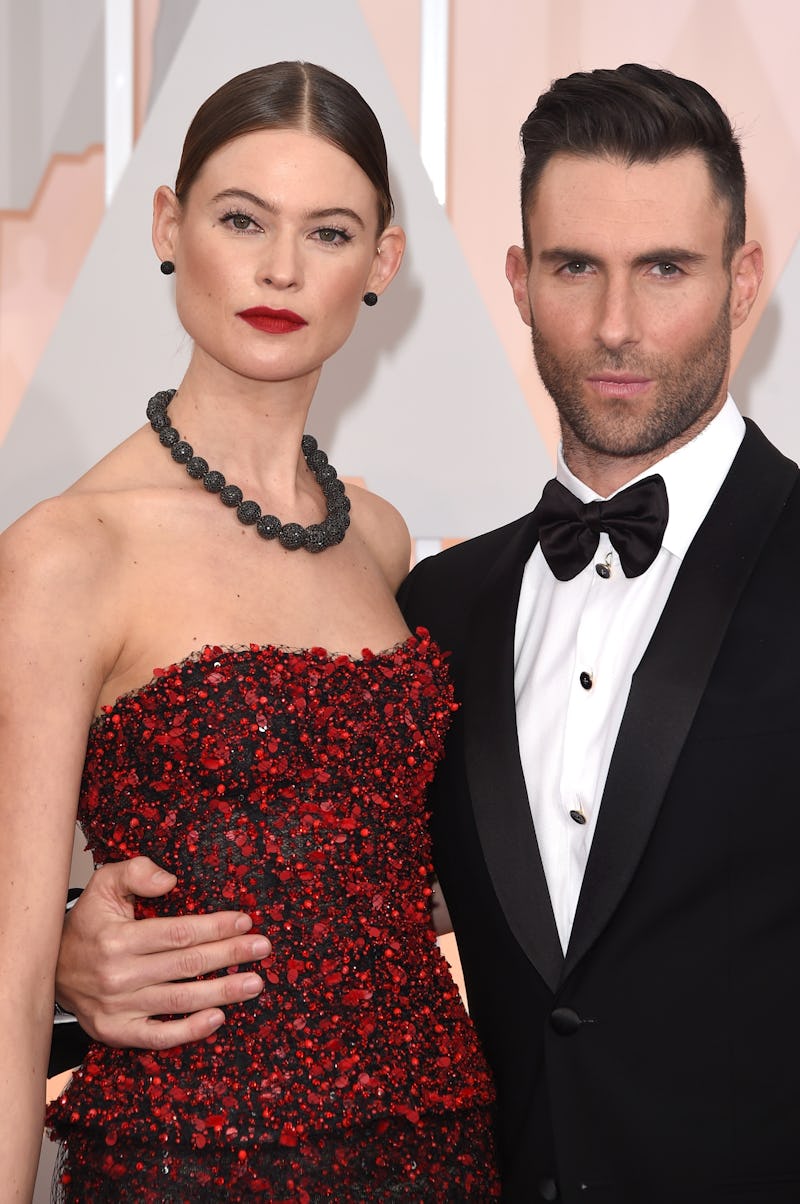 Jason Merritt/Getty Images Entertainment/Getty Images
There's a new celebrity baby to coo over, and her name will make nature lovers swoon. According to E! News, Adam Levine and Behati Prinsloo's baby's name is Geo Grace Levine. Geo Grace joins her big sister, Dusty Rose. It seems both of the couple's daughters have names that are grounded in nature. Geo is from the Greek word meaning earth or land. This beautiful, earthy name is also relatively rare in the world of baby names. In 2017, it ranked at number 18,047 for girls, according to Baby Center.
Right now, little Geo's date of birth has not been revealed, but Levine and Prinsloo have been keeping their fans in the loop during every step of the pregnancy. Prinsloo announced they were expecting baby number two in a September Instagram post, and Levine revealed to Ellen DeGeneres that they were having another girl in November. The happy couple has been open about their desire to have a big family in the past. During his interview, Levine told DeGeneres of his and Prinsloo's dream of growing their family. He said,
I want a lot. I thrive in chaos. I really genuinely enjoy it. She was an only child. ... She wants like 100 babies, but I don't know if I could do that.
Levine and Prinsloo are also serious about finding the perfect names for their kids. In fact, DeGeneres played a major role in naming Dusty Rose, and she may have had a hand in choosing Geo's moniker as well.
When Levine sat down with DeGeneres last November, he told the talk show host that naming baby number two would be a collaborative effort. It seems the couple loved DeGeneres' suggestion of Dusty Rose so much, they may have at least considered a few of her ideas when it came time to name their second child. DeGeneres definitely helped the couple out the first time around.
And back in a November 2016 interview with DeGeneres, Levine shared how difficult it was to choose the right name for a baby. He told DeGeneres,
We had a name that we won't mention on television. The name game is tough game. It's a very hard, arduous [game]. Imagine you're writing the best song you've ever written in your life and you have to name it. It's really screwed up to actually have to put yourself through that.
Why go through all of that stress when you can outsource the job to DeGeneres and end up with gorgeous name for your firstborn?
Only time will tell if DeGeneres had a hand in naming Geo Grace, but whether it was the talk show host or the baby's talented parents who came up with the moniker, it's an inspired choice. Not only does imply a sense of being grounded, the name also works as the perfect companion to Dusty Rose. Both of the girls have names that are linked to nature and beauty — and as themes go, that's a pretty good one.
Levine and Prinsloo will no doubt reveal more details about the latest addition to their family soon, but for now, they deserve some time to bask in the joy of having a new baby privately. The Maroon 5 frontman and Victoria's Secret model have built a lovely family together, and seeing it grow with the addition of Geo is so sweet. Hopefully, it won't be long until Levine stops by the DeGeneres' show to spill about the origin of Geo's name and what it's like be a father for two, but in the meantime, it's more than enough to know that Levine and Prinsloo's second baby is healthy, happy, and rocking a truly adorable name.