Adele Tells NSFW Jokes During One Of Her Concerts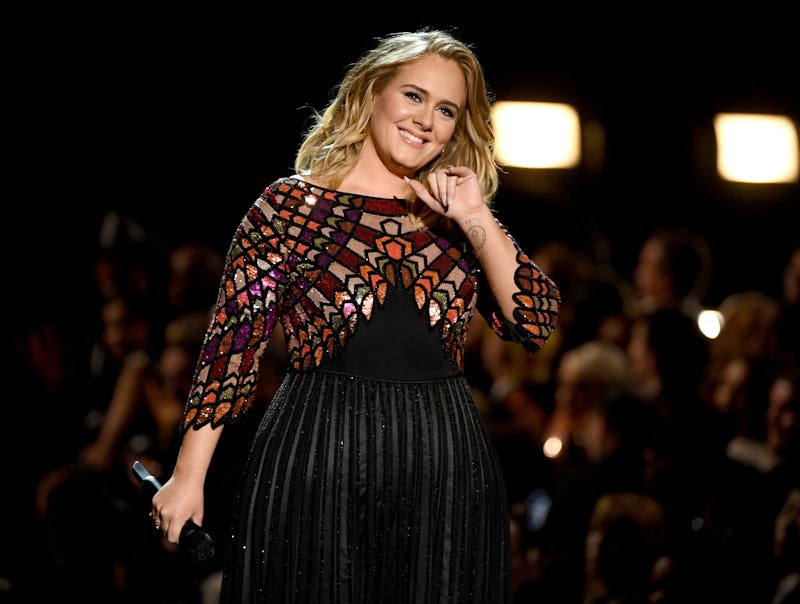 Kevin Winter/Getty Images Entertainment/Getty Images
Those who have been lucky enough to see Adele in concert know that hearing her music is only part of the fun. Seeing Adele live means that you get to experience her onstage banter, which is a rollercoaster of emotions. One minute you're laughing, the next you're crying, but you're always having fun. At a recent show in Australia, the power went out at Adele's concert, and she got a little dirty. Billboard reported that the bawdy singer stalled for time after her revolving stage unplugged the power cord by telling an off-color joke. "Shall I tell you my filthy joke despite all the children here?" she asked. "I need more applause than that because I might offend someone." Like Peter Pan's Tinkerbell, Adele found power in the audience's applause, enough to tell a joke that was definitely not safe for kids. "What do you call a blonde standing on her head?" she asked the crowd. "A brunette with bad breath."
While this may be the dirtiest of Adele's onstage moments, it's not the first time she's gone viral for her live banter. What's clear is that you never know what you're going to get from Adele, but you know it's going to be memorable. And that's something you can't deny after seeing these moments, which run the gamut from safe for work to truly not. Oh, you better believe there are some F-bombs in here.
1. That Time She Accidentally Kissed A Fan On The Lips
Talk about awkward. When Adele went to embrace a fan who had traveled all the way from Nigeria to see her show in Vancouver, Canada, she accidentally gave him a kiss on the lips. "Oh my god, I haven't been kissed by another man in like six years," she joked, before shouting "he just snogged me" as she took a photo with the fan.
2. That Time She Bowed Down To Beyoncé
Adele has never been shy about her love for Beyoncé, but, at a show last year, she went even further and gave Queen Bey holy status. "How is it even possible that she only ever gets better? How is that possible?" she said. "She is Jesus f*cking Christ."
3. That Time She Made People Angry With Her Cursing
When Adele headlined the Glastonbury Music Festival last year, she couldn't hide her excitement — or stop swearing like a sailor. In fact, Adele swore 33 times during the show, which was aired on the BBC, even though she'd been warned about her potty mouth. It was reported that fans at home were none too happy with her spicy language, but I imagine Adele has a few choice words to say about that.
4. That Time She Threw Shade At The NFL
After rumors started spreading that Adele was playing the 2017 Super Bowl Halftime Show, she decided to put those to rest at one of her concerts with a bit of shade at the NFL. "First of all, I'm not doing the Super Bowl," Adele said. "I mean, come on, that show is not about music. And I don't really — I can't dance or anything like that. They were very kind, they did ask me, but I did say no." But, this didn't necessarily mean no forever, as she told the crowd: "I'm sorry, but maybe next time."
5. That Time She Gave The Censors The Bird
Adele will let you know when she is done, OK? When the 2012 Brit Awards cut off her acceptance speech for British Album Of The Year, she had one thing to say about it and it included a certain finger. As host James Corden politely cut off her speech, she flipped the audience the bird. According to Rolling Stone, she would later dedicate that middle finger to the "suits" who run the show.
6. That Time She Paid Tribute To Amy Winehouse
Last year at a show in Boston, Adele took a minute to celebrate her hero Amy Winehouse. As People reported, before singing "Make You Feel My Love" on what would have been Winehouse's 33rd birthday, Adele said, "I feel like I owe 90 percent of my career to her." It was Winehouse, she said, that made her pick up a guitar and writer her own songs. "The songs I got signed on were the songs that I wrote completely on my own. If it wasn't for her, that wouldn't have happened." If you think she managed to pay tribute to Winehouse without an F-bomb, think again. According to Adele, Winehouse is the "coolest motherf*cker."
7. That Time She Forgot The Words, But Managed To Remember A Four-Letter One
"Sh*t, sh*t, sh*t." As Rolling Stone reported, after forgetting the words to "Million Years Ago" at a 2016 show in Lisbon, Portugal, she couldn't stop saying that particular word over and over. "Sh*t, I don't know the words," she said before letting out her signature cackle and taking another stab at the 25 track.
8. That Time She Had A Spice Girls Moment
Adele gave her best Spice Girls impression last year, giving the crowd a bit of life with "Spice Up Your Life." She was quick to say that she wasn't a real Spice Girl, but it's hard to deny that she's a pretty good fake one.
9. That Time She Freaked Out Over A Mosquito
Recently, Adele had a bit of a freak out when a bug flew at her during a show Down Under. While it was funny for the crowd, it wasn't so funny for the insect-phobic pop star. "It was sucking my blood," she said. "They're all trying to kill me!"
10. That Time She Dedicated Her Show To The Orlando Pulse Nightclub Victims
Adele honored the victims of the Pulse Nightclub shooting in Orlando at a show in Antwerp, Belgium with a sweet message. "The LGBTQA community, they're like my soul mates since I was really young," she said. "So I'm very moved by it." Somehow, though, she managed to keep things lighthearted — even if her music isn't. "I don't know why I'm crying already, because most of this tonight is pretty miserable, because my songs are f*cking miserable," she joked. "I do have two songs that sound happy, but they're not."
11. That Time She Asked If She Could Be A Fan's Surrogate
After helping a couple of her fans get engaged at her show, Adele offered her services to the two men. "Should I be your surrogate if you have children?" she asked them, according to E!. "I'd love to have a baby with someone Swedish."
12. That Time She Mourned Brangelina's Breakup & Then Didn't
Back in 2016, Adele dedicated her New York City show to Angeline Jolie and Brad Pitt after news of their split went public. "I don't like gossiping, and private lives should be private," she said, "but I feel like it's the end of an era, so I'm dedicating this show tonight to them." Then she added, "I'm really, really sad... I was shocked when I woke up this morning."
The following night, though, Adele would admit she was just joking. "I don't care if they've broken up," she said. "I couldn't give a f*cking sh*t." She told the crowd that she doesn't know them, but agrees that, if a relationship's not working out, you should just leave: "That's what I always do."
She would blame the misunderstanding on her bad comedic timing but, honestly, after seeing some of her best live moments, it's clear she's got the comedy thing down. And the swearing thing, too.