'After Paradise' Host Michelle Collins Has A Lot To Say About 'The Bachelorette'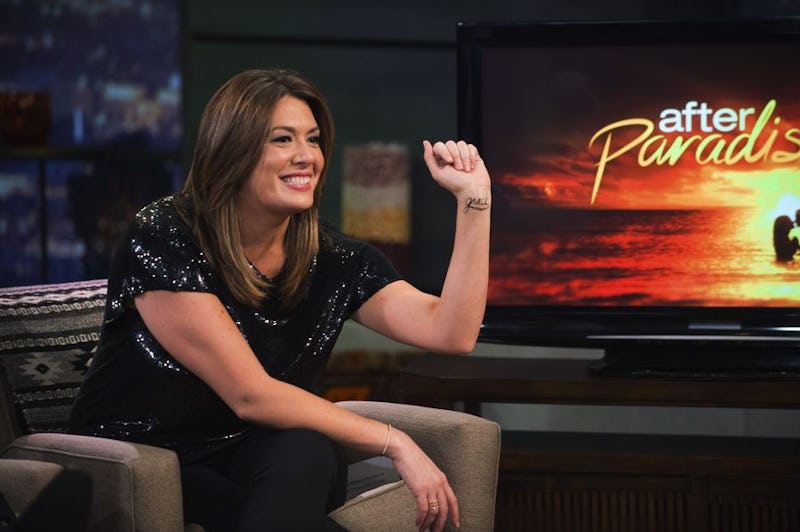 ABC
The past couple of weeks in Bachelor Nation have been anything but boring — there's so much to talk about. And, who better to weigh in on Rachel's Bachelorette men than Michelle Collins, who hosted Bachelor In Paradise: After Paradise last year? Collins joined the hosts ofWill You Accept This Podcast? to discuss Rachel's quest for love and play the ultimate game: Bachelorette superlatives with Rachel's contestants. It's fitting considering we just saw Peter's high school yearbook photo in which we learned he made good on his dream to "become famous in one way or another, be on The Bachelor, live happily."
In this very special episode of Bustle's Bachelor podcast, you'll get to hear who receives Most Likely to Score A Teeth-Related Instagram Sponsorship, which contestant is Most Likely To Add You On LinkedIn (plus the past contestant that actually did do that to host and Associate TV Editor Martha Sorren), and which lucky guy gets the coveted Most Likely to Manage a Cinnabon award. Also, Collins gives listeners personal insight into which former Bachelor she swoons over. (Can you guess?)
So, pour yourself a glass of well-deserved wine, put yourself in your high school yearbook editor's shoes, and listen along!
Want more Michelle Collins? Be sure to check out her own podcast, Fresh Batch, where she breaks down your favorite reality TV shows and more. And, next week, the Bachelor Gods are blessing us with not one but TWO episodes so be sure to tune in again for our team's take on the four hours of drama and chaos the will surely unfold. Oh and romance too, I guess.