Alex Landi Is Rooting For Nico & Glasses On 'Grey's' Just As Much As You Are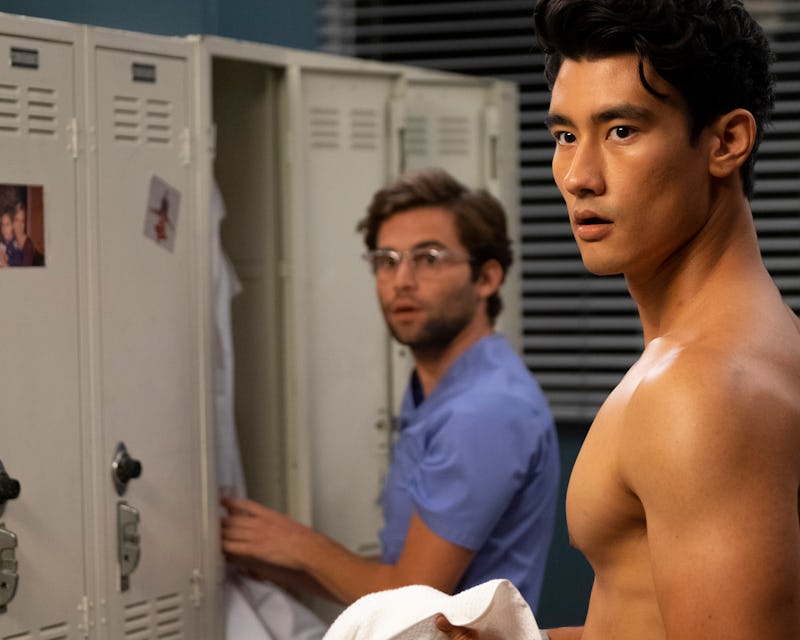 John Fleenor/ABC
It's hard to believe that a series like Grey's Anatomy, which is known for its steamy sex scenes and diverse casting, has never had a gay male surgeon until now, but here we are. But it's better late than never in this case, as dedicated Shondaland fans went wild when news spread that Grey's Anatomy had cast Alex Landi as a hotshot ortho surgeon for Season 15. Landi plays Dr. Nico Kim, who's come to Grey Sloan on a fellowship and almost immediately starts flirting with the awkward and shy Levi, better known as Glasses (Jake Borelli) ever since he dropped his glasses into a patient's body on the operating table last year.
In this week's episode, "Flowers In My Grave," flirtation finally gave way to action. After making eyes at each other for weeks, and amid fan speculation over whether or not Glasses was even into men, Nico finally made his move. After spending the day treating a patient together, Nico leans in for Grey Sloan's first kiss between two male surgeons ever, aptly set in an elevator, where all the best relationships form and fall apart on this show.
But don't get too stoked just yet, since it doesn't seem like the two will be taking things to the on-call room anytime soon, given that Glasses immediately admitted that it was his first time kissing a guy once they reached the lobby. Nico was immediately turned off, understandably not wanting to be the one to help the younger intern explore his sexuality. But judging from the look in both of their eyes right after the extended smoochfest, that might be negotiable later in the season.
Landi, for his part, is hopeful that this is the case. "I think they're perfect together," he tells Bustle. "Levi's the shy, doesn't know what to do with himself kind of character. And then you've got Nico, who's confident, suave. It's funny seeing that dynamic play out on screen considering Levi has no clue what he's doing and Nico is basically the aggressor throughout. So it's funny for everyone to watch," Landi says.
Whatever ends up happening between his character and Glasses, Landi is just happy to be on the show, though he had never watched before being cast. (Luckily, his sister has been a fan since day one, he says, and she helped him do his homework before hitting the set.) Being able to challenge some common TV tropes and stereotypes in such a huge role is really the icing on the proverbial cake for the actor.
Landi, who is half Korean and half Italian, says he just hopes he does right by everyone who sees a little of themselves in his character. "It's crazy to think [Dr. Kim] is not only the first openly gay male surgeon on the show, but he's also the first male surgeon of Asian descent. I think that also gets a little overlooked," he says.
Landi adds that when he was preparing for the role, he wanted to challenge the fact that Asian men are "not viewed as masculine" on TV. "So my goal really was to show a hyper-masculine guy, the side of the Asian man that Hollywood does not get to see ever," he says.
Judging by the rave reviews of the new "hot doc" from fans on Twitter, he's certainly succeeding. Let's all just hope that Dr. Kim comes around about Glasses; Grey Sloan could use a cute new couple these days.