A-Rod's Instagram Praising J. Lo At The VMAs Will Hit You Right In The Feels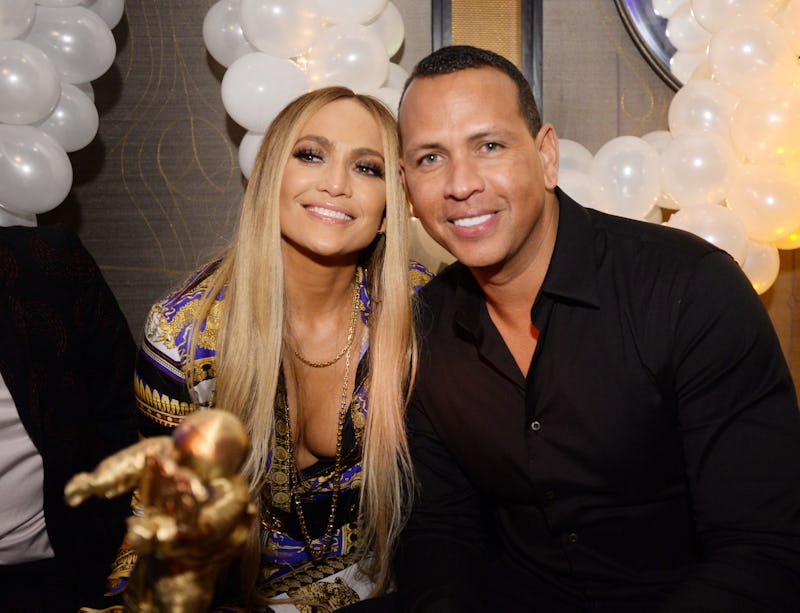 Andrew Toth/Getty Images Entertainment/Getty Images
When your significant other achieves something great, you celebrate them just like how Alex Rodriguez praised Jennifer Lopez's VMAs performance. During Monday's MTV Video Music Awards, not only did Lopez put on a phenomenal show for everyone, but she also received the Video Vanguard award. What she brought to the table touched the lives of many, including Rodriguez. He is an incredibly proud boyfriend who continues to applaud Lopez's successes in beautiful ways.
In a lengthy Instagram posted on Tuesday, A-Rod shared both a behind-the-scenes video of the Shades of Blue star prepping for her big MTV honor and some of the sweetest words ever. His post began,
"What an amazing night for @jlo tonight at the @mtv #VMA! A celebration of her amazing career, culminating with the presentation of the Michael Jackson Video Vanguard Award for lifetime achievement, and punctuated by a magnificent performance on stage!"
But Rodriguez's concluding paragraph is what will really hit you right in the feels. He wrote,
"Words can't express how proud I am of this incredible musical icon and pioneer. I was honored to be her presence tonight, and marvel and continue to be inspired by her every day. Congrats to one of the most gifted and hardest-working artists of this and any generation."
Lopez is lucky to have such a supportive partner by her side.
His post didn't stop there. The MLB star explained Lopez's VMAs journey and what it took to create such a masterpiece. "What you saw on TV tonight was the result of a monthlong journey that began in the Bronx, tore through Brooklyn and landed at Radio City Music Hall in midtown Manhattan," he explained. "The concept for this 10 minutes of pure magic originated during a car ride following a Yankees game. A month later, it evolved into the massive production that you witnessed tonight. Here's a small glimpse of that journey."
The former professional baseball player also honored everyone on Lopez's team. He wrote, "It's a team effort and they all deserve to share in tonight's recognition of Jennifer's lifetime of contributions." As you can see above, it took a lot of work to make her performance as fabulous as it was.
Be sure pay attention to another Instagram video he shared on Aug. 18 (below), because there's footage of him working with the crew and Rodriguez dancing along with Lopez and her backup dancers. You can tell how much he wanted to be by her side during this special time, not to mention how much the singer inspired him to channel his inner dancer.
Like the athlete posted on Instagram, "Mad respect for what these guys do behind the scenes, but I'm secretly hoping someone notices my dancing skills back here because so I can somehow be closer to see @jlo kill it Monday at the @mtv #VMA Awards."
And to make you even more jealous of their love, here's what A-Rod wrote next to his Aug. 18 Instagram:
"The amount of sweat, focus, drive and determination she puts in everything she does is truly inspiring. She's the embodiment of what the Michael Jackson Video Vanguard Award represents. A lifetime of achievement, and she still reaches for the sky every single day."
The fact that Rodriguez isn't scared of Lopez's accomplishments is beyond swoon-worthy. Not to mention, how proud he is of her and how much he wants to help Lopez achieve even bigger success speaks to the kind of person he is. J. Lo, never let him go.