Alexander Skarsgård Loved His 'Little Drummer Girl' Jacket So Much He Got His Own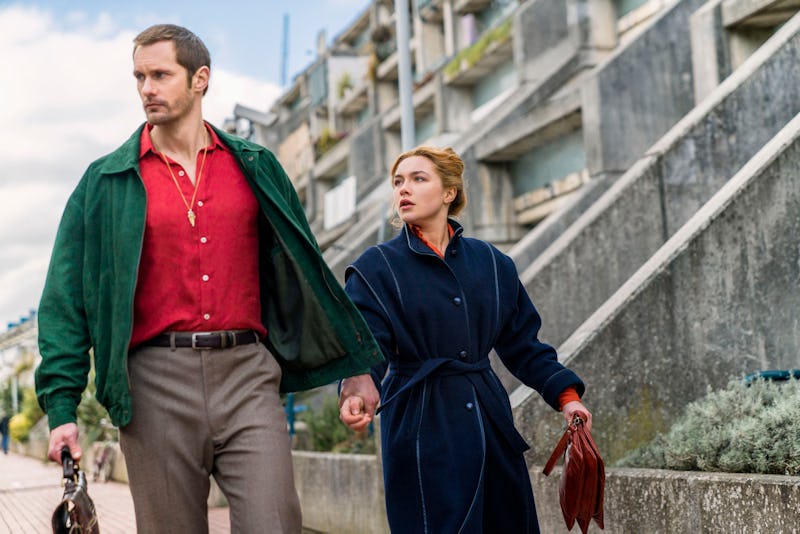 Little Drummer Girl / BBC
There's a few iconic costume pieces that I know I'd sneak away from film and TV sets if I ever had the chance: including Ryan Gosling's scorpion jacket in Drive and Constance Wu's rainbow Missoni dress in Crazy Rich Asians. And I'm not the only one immune to the charms of a good costume designer. It turns out that Alexander Skarsgård is the same way as he's only gone and got his own version of a piece from a recent project. While strutting his stuff around New York City, something that looked very much like Alexander Skarsgård's green jacket from Little Drummer Girl made an off-duty appearance.
Skarsgård was photographed out on a leisurely stroll with his on-again-off-again flame Alexa Chung and while many honed in on their suspected relationship status, I instantly honed in on his green suede jacket. If you've seen his new show Little Drummer Girl or you've spent time poring over the trailer in the lead-up to the release, there's a chance you'll recognise the emerald bomber. I've compared the photos of Skarsgård, which can be seen here, with the official stills and trailer video from the BBC series and they look to be the exact same piece. Whether they actually are has yet to be confirmed, I reached out to a representative of the show for comment so will get back to you as soon as I know.
TBH, I would have begged to take it from set as it's such a cool jacket. I stan a man unafraid of a statement piece.
Little Drummer Girl, which is currently airing on BBC One, is based on thriller novelist John Le Carré's book of the same name. It's also being produced by the same team behind The Night Manager, so you know we're in for a wild ride. I'm personally super excited by it, given that Le Carré' is widely regarded as a master of the spy thriller. It's also the only book he ever wrote in the genre that has a female lead.
The book centres on an actress named Charlie (Florence Pugh), who finds herself at the centre of an Israeli political operation. After being recruited to be a spy by Skarsgård's character Joseph Becker, she finds her limits being tested as she works to catch Khalil — a terrorist who has been targeting prominent Jewish figures.
In fact, his bright green coat has actually played a pretty big role in helping create an aura of mystery around Skarsgård's character. After Charlie bumped into him on a beach in Greece, he gave her a fake name — Peter Richthofen — though she teasingly decided to call him Joseph after "Joseph and his coat of many colours". I have a feeling it's going to play a bigger symbolic role as time goes on, especially if it turns out Skarsgård insisted on taking it home with him.
Salim, one of the shadier characters in the show affiliated with Khalil, has also been seen wearing the green jacket before which raises some major eyebrows. I just need some answers and I need them now please.
Actors often take things home from set in a sentimental gesture. Jennifer Lawrence has a soft spot for her characters' jackets too as she took Katniss' leather jacket and boots from The Hunger Games franchise.
Sadly hers are are collecting dust. She said to E!, "They're just hanging in my closet. I don't know what I'm going to do with them."
I also hope that Daniel Radcliffe's been practicing his Oculus Reparo spells as he took not one, but two pairs of lens-less glasses: a pair from the first film and another from the final one. He told The Daily Mail, "The ones from the first film are absolutely tiny now, but they are very sweet."
It makes sense, honestly. When you spend so long on a movie set and living in another character's shoes, you'd naturally want to to take a piece of them with you when you go. If someone could ask Skarsgård if he'd be down to let me borrow his jacket though, I'd be eternally grateful.
Little Drummer Girl is currently airing on BBC One, with the third episode airing this Sunday at 9.30pm. If you're not up to date or you want to give it a go, you can also watch the first two episodes on BBC iPlayer here.