The Reason Alexandria Ocasio-Cortez Can't Find An Apartment In DC Is Relatable As Hell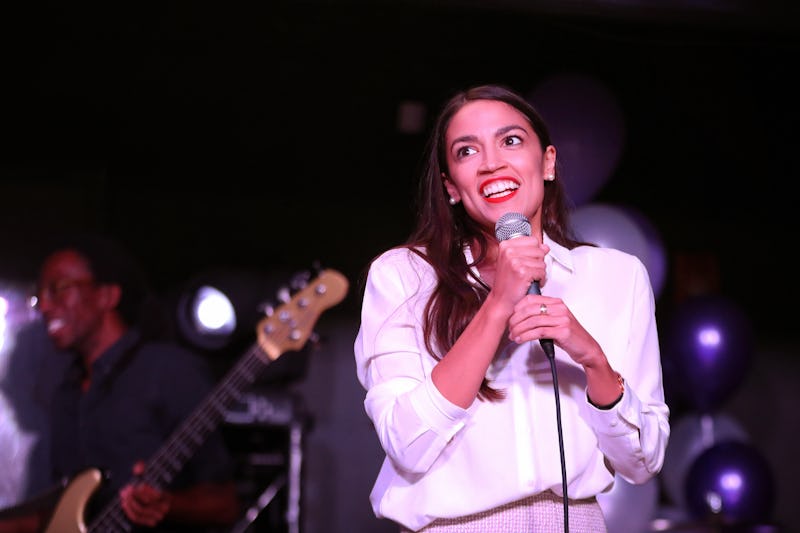 Rick Loomis/Getty Images News/Getty Images
On Tuesday night, Alexandria Ocasio-Cortez officially became the youngest woman elected to the House of Representatives, where she will represent New York's 14th district. With weeks to go until she starts her new job, Ocasio-Cortez got real about apartment hunting in Washington D.C. — a struggle that many millennials surely can relate to.
In an interview The New York Times, Ocasio-Cortez spoke of making the big move to the capital. As it currently stand, she said, the situation is "very unusual."
"I can't really take a salary," she said. "I have three months without a salary before I'm a member of Congress. So, how do I get an apartment? Those little things are very real."
Ocasio-Cortez told The Times that she worked on saving up before she left her job as a bartender at a restaurant in New York City. The Democratic Socialist planned with her partner and said, "We're kind of just dealing with the logistics of it day by day, but I've really been just kind of squirreling away and then hoping that gets me to January."
Millennial politicians in America seem to have won a reputation for being frank about money and the struggles attached to it. In a similar fashion, Iowa's Congresswoman-elect Abby Finkenauer (who will turn 30 in December) told Bustle about her working class family background and the $20,000 in student debt that she is paying off.
Ocasio-Cortez also discussed the difficulty of internal differences with other members of the Democratic Party. Although she didn't specify every single issue, she told The New York Times about the "systemic issues that are impacting our democracy overall." Economic inequality was one of the problems.
She also shared that she had been in touch with politicians in New York who gave her their own suggestions about how to deal with Washington. "It really is like high school orientation," she said. "It's like you pick your committees the way you pick your courses. And people ask, like, little logistical things like, 'where are you going to live?'"
She hasn't decided where exactly she'll live though, according to The Times. "Honestly, I've been so focused on today that I'm not trying to count my chickens before they're hatched," the 29-year-old said.
Ocasio-Cortez defeated her lesser-known Republican opponent Anthony Pappas on Tuesday night. But her rise to fame across the United States is rooted in her successful primary campaign against Democratic Rep. Joe Crowley, who was senior to Ocasio-Cortez, having served 10 terms. The Democratic Socialist beat Crowley in the primary race in June.
On Tuesday night, when Ocasio-Cortez handily defeated Pappas, she told the crowd in front of her, "I am so thankful for every single person who contributed, amplified, and worked to establish this movement. Never forget the hard work it took to get us here. No matter what happens, this is what it takes."
She'll be sworn in in January to represent New York's 14th District. Hopefully by then, her apartment situation will be sorted out.