Alexis Ohanian's Anniversary Tribute To Serena Williams Proves They're Totally #CoupleGoals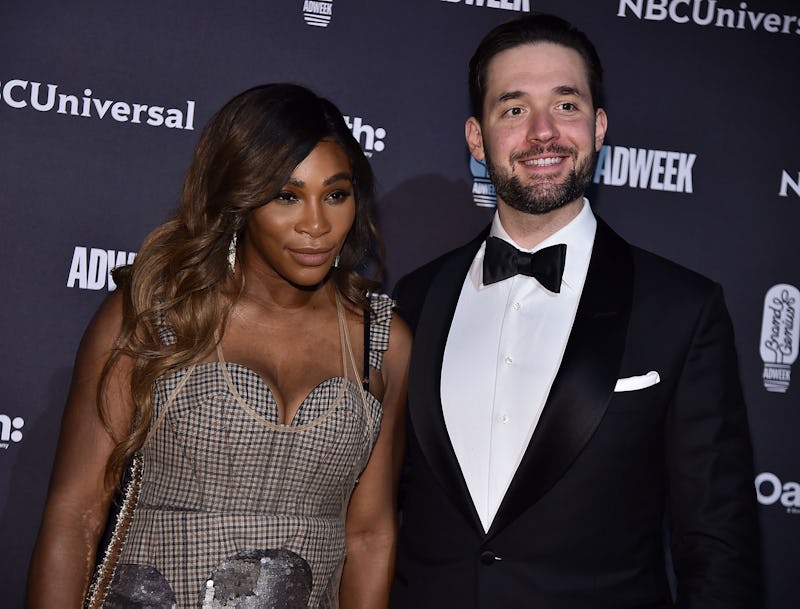 Theo Wargo/Getty Images Entertainment/Getty Images
Alexis Ohanian and Serena Williams have been married for a year, and Ohanian marked their first anniversary in the sweetest way. Ohanian's anniversary tribute to Serena Williams mentions their daughter, Alexis Olympia, in a moving way. The couple's family has grown by one since the big day, and it looks like there's plenty of love to go around.
On Friday, Nov. 16, Ohanian posted a wedding photo that shows the tennis legend in her wedding dress as he stands by her side. He gave the picture the sweetest caption, too, writing,
"365 days later. And still dancing. Only now Jr joins in. Happy anniversary, my queen. Here's to many, many more."
Based on that caption, it sounds like their daughter has only increased the love the two of them share. In fact, they've even created an Instagram account for Alexis Olympia, too, where the two of them post adorable photos of the tot, who was born on Sept. 1, 2017.
Aside from the sweet caption, the photo also provides an inside look into the couple's wedding ceremony. The dress Williams is wearing in the picture is one of three wedding dresses she wore that day, this one designed by Versace. The shorter hem on the reception gown looks perfect for dancing. And based on the way the dress is moving in the picture, it looks like Williams was having a great time.
Last November, Williams also shared several photos from their wedding day on her own Instagram page. In one picture, she and Ohanian are dancing with New Edition, who performed at the wedding reception. She also shared some behind-the-scenes looks at all of her iconic wedding attire, including a bedazzled pair of Nikes and a custom Alexander McQueen dress for the ceremony.
Williams and Ohanian announced their engagement in December 2016. The official announcement couldn't have been more fitting, either. Ohanian is a co-founder of Reddit, and Williams created a post on the r/isaidyes subreddit to share the happy news. "Down on one knee / He said 4 words / And r/isaidyes," Williams wrote in her post. A few months later, in April 2017, Williams revealed that she was pregnant, posting a Snapchat photo of herself in a yellow swimsuit with a caption noting that she was 20 weeks along.
And now that their daughter is more than a year old, it looks like little Alexis has brought tons of joy to her parents. Ohanian and Williams marked their daughter's first birthday earlier this year with moving tributes to the little one, too. Ohanian shared a photo of Alexis, writing in the caption, "1 year ago today, you changed our lives forever, @olympiaohanian 🎉 my adventure princess."
And in Williams' tribute to her daughter on her first birthday, she shared a few videos from the day she went into labor.
Ohanian's anniversary Instagram post is a sweet tribute to his wife on their special day, and it's even sweeter that he chose to include Alexis in the post, too. It sounds like the family has plenty of happiness in their future, in addition to the memory of Ohanian and Williams' beautiful wedding a year ago.