All 4 New Episodes Of 'Gilmore Girls' Ranked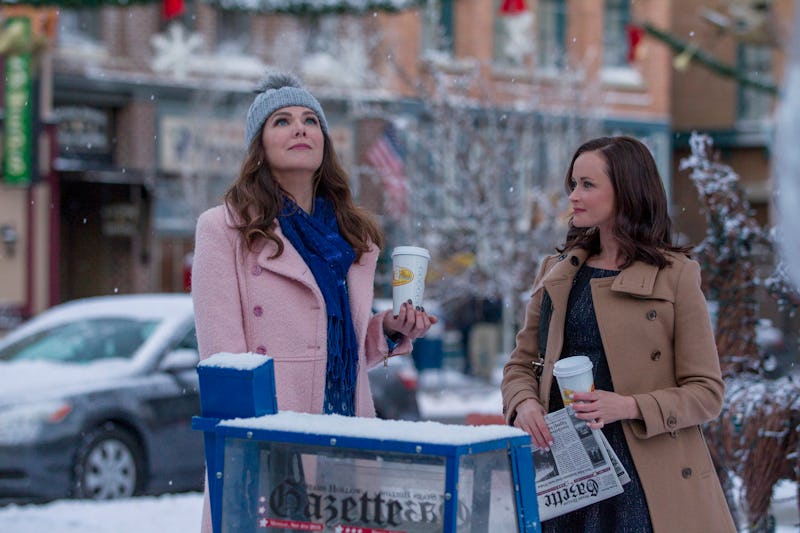 Now that the Gilmore Girls revival has hit Netflix, opinions are going to be flying faster than a Stars Hollow town meeting. Every fan of the original series has their own priorities going into these new episodes, and it's bound to cause some outrage as well as some warm fuzzy feelings. But how do they stack up as episodes of streaming television? Here's my ranking of the Gilmore Girls: A Year In The Life episodes so that we can really get into analyzing the six new hours of Gilmore. There are spoilers for Gilmore Girls: A Year In The Life ahead so don't read on until you've seen all four episodes yourself.
Since each episode spans 90 minutes and a whole season of the year, it's hard to compare them to typical episodes of Gilmore Girls. A lot happens, and it feels like longer chapters in one big epic movie. We're with Stars Hollow for the entire year and it's seamless. For example, "Winter" leads almost directly into "Spring." There's only about a week between them in the narrative.
So, the best way to judge (in a good way, which is easy as all four were pretty fantastic) these episodes is to compare them to each other. Obviously the ending and the "final four words" is going to impact any fan's opinion of the entire revival. However, on an episode to episode basis, here's where I think Gilmore Girls: A Year In The Life hit its strongest points and its occasional lows.
4. Episode 2, "Spring"
Look, I love standing in/on line as much as any other New Yorker, apparently. But many fans tend to prefer Amy Sherman-Palladino episodes to Daniel Palladino episodes, and this was one of the latter. Did we need another film by Kirk? Did we need to allude to Taylor Doose being gay in a tongue-in-cheek way?
3. Episode 3, "Summer"
I loved Sutton Foster and Christian Borle in the musical, and Jess' first scene in the revival was swoon-worthy, but this episode had a few too many departures for my taste. Also, those two boys that followed Lorelai and Rory around and did their bidding just confirmed everything negative about the two Gilmores. They really do act like they own Stars Hollow.
2. Episode 1, "Winter"
The fight between Emily and Lorelai really pushes this episode towards the top. Plus, there's something magical about Stars Hollow in the winter, and just the overall sense of being back in this world again.
1. Episode 4, "Fall"
Nothing is better than Stars Hollow in the fall. The best Jess scenes were in this episode. Luke and Lorelai finally got married. Emily is at peace. Sookie's scene made me cry. We even got to see Colin and Finn! While the final four words both stress and bum me out as a Team Jess fan, I genuinely like how the series ended for the most part. Each episode of Gilmore Girls: A Year In The Life had its ups and downs, but the ending that Amy Sherman-Palladino always wanted was easily one of the best.