'All Eyez On Me' Reveals A Little-Seen Side Of Tupac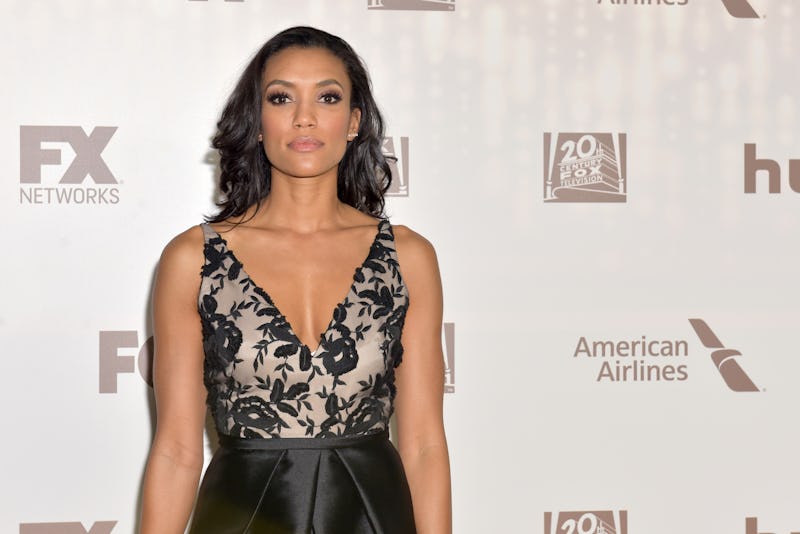 Rodin Eckenroth/Getty Images Entertainment/Getty Images
The life of Tupac Shakur is coming to the big screen and it's high time that audiences are given a comprehensive, in-depth look at the rapper's illustrious, yet tragically short life and career. While there are many ways to begin to parse or define his life, in the opinion of All Eyez On Me star Annie Ilonzeh, Shakur's life was defined by the women in it.
Despite the idea of Ilonzeh playing Kidada Jones, a woman deeply entwined in the male-centric (and thus sometimes misogynistic) world of '90s hip-hop, she had no hesitation about taking on the role of Jones, who was engaged to Shakur for a short time before his death in 1996. "There was no sort of intimidation or trepidation or just having to maybe tiptoe around or anything like that," the actor tells Bustle in a phone interview. "No, because I think there's a story within Tupac's story of strong women that he was surrounded by that needs to be told, too."
Shakur's life was as much defined by the complex women in his life as it was defined by his music, Ilonzeh continues. "You maybe think about him getting a lot of women and shuffling through them, you know, being a big hip-hop artist and […] being a womanizer (not to stereotype)," she explains. "He was surrounded by a lot of strong women."
Given this, Ilonzeh says she " was honored at first and foremost, without any other feelings of nervousness in that regard [being objectified], because all of those women — his mother [Afeni Shakur], Kidada, Jada [Pinkett Smith] — they have a voice and need a voice in this movie to perpetuate or propel his story. So, where he gets his strength from, we've got to cover that. I was honored [to be a part of that]."
In the trailer for All Eyez On Me, we see at various points the women in the rapper's life challenging Shakur to be a better man. Ilonzeh's belief that it's important audiences are able to see this influence is telling of how this biopic aims to elevate the women to a new level of visibility in the re-telling of the superstar's life. More than 20 years after his murder, Shakur is still a major figure in music and in pop culture imagery, and it might surprise some fans to learn new information about his life.
"I know that legends never die," Ilonzeh says of the star. "When you look at the legends […] of [their] eras, like Elvis Presley or Prince or Michael Jackson, they'll never cease to exist, regardless if their physical body is not on this planet. They're still here in spirit, in motivation, and inspiration and in influence because everybody can take something from this man."
"On a hip-hop level, his lyrics are still being analyzed at universities across the world," the actor continues. "One might not look at him as the typical philanthropist, but that's exactly who he was for the underserved and underprivileged. He really knew that those communities, when you can support the base, which is a lot of the times our inner city, then from there the world can kind of flourish. […] He had compassion and a heart, even with money and fame, he was still and activist and a voice for the people."
All Eyez On Me, it seems, will be epic in its scope, but intimate in its examination of the hip-hop superstar.