All The Times Ariana Grande & Pete Davidson Took "Instagram Official" To New Levels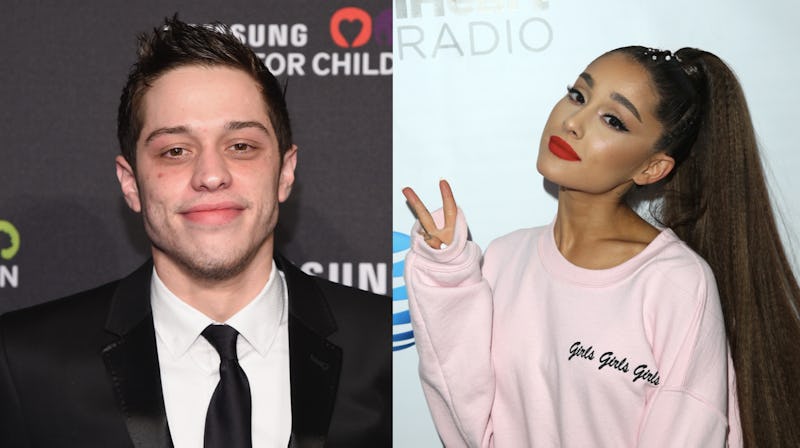 Bryan Bedder/Getty Images Entertainment/Getty Images; Jesse Grant/Getty Images Entertainment/Getty Images
If it feels like there's a new update about Ariana Grande and Pete Davidson's relationship every single day, that's because it's actually true. Even though the singer and the Saturday Night Live cast member only started dating last month, there are constant updates. Grande and Davidson photos on Instagram have popped up many times over.
To be fair, a lot of the "news" surrounding the new couple is just speculation and rumors, but it really does feel like this relationship is constantly in the news. There is just so much to unpack with this one that makes this couple an interesting one to follow. They both just ended very public relationships. After a nearly two-year relationship, Grande announced her split with Mac Miller on May 9. On May 16, Davidson confirmed that he and Cazzie David broke up after two years of together during an interview with Complex.
On May 18, Bossip reported that Davidson and Grande dating. On May 30, the duo became Instagram official when Davidson posted a photo of the two of them together. Not only that, but they were wearing coordinated Harry Potter-themed outfits. Things really moved quickly, right? And that was just the beginning. On June 11, news spread that the SNL star and Grammy nominee got engaged. (Bustle reached out to Grande and Davidson's reps about the engagement reports, but did not receive an immediate response.)
Everything has happened so quickly, but it's been pretty intense and very public this entire time, which has only been just under a month. These two have been very open about their newfound love on social media. Let's take a stroll down memory lane, and check out the rumored-to-be engaged couple's Instagram history.
Ariana's Foot?
The Harry Potter-themed photo on May 30 was the couple's perceived debut on Instagram, but a lot of fans think that this is Grande's foot in the video that Davidson posted on May 27. There's no hard-hitting evidence to confirm this, but it is a likely possibility.
Coordinating Robes
The couple that wears coordinating outfits together, stays together, right? Grande and Davidson made a major splash on Instagram when they both rocked Harry Potter-inspired robes on May 30.
The major story was the post itself, but Grande also commented on the photo. Twice. She initially commented with a monkey covering its eyes and a smiley face emoji. Then she made a joke that most Harry Potter fans would appreciate: "u tryna slytherin (i'm deleting my account now)." Spoiler alert: She did not delete her account, and she has posted and commented about her relationship many times since.
A Little PDA
On May 31, Grande shared a photo with her boyfriend kissing her on the cheek. She captioned the photo with "i thought u into my life. woah ! look at my mind."
Davidson continued to be a good Instagram boyfriend by commenting on the post. He wrote "the girl who lived" with a lightning bolt emoji and another emoji of a face with heart eyes. She's definitely living her best life these days. They both really seem to be.
Discussing Harry Potter
Harry Potter really does seem to be a cornerstone of this relationship. On June 7, Grande shared a black-and-white video of Davidson discussing the movies. Clearly the books and movies mean a lot to the singer since she captioned the post with, "hello I'm crying." Or maybe she just meant crying with laughter since you can hear her giggling behind the camera.
The Harry Potter talk continued in the comments with Davids referring to his girlfriend as "Ariana Dumbledore." She replied, "i'll tell u all the answers it's fine."
Feeling The Love
On June 8, the comedian shared a blurry photo of the couple staring into each other's eyes. He captioned it with "feel the love."
The "No Tears Left to Cry" singer must have really been feeling that love since she commented on this post multiple times. In one of the comments she revealed "ur next to me," which is not-at-all-shocking at this point.
Acknowledging The Instagram Devotion
On June 9, Grande shared a photo of the duo with the caption "i am but a pete davidson update acc stay tuned for more (pete follows / comments sumtimes)." That may be a joke, but it can also be viewed as a very accurate observation. Aside from promoting her music, the singer's Instagram account has essentially turned into a Davidson fan account. In turn, Davidson is fanning out over his fiancée on a regular basis as well.
As expected, the comedian commented on this post with a super sweet message: "thanks for making this idiot from staten island the happiest boy on earth." He also added, "we're so we're so REBORNNNNN."
Yes, the two of them do post other things about their personal and professional lives on Instagram, but even those non-relationship posts are flooded with comments from Grande and Davidson. This couple took the phrase "Instagram official" to a whole other level.