All The 2018 VMAs Memes You Need To See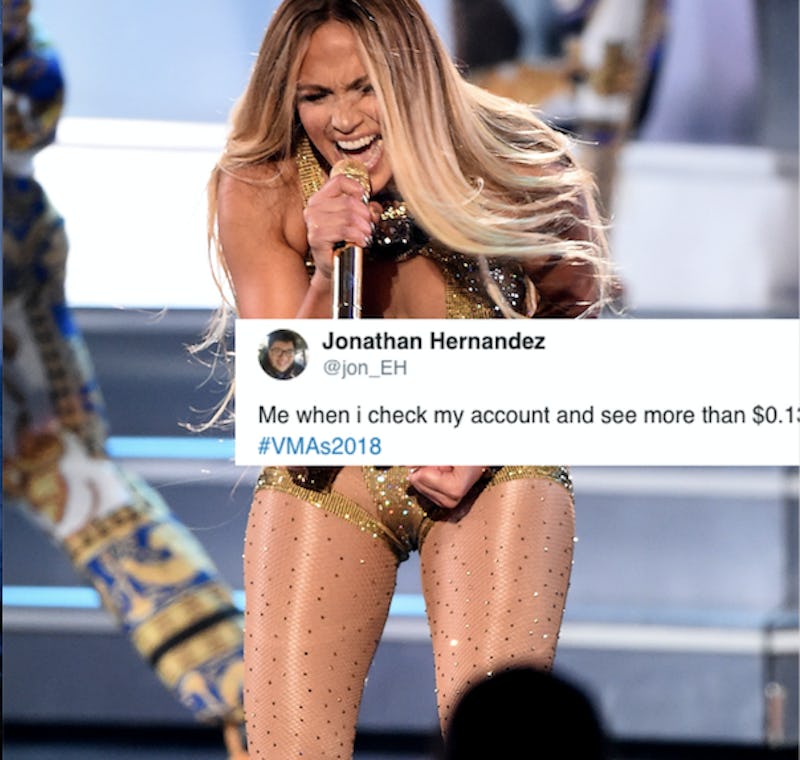 Michael Loccisano/Getty Images Entertainment/Getty Images
Who knew the VMAs were going to be all about Ariana Grande reaction shots this year? The internet is, as always, on top of it — memes from the 2018 VMAs helped make sense of the absurd and celebrate the year in music the only way that Twitter knows how.
From Cardi B "opening" the show and pretending to have her baby on stage with her under a blanket, to various unexpected performance moments and more than one shady joke, Radio City Music Hall was pumped up for (one of) music's biggest nights. With an assortment of musicians, recording artists, and movie stars in the building, there are guaranteed to be some meme-able moments, whether it's goofy or way too relatable. Let's be real: The pre-show performances took place on the roof of the building. The trophy is called a "moon person" when the word "astronaut" is, like, right there. It was sure to be an interesting night. (Also, what was going on with that Broadway-esque Olay commercial? Like a true musical theatre geek, it was stealing light, cheating out, and trying to upstage the whole show!)
So, which hilarious jokes did you miss? We've got you covered. Here are some of the best memes and tweets from the evening.
What a face, and a strong meme start to the evening.
Honestly thankful we got this over with early on in the show.
Camila Cabello's reaction to Tiffany Haddish mispronouncing her name (she apologized, we're all cool with it) was also a popular meme.
A Rod's reaction to Jennifer Lopez' epic performance was also a WHOLE thing.
Who does he think he is, Regina George's mom?
Of course, it wouldn't be a night of livetweet memes if it wasn't making a comparison between someone's outfit and a cartoon.
Also, for my fellow older millennials in the crowd — shoutout to the memes and jokes on Twitter about no longer knowing a single person in attendance at the VMAs. We're all ancient and it's going to be OK. But seriously, who are these people!?
Other candid moments captured viewers' attention. What were Ariana and Nicki talking about? Perhaps we'll never know.
We can't have memes without gifs, y'all!
Oh, also, this is happening.
There were also a lot of sweet moms (and kids) in attendance, between Camila Cabello and, again, Grande.
Finally, like, what was with Madonna making her tribute to Aretha Franklin/presentation into her one woman show?? Twitter did not know how to handle this.
Also, the guy visible in the frame during Madonna's soliloquy was CLEARLY trying to become a meme. You know who you are, orange sunglasses kid. You know what you did. We see you.
What a night! Not too many surprises, not too many near feuds, and a manageable amount of awkward. Thank you to Ariana Grande, the Empress Cardi B, and everyone else for making this a night to remember.