Here's The "Evidence" Behind The Avril Lavigne Conspiracy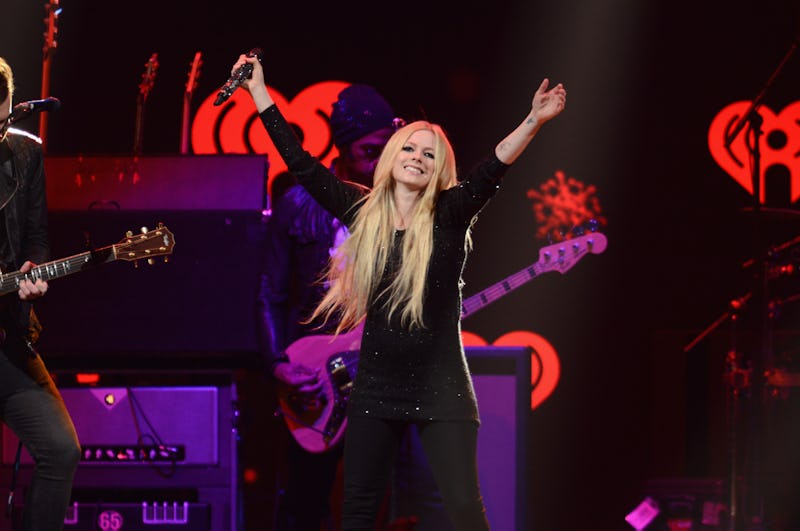 Daniel Boczarski/Getty Images Entertainment/Getty Images
You know you've "made it" when strangers take the time and effort to fabricate wild tales that you've died and been replaced by a clone. This is what's happened to Canadian musician Avril Lavigne, and some fans are citing pieces of Avril Lavigne conspiracy theory "evidence" to "prove" she was allegedly replaced by doppelgänger named Melissa Vandella, an actress who bares a striking resemblance to Lavigne.
The rumors started when a website dubbed Avril Esté Morta, which translates to Avril Is Dead, surfaced several years ago. The site apparently created the hoax to demonstrate just how easy it is to get people to believe most anything on the internet. And, that's exactly what happened. Fans with too much time on their hands, who most likely spent too many hours marathoning cult clone show Orphan Black, helped spread the rumor even though the website posted a disclaimer that the claim that Lavigne was dead was not true, according to an article on Heavy.
After reaching a fever pitch in 2015 when BuzzFeed writer Ryan Broderick published photos from the blog that suggested the current Lavigne is an imposter, the rumors subsided — until now. The theory was resuscitated over the weekend through a viral Lavigne-is-dead Twitter thread. And, here are 10 pieces of Avril Lavigne conspiracy-theory "evidence" people are citing to convince you Lavigne is a clone.