You Probably Only Caught Half Of These Celeb Cameos In The 'Kimmy Schmidt' Movie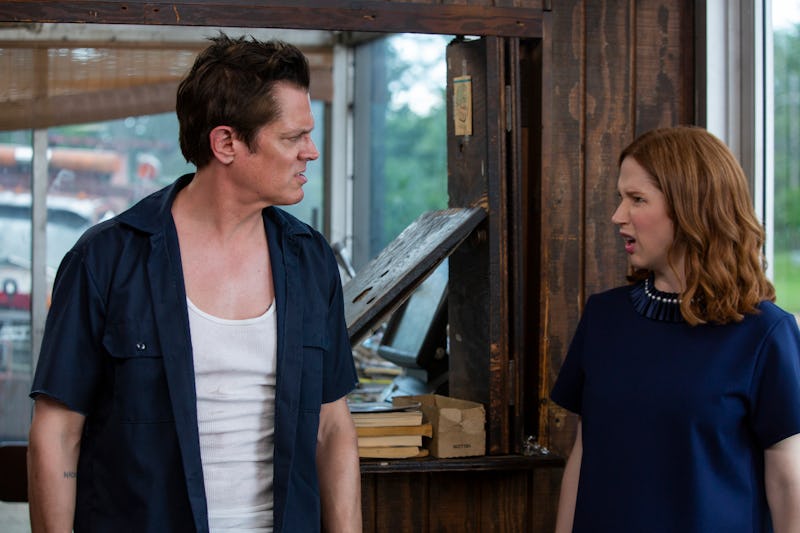 Netflix
Spoilers ahead for Unbreakable Kimmy Schmidt: Kimmy vs. The Reverend. The Unbreakable Kimmy Schmidt has always had great guest stars, and the new interactive movie, Kimmy vs. the Reverend, does not disappoint — some of the cameos are just a little harder to find.
A Choose Your Own Adventure-style story akin to Black Mirror's Bandersnatch, the film follows Kimmy (Ellie Kemper) in the days leading up to her wedding with Frederick (an English prince played by Daniel Radcliffe). When she discovers a book called The Mystery of the Mysterious Spy buried in her backpack, she realizes it was checked out of a school library after she was kidnapped and taken to the Reverend's bunker...and it doesn't belong to any of the other mole women. This leads her to (correctly) believe that the Reverend had another bunker, so she goes to confront her nemesis one last time. Her journey eventually takes her to West Virginia, running into plenty of eccentric characters along the way. But depending on which choices you make, you may not see all of them in your first watch...or even your second or third.
Read on for all of the Kimmy vs the Reverend celebrity guest stars you should be on the hunt for — and how to find them.