These Were, Hands Down, The Funniest Moments Of This Year's Golden Globes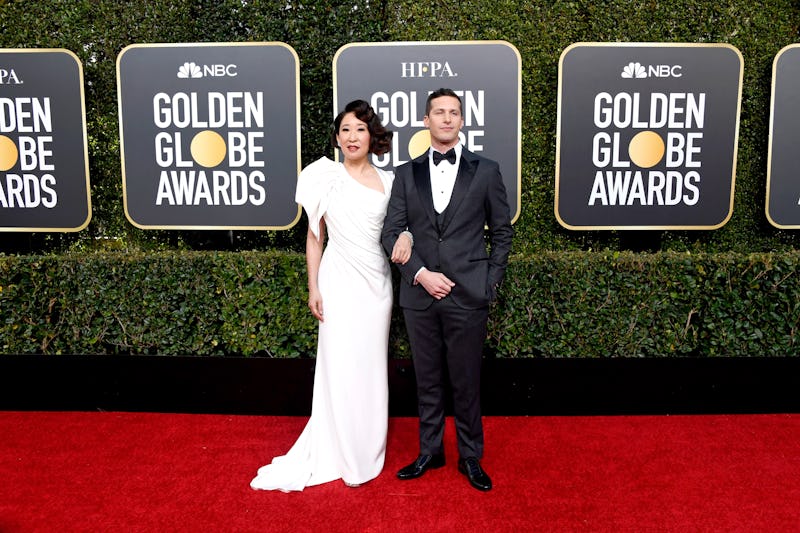 Frazer Harrison/Getty Images Entertainment/Getty Images
The Golden Globes is known as the "fun awards" show, mostly because there's a dinner going on at the same time — everyone can eat and drink while the show takes place (most importantly, everyone can drink). It's as close as it gets to a party without being an actual party. That's why there's a bit more irreverence, a little more humor — everyone is feeling good, and they'll laugh more, and maybe they'll take less offense to the jokes about them. That's why the funniest moments of the 2019 Golden Globes are so plentiful!
At this year's ceremony, Sandra Oh and Andy Samberg are taking the hosting reins. If you're thinking that it's a weird combination of hosts, well, you'd be right — but Oh and Samberg are really leaning into it, joking about their "best friend" status. In an interview with The Hollywood Reporter, Samberg told Oh, "I like playing off someone else and having there be a looseness to it and the ability to try things that are not necessarily just straight jokes to prompter." Oh said she would consider her hosting a success if she didn't "pass out, if [she] can hit all the moments and if [she] can just stay true and relaxed." The night, by the way, was a success, because everyone was really funny. Let's take a look at the most laugh-out-loud moments.
Idris Elba's Daughter Rolling Her Eyes
Isan Elba is this year's Golden Globes Ambassador (which means she gets to stand on stage with all the #celebs). Even though she's poised for the spotlight, she couldn't help but roll her eyes when her dad offered her some stage advice. Parents just don't understand.
The Fiji Water Girl
That look just says so much, don't you think?
Jameela Jamil's "Accidental" Name Change
The name that displayed when The Good Place star Jameela Jamil was on the red carpet was not her name, and many fans speculated it was on purpose. It would infuriate Tahani, wouldn't it (Kamilah is Tahani's sister's name)?
The Entire Opening Monologue
Sandra Oh and Andy Samberg came into the Golden Globes wanting to make people laugh, but not at the expense of others. They weren't mean or biting or rude. They just wanted to focus on how hot Michael B. Jordan is, which, of course. An A+ opening for a duo that seemed unlikely at the start.
Steve Carell's Tribute To Carol Burnett
First, Carrell was introduced with a bunch of references to Jack Nicholson, and then Carell insisted that Burnett was so nice that she made Tom Hanks look... like not the nicest guy in Hollywood (see the tweet above) for the exact wording. It's great, under-the-radar comedy like this that makes it so satisfying.
Sandra Oh & Andy Samberg's Tribute To Themselves
There were so many important moments that happened at the Golden Globes, Oh and Samberg said, including... well, just the times they won their prior awards.
Christian Bale Thanking Satan
When accepting his Best Actor award for playing former Vice President Dick Cheney in Vice, Christian Bale paid homage to Satan for giving him the inspiration on just how to play such a character.
Maya Rudolph & Amy Poehler's Presenting Duties
Rudolph and Poehler were announced by Samberg as "known for their work on the Fast & Furious series," to which they responded, "Thanks, Bill." Then, they gave away some awards, but not before poking fun at the whole proposal thing that happened at last year's Emmys.
Chris Pine's "Busted Face"
Chris Pine has a busted face, according to Samberg and Oh, making it opposite day everywhere.
Darren Criss Being From Ruth's Chris Steakhouse
I bet you didn't know that he started his career as a steak server.
Needing Tissues For This Is Us... For Another Reason
Sandra Oh hinted that the tissues we need for the stars of This Is Us were for... not crying, but something else.
All of the jokes on this year's Golden Globes show that you don't have to be mean — just quirky — to be funny.