All The LGBTQ Pride Month Fashion & Beauty Items That Actually Give Back To The Community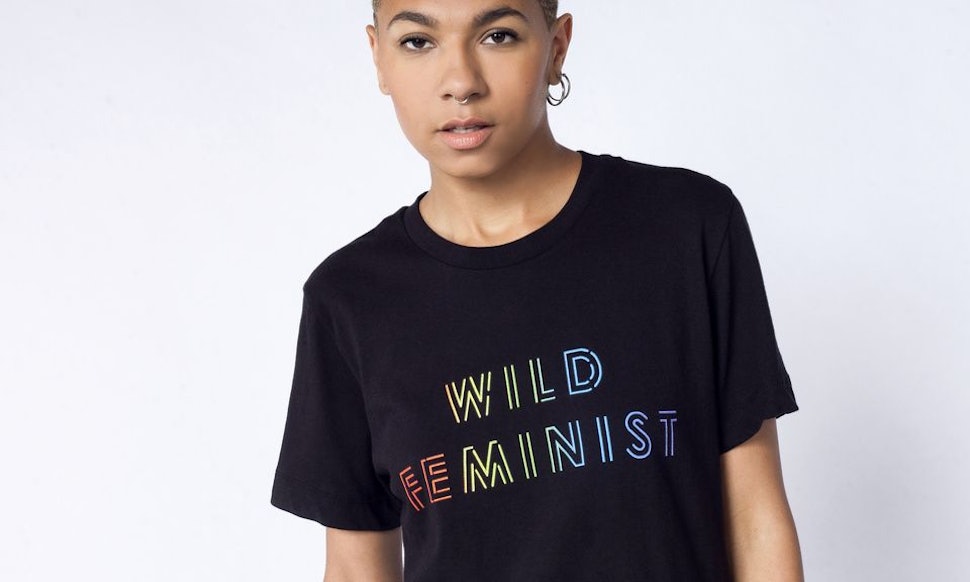 Wildfang
Fashion is more than just a way to get likes on Instagram. It's a way to show support. These LGBTQ Pride Month fashion and beauty items prove that with style and impact. They don't just spread a powerful message. Every single item actually gives back to those in the community. Because looking good is great, but it's the action that matters the most.
Pride Month is more than just painting you face with rainbows and going to a parade. It's about contributing what you have to organizations that can make a change and fight for equality. Plenty of fashion and beauty brands have created items that help you spread your pride and look great at the same time.
All of the these items aren't just here to make you look good. They're here to make an impact in the LGBTQ community. Whether that's through beauty items or clothing items, you will feel great wearing these around knowing that it's bigger than just an item. Consider it a gift for giving money to an incredible cause.
A lot of these brands aren't just committed to giving one month of the year. Plenty of them make equality a part of their brand, through every single item that they create. Here's a list of all the items to shop during Pride Month that will actually make an impact.
Harry's Shave With Pride Set
Harry's
This shave set was created by artists Craig & Karl. Every single cent from the kit will go towards GLAAD — an organization that works through entertainment, news, and digital media to share stories from the LGBTQ community that accelerate acceptance. You can purchase it on the Harry's, Walmart, or Target website.
Buy Now
2. Warby Parker Haskell Collection
Warby Parker
This collection was made with LGBTQ+ Pride Month in mind. Proceeds from the collection go towards The Trevor Project and Lambda Legal, two organizations that strive and advocate for equality. You can shop the collection on the website starting June 8 for a limited time.
Buy Now
3. Formula Z's Forever Lips
Formula Z
All proceeds from Formula Z's Mission Z Lipstick goes towards The Trevor Project — a non-profit organization founded in 1998 focused on suicide prevention efforts among lesbian, gay, bisexual, transgender, and questioning youth. You can buy it on the brand's website right now.
Buy Now
4. Zenni Optical's Pride Eyewear
All proceeds from the rainbow eyewear collection will benefit It Gets Better to support LGBTQ+ youth.
Buy Now
5. J.Crew's x Human Rights Campaign Shirt
J.Crew
The limited edition "Love First" shirts are a collaboration with Human Rights Campaign. Half of every single purchase will be donated to the organization.
Buy Now
6. Madewell x Human Rights Campaign
Madewell
Half of the proceeds from this collection will go to the Human Rights Campaign as well. All of the items are available for pre-order now on the Madewell website.
Buy Now
7. Primark's LGBT Pride Collection
Primark
The brand created a set of fashion and beauty items that donates 20 percent of proceeds to Stonewall, one of Europe's leading LGBT rights charities. There are store in New York, Connecticut and Pennsylvania.
Buy Now
8. Wildfang's Pride Tee
Wildfang
Proceeds from every purchase of Wildfang's Pride Collection will go towards the brand's charity of the month. This month, that is the New York Women's Foundation, according to the website.
Buy Now
9. Hollister's Pride Collection
Hollister
All the items of the Pride Collection will go towards GLSEN. According to the website, the brand will donate at least $250,000 to the charity.
Buy Now
10. American Eagle Pride Collection
American Eagle
The collection is filled with graphic tees, sock, and underwear for men and women. All proceeds from the collection will go towards It Gets Better Project to support LGBTQ+ youth.
Buy Now
11. My Sister's My Choice PRIDE Tank
My Sister
While only 10 percent of proceeds from this shirt go towards The Link MN's Project Live Out Loud, everything about this tee is good. From the message and the ethically sourced materials to the survivors who make it, you can't go wrong with this tee for Pride Month.
Buy Now
12. Frank And Oak x Montréal Pride
Unisex Frank and Oak x Montréal Pride Shirt
$39.50
Frank and Oak
Frank and Oak came up with a tee and a tank that donates $5 from every purchase to Montréal Pride. The brand also teamed up with Petites-Mains, a Montréal based organization devoted to helping women in need. The organization actually helped create all the shirts in the And* Collection.
Buy Now
13. Levi's
Levi's
This collection features rainbow belts and suspenders, bandanas, and, of course, denim. Every single penny goes towards to partner organizations Harvey Milk Foundation and the Stonewall Community Foundation.
Buy Now
14. Urban Outfitters
Urban Outfitters
Urban Outfitter's Pride Collection is in collaboration with GLSEN, just like last year. For Every purchase, the brand will give $10 to the organization. If you buy this bag, that's a 50 percent donation.
Buy Now
15. Gilt
Gilt
The entire collection of shirts, shoes, and leggings will give every single penny to the Trevor Project.
Buy Now
This is fashion that fights back, my friends.