All The Looks At The 2017 SAG Awards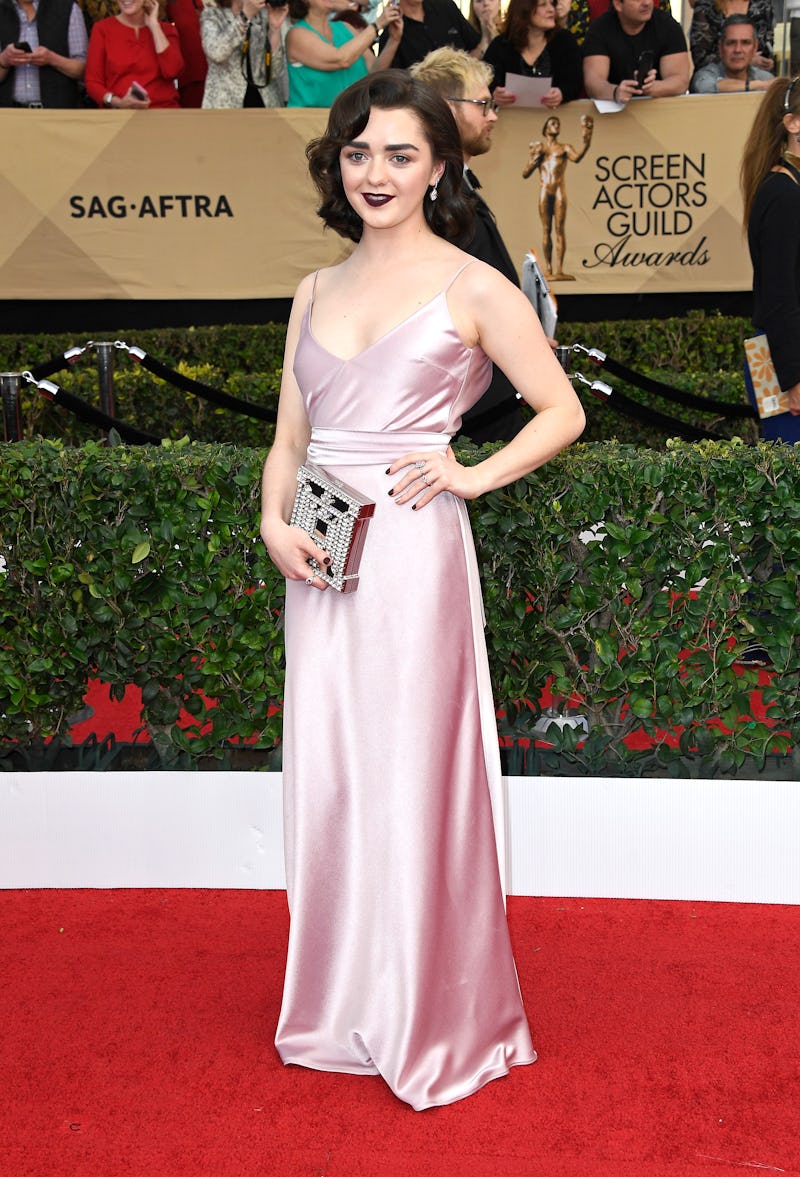 Frazer Harrison/Getty Images Entertainment/Getty Images
We knew the 2016 awards show season was going to be a tough fashion act to follow, but 2017 broke out of the gate strong with the fantastic looks on the 2017 Golden Globes red carpet. And now all the looks from the 2017 SAG Awards red carpet have set the bar even higher.
The SAG Awards span film and TV, so fans are treated to the best of both worlds. This year, Netflix's original TV show darlings Stranger Things and Orange Is the New Black were both in the running for Outstanding Performance by an Ensemble in a Drama Series, so we knew to expect wardrobe perfection not only from Ryder and Brown, but also from Uzo Aduba, who has a long history of being totally, absolutely gorgeous at every awards show she attends.
Then of course there's Fences, which was up for three awards including an Outstanding Performance by a Female Actor in a Supporting Role nom for Viola Davis. Davis' 2017 Golden Globes dress was a drop-dead beautiful slice of sunshine, getting fans' hopes up that her SAG dress would be just as much of a showstopper.
After the SAGs and the Golden Globes, it's hard to imagine how the rest of 2017's awards season can get better than this. Here are all the looks from tonight's festivities.
Felicity Huffman ‌
It looks like Felicity Huffman has got some pretty awesome decisions to make — and it's adorable that husband William H. Macy is getting in on the fun.
Sterling K. Brown & Ryan Bathe
‌
Sterling seems to be making the sunglasses a red carpet staple this season.
Brad Goreski
‌ So dapper!
Danielle Brooks ‌
The Orange Is The New Black star looks like an actual queen.
Giuliana Rancic ‌
The E! Live From The Red Carpet host looks positively gorgeous tonight.
Millie Bobbie Brown‌ ‌
The breakout Stranger Things star is the youngest person to ever be nominated, and her headband is very, very cute.
Anna Chlumsky ‌
The Veep star rocked a grape Elizabeth Kennedy dress and looked amazing.
The Boys From Stranger Things ‌
There's nothing like a group of feisty kids in fancy clothes — and those blue shoes are an epic red carpet choice.
Maisie Williams
It's hard to mentally process how beautiful Maisie Williams looks.
Judith Light
The Transparent star is absolutely slaying in this royal blue gown.
Ariel Winter
The 19-year-old Modern Family star looks beautiful as always.
Ben Barnes
The Westworld star looks handsome in this smoky purple velvet blazer.
Octavia Spencer
Spencer was nominated for Hidden Figures, and she is looking incredible tonight.
Angela Kinsey
The former The Office star looks adorable in this cocktail dress with a tulle skirt.
Sophia Bush
Bush wore an electric pink gown and eyeshadow to match.
Claire Foy
The star of Netflix's The Crown looks absolutely stunning in this Valentino gown.
Thandie Newton
Newton's gown is absolutely divine — and certainly a standout on the SAG Awards red carpet.
Viola Davis
Davis is a vision in this white column gown with a short train.
Kate Hudson
Kate Hudson did not come to play in this Dior gown.
Lea Delaria
The comedian and actor's checked jacket is a welcome departure from the classic tux.
Sofia Vergara
The actor looked incredible in a shin-length cocktail dress with jewel-encrusted bodice.
Chrissy Teigen
Teigen kept it simple in an amazing black gown with a suit-inspired bodice, a deep neckline, and a thigh-high slit. Damn, girl.
Janelle Monae
Monae kept her signature whimsical style with this monochrome, embellished look.
Yara Shahidi
The Black-ish star wore a bold striped gown and looked like a dream.
Michelle Williams
Gold and silver simply never looked this good.
No one wears this color as well as Nicole Kidman, and she took it all the way to the next level.
Salma Hayek
Hayek went for a classically feminine color scheme and silhouette and looks effortlessly gorgeous.
Meryl Streep
Meryl wore a gown that feels totally different than her usual choices, in the best possible way.
Sarah Paulson
Paulson wore a monochrome look, and that structural blazer with caped sleeves is everything.
Kerry Washington
Does Kerry Washington ever not give it her everything on the red carpet?
Uzo Aduba
The Orange Is The New Black star slayed in a black and white colorblocked gown.
Julia Louis-Dreyfuss
Louis-Dreyfuss wore this black, embroidered gown and looked like a dream.
Elle Kemper
The Unbreakable Kimmy Schmidt looked totally unflappable in this blue velvet gown.
Lily Tomlin
The Hollywood legend kept it chic and simple on the SAG red carpet.
Taraji P. Henson
Henson wore a blush gown with delicate details, and you can tell she was truly feeling herself.
Tracee Ellis Ross
There's always room for a chic black gown on the red carpet, and Ross brought style in spades.
Samira Wiley
This floral tea-length gown is absolutely stunning, and Wiley is rocking it incredibly well.
Natalie Portman
Portland looked like a dream in this white, floaty gown.
Emma Stone
The La La Land star looked incredible in this romantic floral gown.
Evan Rachel Wood
Wood knocked it out of the park with this epic blue velvet suit.
Tituss Burgess
This blue suit almost puts a forcible smile on your face, doesn't it?
Annalise Basso
This might be the most dramatic red carpet moment ever.
Bryce Dallas Howard
This ruby gown is like the red carpet, but better.
Rashida Jones
The quintessential definition of "pretty in pink."
Simon Helberg & Jocelyn Towne
This pair used their red carpet appearance to make a strong statement.
Nathalie Emmanuel
The Game of Thrones star looked amazing in black and gold.
Sophie Turner
Talk about a vision in red.
The fashion game was definitely strong on this year's SAG Awards red carpet. You don't need to choose a favorite — all of these looks are worth an award.