Every Single Product From Rihanna's Debut Fenty Beauty Launch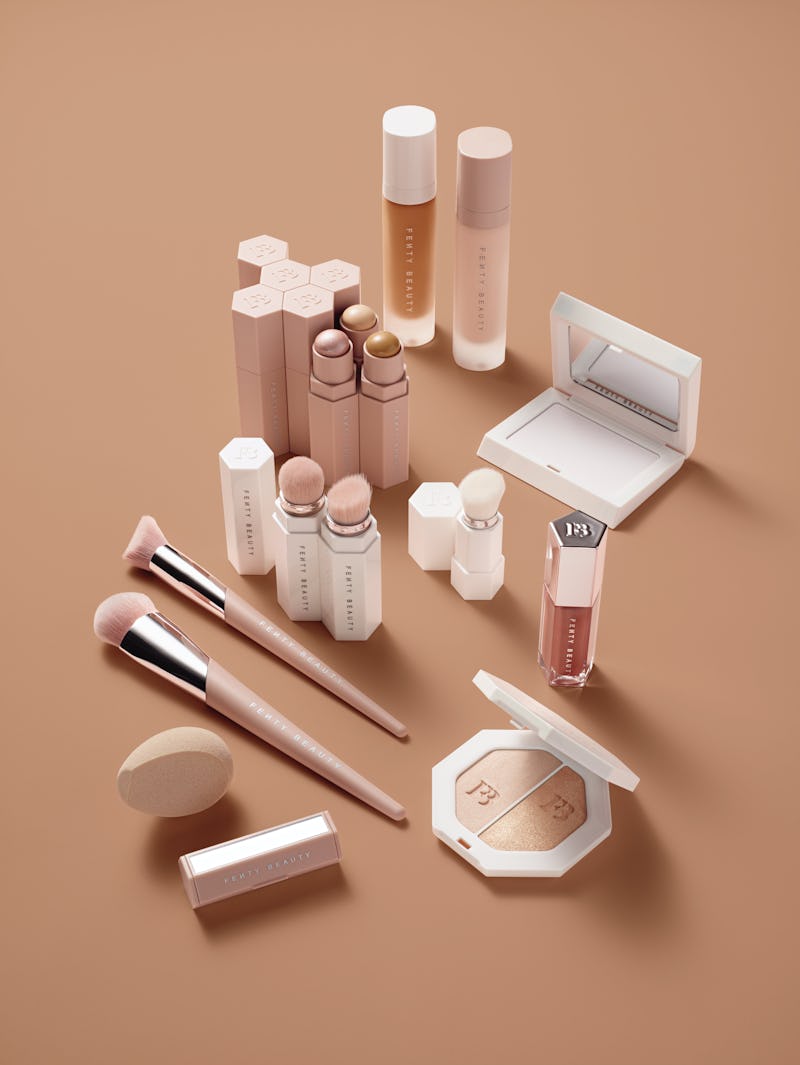 Courtesy of Fenty Beauty
Big. That's how Rihanna goes, whether it's her magazine covers, her music, her hair, her heels, her Puma collections, and now her Fenty Beauty makeup line. The singer and stye icon didn't merely launch with a handful of products with her makeup debut. She arrived with an avalanche of cosmetics — 91 items, which includes color options across products.
The Fenty Beauty Collection is also comprised of the tools that allow you to copy Rihanna's stunning complexion a.k.a. "The Fenty Face." All of the products boast light-as-air formulations and love to be layered.
Prior to its debut, Fenty Beauty, which references Rihanna's last name, was lauded for being inclusive and specifically serving women of color. It was also thumbs up'ed for being cruelty-free. Unwavering dedication happened sight-unseen, which was proof that consumers were already all-in with Rihanna when it came to a beauty range.
She did not disappoint.
The passionate, pre-launch response to Fenty Beauty is now more than validated. Now that we have seen the range in full, here's every single Fenty Beauty product.
This is the family. Much of the packaging is millennial pink and pretty.
The line promises to give you this — "The Fenty Face." That is, you can copy Rihanna's signature radiant complexion.
You start with a matte base, layer your highlight wherever you want, blot any excess shine on the fly, and remain shine-free with these products and some additional know-how.
Pro Filt'r Instant Retouch Primer, $32, Sephora
This soft, matte base is the touchstone for The Fenty Face. It stops shine, diffuses pores, and primes. It paves the way for foundation and works with all skin tones.
Pro Filt'r Soft Matte Longwear Foundation, $34, Sephora
Billed as "the ultimate photo filter in foundation form," this baby is buildable and comes in 40 shades. It's designed to be undetectable on skin. So, your skin looks like skin and you look like you. Later, all you cakey, visible foundations!
Match Stix Matte Skinstick, $25, Sephora
These multi-tasker sticks come in 20 colors and they conceal, correct, and contour. The cream-to-power formula is light and designed to be layered. Eureka!
Match Stix Shimmer Skinstick, $25, Sephora
This is a critical step in achieving The Fenty Face — layer that highlight, girl! There are 10 shades, and they catch light wherever they are placed on skin. They can be paired with their matte counterparts and the foundation.
Killawatt Freestyle Highlighter, $34, Sephora
These long-wear highlighters add a sheen (for day), a shimmer (for night), and they melt into skin.
Invisimatte Blotting Powder, $32, Sephora
Rihanna's personal philosophy is that being photo-ready is the same as being shine-free, so she blots on the go! This powder absorbs unwanted shine and gives skin a natural, matte refresh whenever you want and need it.
Invisimatte Blotting Paper, $16, Sephora
It's the size of a lipstick but it combats shine when you need to mattify on the fly. Thank you, Rihanna, for making this portable miracle.
Gloss Bomb Universal Lip Luminizer, $18, Sephora
This moisturizing, peach-vanilla scented gloss is a universal rose nude, hand-picked by Rih herself. It's dubbed the "unicorn of nudes." That means it's the Holy Grail for your lips.
I purchased one because I remain a gloss girl in a matte world. BTW, didja notice that Fenty Beauty isn't following the trend of mega matte lippies? Of course it isn't. Rihanna invents trends. Everyone else follows her lead.
Precision Makeup Sponge, $16, Sephora
This applicator works with any and all formulas. It's three-sided, and can be used damp to build coverage or dry for full coverage.
Full-Bodied Foundation Brush 110, $34, Sephora
This brush has a paw shape and more than 140,000 synthetic bristles. That math translates to this: It gives you a blended, airbrushed, skin-that-looks-like skin complexion.
Cheek Hugging Highlight Brush 120, $32, Sephora
The asymmetrical cut of this brush was inspired by a shark tooth (!!!) and was created to work with all features — cheeks, the browbone, the Cupid's Bow, and the nose. It partners wonderfully with the Killawatts.
Portable Touch Up Brush 130, $24, Sephora
This tool is perfect for spot touch ups and gives your face that filtered look.
Portable Highlighter Brush 140, $24, Sephora
You can glow on the go with this totable tool. It works with the shimmer version of the Match Stix and the slanted tip helps you achieve perfectly placed shimmer.
Portable Contour & Concealer Brush 150, $24, Sephora
You can contour and conceal whenever and wherever with this pocket-sized brush that attaches to the matte Match Stix. Rih had me at those pink bristles, though.
Are you waving #ByeMoney yet? Of course you are.