Every Single See-Through Outfit & Dress From The VMAs, Because There Were A LOT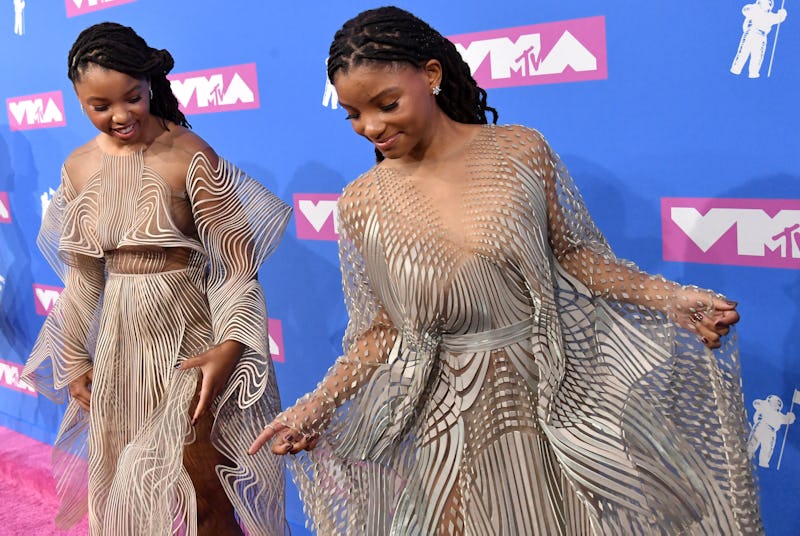 Mike Coppola/Getty Images Entertainment/Getty Images
Every year there are certain trends that take over the red carpet. Some years it's the high-slit, others it's cutouts. This time it's a whole lot of, well, nothing. See-through outfits were the Video Music Awards biggest trend, and everyone that wore it did it in their own way. Who knew that there were so many ways to wear no color at all.
From sheer skirts to lace without anything underneath, there was every single kind of sheer that you can imagine at the VMAs. Actually, there were a few ways that you would never dream of, too. Some celebrities took the trend all the way by quite literally wearing a tulle skirt. Others opted for a more colored and covered approach. Either way, it brought the drama.
It basically looked like a futuristic runways at the VMAs. Big names like Nicki Minaj, Chloe x Halle, and Tiffany Haddish all completely nailed the trend this year. Although, like mentioned before, none of them quite looked the same.
This trend is nothing like the thigh-high slit that took over awards season in 2017. Every single dress looked completely different on the red carpet. If you're looking for a way to fit in but completely stand out, this is the way to do it. Here's everyone that nailed the trend at the VMAs this year.
1. Tiffany Haddish
All of that print almost makes you forget that it's completely see-through. Okay, maybe not. But the polka dots are a nice little addition to the print. Also, let's talk about the matching patterned headband. Because it's the perfect way to tie it all together.
2. Chloe x Halle
The ultimate see-through winners were Chloe x Halle. The pair went for completely sheer dresses that almost looked painted on. It was classic, elegant, and yet completely trendy all at the same time.
3. Nicki Minaj
Sheer skirt, anyone? Who needs pants when you can rock a bodysuit and a sheer skirt. If you look closely, this is actually an entire dress paired over a bodysuit, which is all the more interesting.
4. Winnie Harlow
Nothing but strategically placed jewels stood between Harlow being completely nude and rocking a chic dress. The silver on silver wit silver eyeshadow made her look like the chicest tin man you will ever see.
5. Blac Chyna
Not all see-through means that it goes without color though. Black Chyna brought pink, chain, see-through, and cutout trends together for one interesting outfit.
6. Rita Ora
If this isn't a walking piece of art, then I don't know what is. She matched the pattern on the see-through dress with her eyeliner to make for an even more epic look.
7. Dascha Polanco
A whole lot of strategically placed lace went into this outfit. I'm not sure how it was created to fit her just right, but it is pretty darn epic.
8. Bebe Rehxa
This one isn't exactly see-through, but it does follow the trend. The two-piece is chic and shiny and wonderful.
So many looks. So little fabric.