Dascha Polanco Wore A Completely See-Through Dress To The VMAs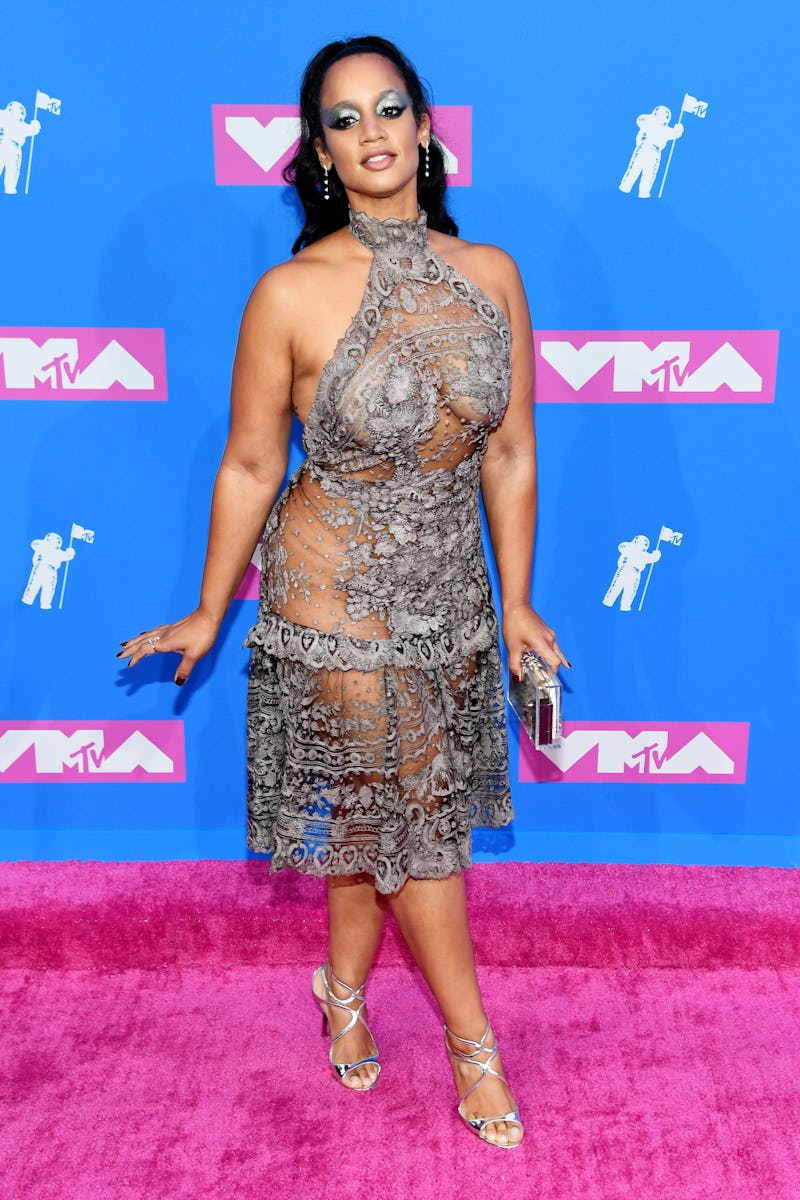 Nicholas Hunt/Getty Images Entertainment/Getty Images
If ever there was a time to make a statement on the red carpet, it's this awards show. Dascha Polanco wore a see-through dress to the Video Music Awards, and it was quite the statement. The fashion moment was completely unexpected, but it wasn't the only jaw-dropping part of the look.
This actress might have taken two years off from the VMAs, but she is making up for it in a major sartorial statement. The Assassination of Gianni Versace star hit the red, er, pink carpet wearing a completely see-through look. Not just, like, cutouts and high slits. She came in a lace, non-lined halter dress.
It's no secret that stars love to take risks at the event, but this took it to a whole 'nother level. Honestly, the fact that she could walk in this dress without showing anything means that she's basically defying the law of gravity, fashion, and any other laws out there.
Although it's unclear exactly who made the stunning dress, the dress was a piece of art. The entire look was made of lace. Yes, you read that right. You need to see the entire look for yourself to truly see the strategically-placed lace outfit in action.
The completely see-through aspect of the outfit wasn't the only show-stopping thing about the outfit, either. Polanco wore head to toe silver for the event. Not gray, but shiny, bright silver. Shoes, purse, dress, earrings — you name it and it was silver.
That included her eyeshadow. The actress opted for a thick, silver eye look. As in, entire lid from her lash line to her brow. Polanco paired it with a smokey, thick liner and some dramatic lashed to get a little more depth to the look. Add to that the futuristic-looking purse, strappy heels, and earrings that look like they are floating on her ears, and you have one heck of a head-to-toe look.
The clear clutch is the perfect way to make sure you have all of your essentials, while not taking too much away from the look. Because, you know, the completely see-through dress is not attention grabbing enough on it's own. From the looks of it, she is carrying her phone and a portable charger with her to the awards show. Because you need to be prepared when you're in for a night of fun.
Polanco is not nominated for any awards at this year's show. So this is likely the only time that her fans will see the look throughout the night. Or maybe she'll be rocking out in the audience and you can catch a few glimpses here and there. This is not exactly the safest dress to wear while you're dancing in the crowd, but, hey, celebrities will do what they please.
Even if no other risky outfits walk the red carpet tonight, this will be more than enough to tie fans over. Every year there is that one dress that makes you stop and think, how? This is that dress.