All The Things Lady Gaga's SB51 Hair Looked Like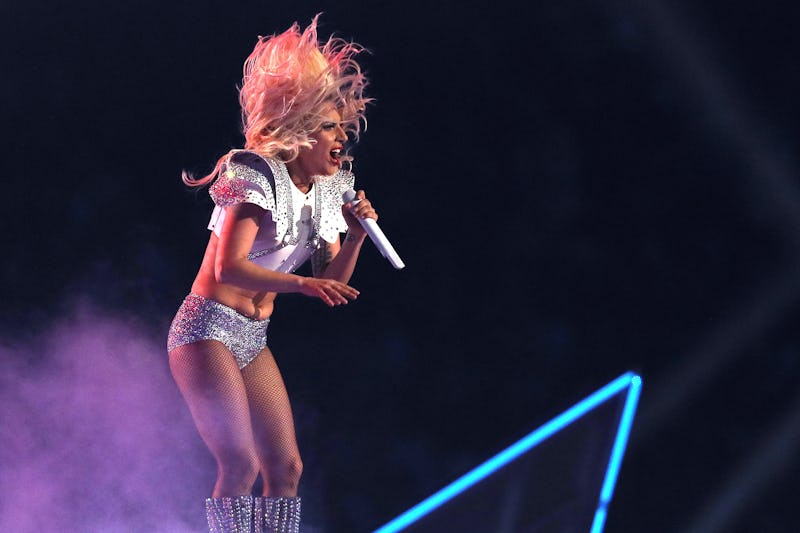 Patrick Smith/Getty Images Sport/Getty Images
Lady Gaga had an impressive number of costume changes during her stunning Super Bowl halftime show. (Seriously, how she switched outfits in two seconds I'll never know.) But perhaps even more impressive were all the ways Gaga's hair changed on stage.
In fact, she switched up her look so many times it ended up sparking more than a few creative comparisons. During the beginning of her performance, for example, one Twitter user noted that her short hair looked just like Leslie Knopes from Parks and Recreation.
Later on in the show, once Gaga's hair was magically longer, the internet went crazy with Hillary Clinton comparisons. Personally, I was too stunned by the all the backup dancers and fireworks to notice. But in hindsight I totally agree that her longer strands resembled Clinton's 'do from years ago.
Gaga's hair was long. It was short. It was messy. It was coiffed beyond imagination. Again, I have no idea how she did it. (I mean, did she even leave the stage?) But I do know her hair looked like a little bit of everything. What did you think? Did her locks stir up anything in your imagination? Take a look at what the internet thought below.
So accurate.
Also very true.
Maybe it was on purpose?
Agreed.
Whatever Gaga's hair was doing (and it was doing a lot of things) it certainly looked great.