Amanda Knox Is Getting A TV Show, But Not The Way You Think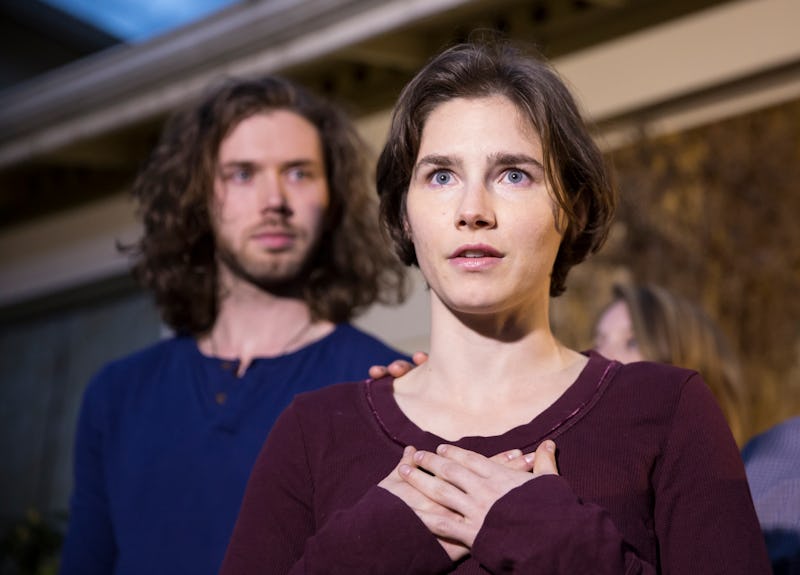 Stephen Brashear/Getty Images News/Getty Images
The basic premise of The Scarlet Letter Reports sounds like the programming might venture into true-crime bad taste, but, believe it or not, Amanda Knox's Facebook show actually sounds smart and fascinating. The Cut reported that, according to a press release from Vice, The Scarlet Letter Reports will be a five-episode series that will be developed by the media company's female-focused website, Broadly, and will drop on Facebook Watch. And, given the choice of presenter, it's no surprise that The Scarlet Letter Reports will take a critical look at how women get demonized by the media.
Knox's story, by now, is infamous. While studying abroad in Italy in 2007, Knox's roommate, Meredith Kercher, was found dead in their apartment. Knox was charged with the murder and sentenced to 26 years in an Italian prison before being freed and acquitted in 2011, after four years behind bars. She then returned home to America, where, in January 2014, she was retried in absence (though she was represented) and found guilty again by the Italian court; the case was appealed by her lawyers, and she was fully exonerated by in March 2015.
As The Independent has previously reported, Knox was victimized by the press, with them reporting that the Netflix documentary about her trial, Amanda Knox, showed "packs of photographers hounding the people involved in the case." They also allude to the fact that it was a Daily Mail journalist who coined the nickname Foxy Knoxy for her when he found it on her MySpace profile; that was something that didn't help the case, which had already became sexualized after the British tabloid became one of the first to report that the police claimed that Kercher's death was the result of a sex game that had gone wrong.
Knox said of the new show in the Vice press release, "While on trial for a murder I didn't commit, my prosecutor painted me as a sex-crazed femme fatale with magical powers to control men. The tabloids loved that story. So did the public. So did the jury. I lost years of my life to prison because of two-dimensional and misogynist stereotypes." She continued, "In The Scarlet Letter Reports, I'm hoping to re-humanize others who have been similarly shamed and vilified, and elevate the standard for how we think and talk about public women."
According to the press release, she will interview women like model/businesswoman Amber Rose and rape survivor Daisy Coleman. These both seem like smart picks. Popcrush reported that Amber Rose remembered "years of bullying" after her break-up with boyfriend Kanye West. West also bad-mouthed his ex after their break up, with Affinity reporting that The Life Of Pablo star stated, "It's very hard for a woman to want to be with someone that's with Amber Rose… I had to take 30 showers before I got with Kim." These comments would have been deeply misogynistic in any context, but the fact that Rose was a former stripper turned model implied that the rapper viewed her as sullied by her past career.
Coleman also makes sense as a woman who's been victimized by those around her. When she claimed that she was raped in 2012 when she was just 14-years-old, after consuming what she thought was just a shot. According to her story on xoJane, after she drank the shot, "it was like I fell into a dark abyss. No light anywhere. Just dark, dense silence — and cold." Following her alleged rape, Coleman reports that she was suspended from the cheerleading squad, her peers told her she was "asking for it," and social media posts attacked her as a liar.
The Kansas City Star reported in 2014 that Coleman's mother Melinda lost her job, and that the case sparked outrage in the community against the victim rather than the accused perpetrator Matthew Barnett, forcing the family to move to Albany. Barnett, who was 17 at the time of the incident and who had previously admitted to having what he considered consensual sex with Coleman, pled guilty to a misdemeanor charge of child endangerment in January 2014 and was sentenced to two years' probation, CNN reported. According to his attorney, the misdemeanor "accurately reflects the conduct of which he should be held accountable for."
As these cases suggest, women get victimized for any behavior that doesn't cohere to a mainstream vision of how "good" women should act, whether that's stripping for money or speaking up about sexual assault. As such, Knox's television show feels like it will be a force for change, challenging one dimensional perceptions of women. True-crime bad taste it certainly is not.
If you or someone you know has been sexually assaulted, call the National Sexual Assault Telephone Hotline at 800-656-HOPE (4673) or visit online.rainn.org.