Why The Families Belong Together Rally Isn't Your Average Anti-Trump Protest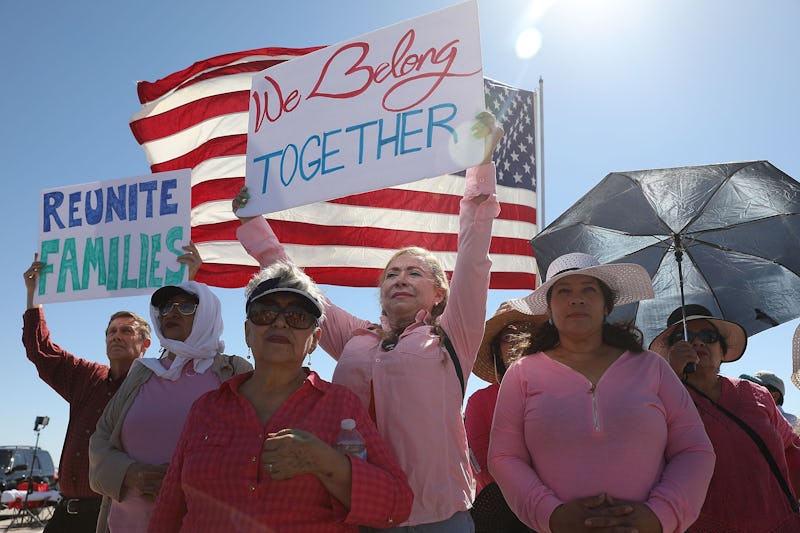 Joe Raedle/Getty Images News/Getty Images
A parade of strollers barreled toward the U.S. Immigration and Customs Enforcement (ICE) office in Newark, New Jersey on Friday. Once roughly 50 moms reached a plaza outside the government building, they started breastfeeding in protest of the Trump administration's practice of separating young children from immigrant parents caught illegally crossing the border. The organizer of that demonstration exemplifies how Saturday's Families Belong Together rally has attracted the attention of new activists outraged by the White House's immigration policy.
Allyson Murphy, a 38-year-old lactation consultant and mother of two from South Orange, New Jersey, tells Bustle the "tipping point" for her was hearing an audio clip obtained by ProPublica of crying migrant children who had been separated from their families. "We're taking kids away from parents and putting them in cages, and this is not the country that I want to live in," she says.
Murphy previously attended both the Women's March and the People's Climate March in Washington, D.C. But she didn't take the next step into organizing protests herself until this month. After hearing the audio clip, she desperately wanted to do something to help reunite the affected families. Within 24 hours, she had created a Facebook event for a "nurse-in" at the closest ICE office.
More than 2,500 children were separated from their parents at the border after the Trump administration enacted a "zero tolerance" immigration policy, according to the Department of Homeland Security. Although the president issued an executive order that he said would end family separations, he also called for families to be detained together indefinitely. The order didn't offer a protocol for reuniting the children currently being held in immigration detention centers with their parents, either.
Immigration activists tell Bustle the executive order doesn't cut it, and so they're moving forward with plans for a national Families Belong Together rally this weekend. Even after a federal judge on Tuesday ordered the administration to reunite all the separated children within 30 days, activists want to make sure that federal officials actually follow through.
A protest in the Trump-era is far from breaking news, but reports of children being taken away from their parents at the border have fueled what feels like a new level of outrage. A recent CNN poll found that 67 percent of Americans disapprove of the family separation policy. Prominent Republicans such as Laura Bush spoke out about the "cruel" practice, while people like Murphy, who already opposed the Trump administration's agenda, decided to get more politically active than ever before.
"There's a sense to which you can just get tired of doing this all the time. And even despite that, this is still so outrageous that it is activating people and enabling that sense of outrage, even in a context when it feels like people have lost their ability to be outraged," says Karthik Ganapathy, a spokesperson for the nonprofit MoveOn, one of the partner organizations planning the rally. "This is beyond the pale."
On Saturday, protestors will take to the streets of Washington, D.C., as well as 600 other cities across all 50 states. Unlike many protests surrounding women's rights or climate change, the Families Belong Together movement has very specific demands that activists say are more urgent because children are currently being kept away from their parents. Organizers are demanding that the Trump administration reunite families immediately; end family detention; and stop criminally prosecuting everyone who illegally crosses the border.
"These are lives that are being destroyed in real time right in front of us," Ganapathy says. "We're demanding that this administration acknowledge that and live up to what it has to do here."
Immigration activists tell Bustle that they're optimistic the protest will encourage Trump to reunite families because they believe public pressure is what ultimately led to his executive order ending child separation.
Murphy is determined to be part of that public pressure. She will rally with others from her hometown Saturday morning to head to the Families Belong Together rally in Newark, and her message to lawmakers is the same as it was last Friday during the "nurse-in": She won't stand for families being torn apart.
Jess Morales Rocketto, political director at the National Domestic Workers Alliance and a Families Belong Together organizer, helped plan the protests that erupted across the nation when Trump first issued a ban on visitors from Muslim-majority countries last year (the Supreme Court upheld the president's revised travel ban this week). She says the response to the child separation policy feels even stronger than that movement.
"It's just incredibly heartwarming to see," Rocketto says. "I've been an immigration activist for a long time, and I've never seen anything like this."