Amy Schumer Just Canceled Some Tour Dates Due To Her Recent Hospitalization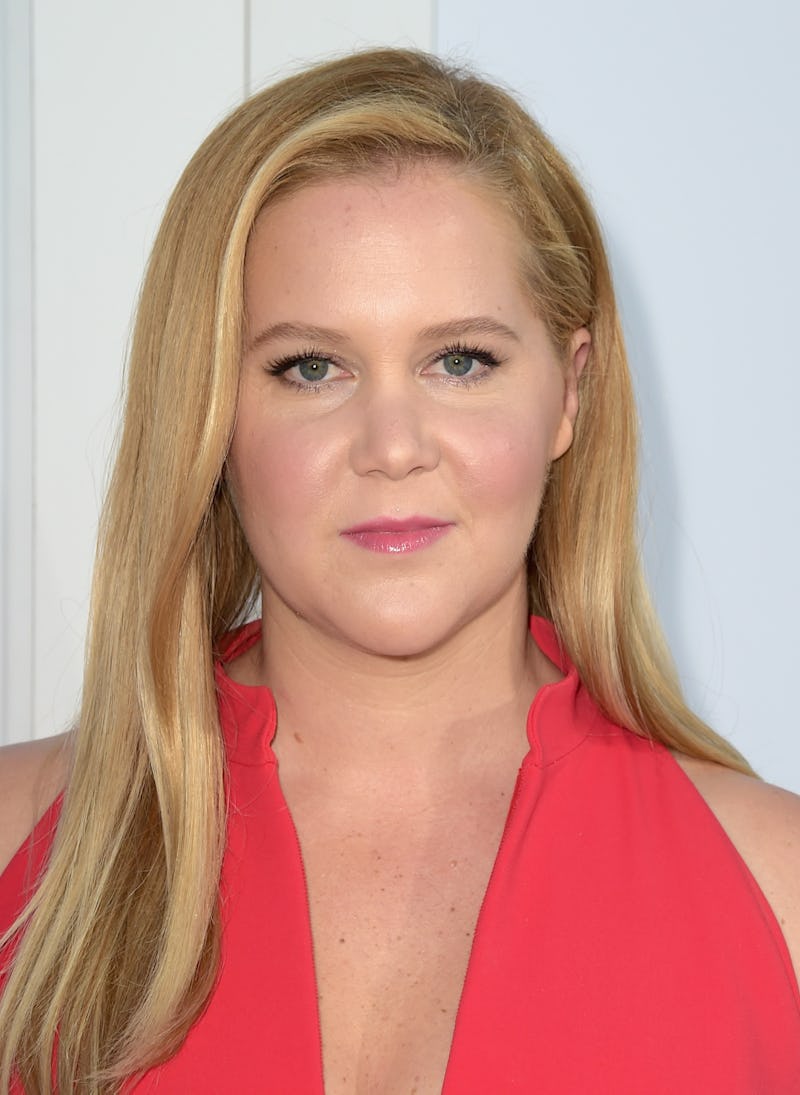 Kevin Winter/Getty Images Entertainment/Getty Images
Amy Schumer's latest Instagram post is a powerful reminder that pregnancy can be far from glamourous. The comedian revealed that she was hospitalized for hyperemesis, a severe form of morning sickness. Schumer had to reschedule her tour dates in Texas due to the condition, though she wrote in her Instagram post that she hopes to be performing again soon.
In her message to fans, Schumer explained that her baby's health isn't in danger, but that she's been sicker in her second trimester than she was during the first few months. The I Feel Pretty star wrote in her Instagram caption,
"Baby's fine but everyone who says the 2nd trimester is better is not telling the full story. I've been even more ill this trimester. I have hyperemesis and it blows."
Schumer also took a moment to thank the doctors who've helped treat her condition. "Sending so much love to the doctors and nurses taking great care of me and Tati," she wrote in her post, referring to her dog. "Texas I am really really sorry and I'll be out there as soon as I'm better." She didn't shy away from posting an honest photo, either, sharing an image of herself lying in a hospital bed.
Schumer announced her pregnancy toward the end of October, with a special message encouraging her fans to vote in the midterm elections last week. Schumer made the announcement through her friend Jessica Yellin's Instagram account, adding "I'm pregnant - Amy Schumer" at the end of a Notes App list of people she supported in the midterms.
The baby on the way will be the first child for Schumer and her husband, chef Chris Fischer. The two of them tied the knot back in February, in a small but star-studded affair that included Jennifer Lawrence, Jake Gyllenhaal, and Jennifer Aniston on the guest list. Rumors that Schumer and Fischer were together started about a year ago, in November 2017.
Hyperemesis is a pretty serious condition, though it's not super common among pregnant women. Kate Middleton also suffered from hyperemesis gravidarum during her pregnancies with Prince George, Princess Charlotte, and Prince Louis. Like Schumer, Middleton was hospitalized for the condition.
Still, it looks like Schumer, like Middleton, is pushing through and keeping a positive attitude about everything. Based on her Instagram message, it sounds like she truly wants to make things up to her fans who'd planned to see her on tour in Texas. Schumer's comedy career is super important to her, so it makes sense that she'd want to reschedule the dates for when she's in better health.
Schumer's fans were quick to comment with messages of support for the comedian, so it looks like they're more than understanding about the last-minute change. There are plenty of comments on the photo advising Schumer to "feel better" and to "take care," so hopefully Schumer will take all the time she needs to rest up before getting back on the road. And even though her condition looks super unpleasant, it's nice to see Schumer being so open about what she's going through, instead of pretending everything is fine.