Amy Schumer Just Announced Her Pregnancy In The Most Amy Schumer Way Possible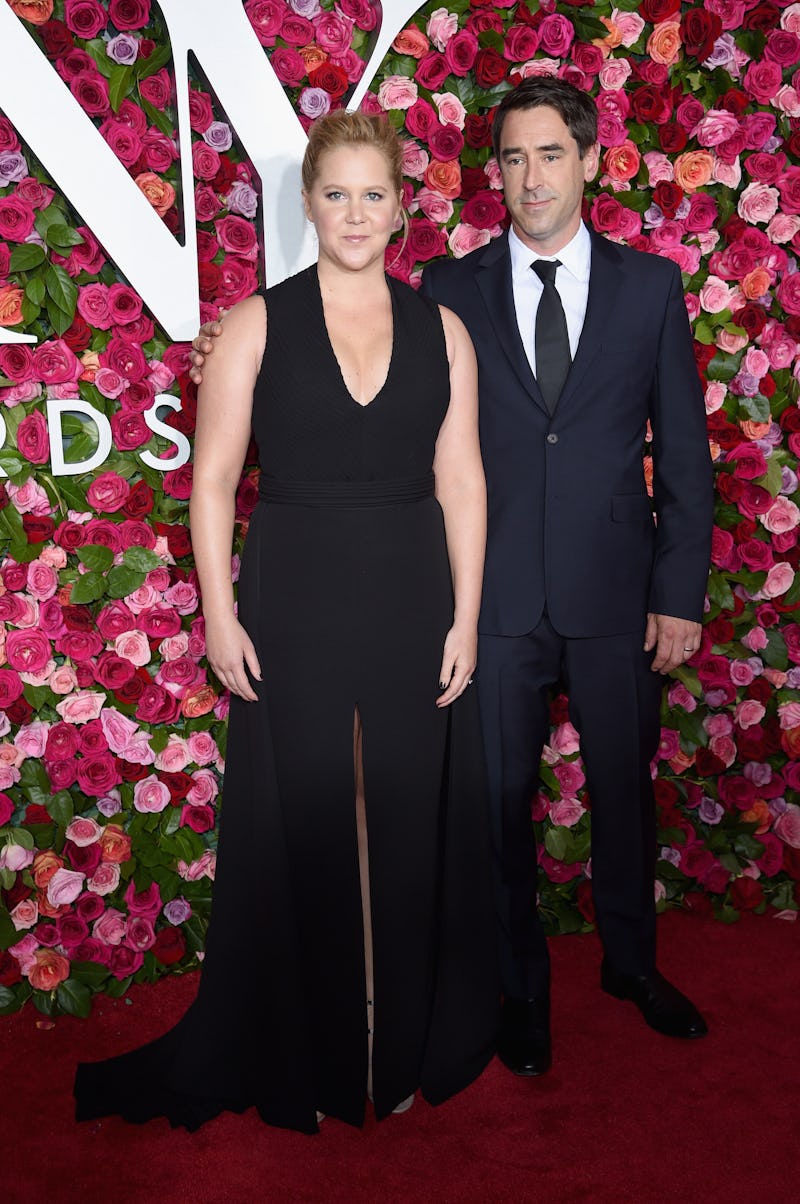 Dimitrios Kambouris/Getty Images Entertainment/Getty Images
There's some exciting news in Hollywood: Amy Schumer is expecting her first child and she's expecting you to head to the polls this November. The comedian teased a big announcement on Instagram on Monday, while also directing her followers to go to Jessica Yellin's Instagram page. On her page, Yellin shared that Schumer is pregnant, as she promoted her #NewsNotNoise campaign. (When Bustle reached out for comment, Schumer's rep directed us to Yellin's Instagram page.)
Along with a photo of her and husband Chris Fischer's faces photoshopped on Meghan Markle and Prince Harry's bodies (who are also expecting their first child), Schumer wrote on Instagram:
"About to announce some exciting news on @jessicayellin insta page. Please follow her for up to the minute #newsnotnoise she breaks down what's really going on. She agreed to post a lil noise today for me! Follow her and VOTE!!"
Over on Yellin's page, she shared Schumer's picks for candidates in the upcoming midterm elections — but that's not all. In a series of videos on her Instagram Story, the former CNN Chief White House Correspondent explains,
"We are 15 days out from the midterms and there is a lot going on ... I wanted to share some news from our community. Maybe it's noise, but it's happy noise... These are the recommendations of Amy Schumer, one of the most consistent and early supporters of #NewsNotNoise. Now, read all the way to the bottom. You'll see there's some news down there. Congratulations, Amy."
As Yellin hinted, at the very bottom of the lengthy list, the note reads: "I'm pregnant-Amy Schumer."
Leave it to Schumer to double her pregnancy announcement as a political one. She likely knew the baby news would spark attention regardless, so she harnessed that platform to remind everyone about the midterms. Honestly, it's perfectly strategic. As for #NewsNotNoise, a quick look at Yellin's Instagram page explains what the movement is all about:
"Political Jargon: Say What?! Lean Blue. Lean Red. Trump state. Blue wave. Early voting. Early returns. • What political jargon do you want explained? Post your question in comments. • I'll pick a few and in the lead up to the election I'll do a bunch of posts to help you better understand what it all means!"
Considering how passionate Schumer is about politics, it's not all that surprising that she's supporting an effort to educate people about what they need to know, versus what noise they can tune out. (Even if celebrity baby news might sometimes fall in the latter category, as Yellin said herself, it's "happy noise.")
The Trainwreck star isn't one to back down from her beliefs. Earlier this month, Schumer was reportedly detained and arrested for protesting Brett Kavanaugh's nomination to the Supreme Court, according to CNN.
Over the years, she's also been a vocal advocate for gun control, as well as other causes she cares about. In the last week alone, she's spoken out about supporting the transgender community, in the wake of the Trump Administration's memo reported on by the New York Times. She also supported Colin Kaepernick's peaceful protest of the NFL by urging Maroon 5 to pull out of the Super Bowl Halftime Show as Rihanna reportedly did.
Suffice to say, Schumer commits to political causes. And that's exactly why tying her baby announcement to a voting announcement isn't the least bit surprising — but it is pretty great.